New Menu at The Cinnamon, Hotel Penaga
By CK Lam
The Cinnamon at Hotel Penaga has revamped their menu under the helm of its new executive chef Haron Muzaffar Abdul Aziz. The new menu combined interesting and innovative changes to some traditional cuisine. We stopped by early before the lunch crowd to sample several offerings from the lunch and dinner menu.
To bring out its best flavor, chef Haron added new ingredients and spices to the dishes. Appetizer is one dish that starts a meal. There are a few appetizers on the menu; Kim Chee style salad with duck, Thai style salad with peppered squid and the gado-gado.
The Kim Chee salad prepared with Chinese cabbage, carrot, daikon, spring onions and sprinkled with toasted sesame seeds has the flavour of the Korean style pickled cabbage. It is a beautiful combination, however I would prefer it with a more distinctive spicy kim chee flavor.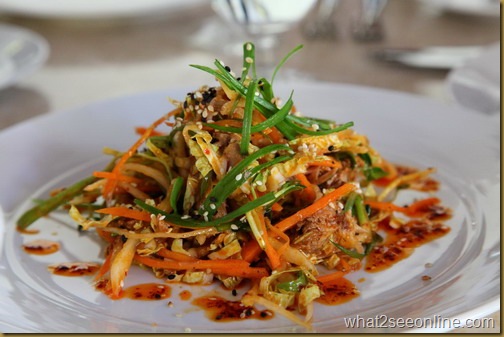 The Thai style salad comes with a blend of flavors and textures. It is presented with peppered squid, bean sprouts, peppers, cucumber, coriander, mint and crisp fried rice vermicelli, tossed in a delicious blend of lemon grass and chili dressing.
The third appetizer is the gado gado. Ingredients include an assortment of blanched vegetables such as cabbage, spinach, boiled potatoes, boiled quail eggs, fried bean curd, bitter gourd crisps and the Indonesian speciality, tempeh. Nutty and savory flavors of the tempeh added uniqueness to the dish. The spicy homemade peanut sauce provided a nice amount of spiciness to the dish.
Chef Haron uses various types of seafood for the Tom Yum seafood noodle. The soup thicken with cream had a lingering fresh spicy taste and sweetness from the prawns, mussels, scallops and squid.
The main dish of red braised lamb shank with mashed potatoes is spiced up with aromatic flavor and sweet bouquet from the spices of star anise, cinnamon, chili and light soya sauce.  The large piece of tender lamb shank is a crowd favorite.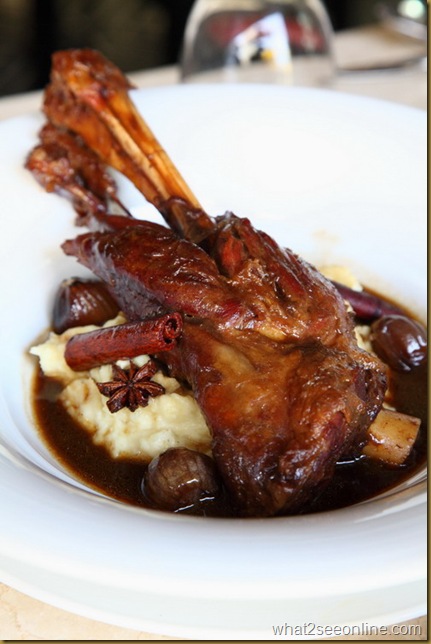 There are several desserts such as Penang cendol, pudding, chocolate brownies, sago gula Melaka and many more. The Penaga cendol came with a mix of sweet gula Melaka (palm sugar) and red beans, but the chef Haron replace the shaved ice with ice-cream. The apple and banana bread & butter pudding is given a twist too, served with vanilla ice-cream.
Penang cendol and Apple & Banana Bread & Butter Pudding
Hotel Penaga is located at the corner of Jalan Hutton & Lebuh Clarke in Penang. Click here for the Map Location.
The Cinnamon at Hotel Penaga
Corner of Jalan Hutton & Lebuh Clarke
10050 Penang
Tel : 04 2611891
* Many thanks to Hotel Penaga for laying on this invitation.