Quay Cafe – Vegetarian Dishes
By CK Lam
Opened since last September, the self-service Quay Cafe along Church Street Ghaut in Penang serves vegetarian dishes with a twist. The menu includes a variety of rice dishes, noodles and local favourites.
The brightly lit restaurant has glass windows and exposed walls. The ground floor dining area has rows of tables stretching all the way to the back of the restaurant while another dining section is furnished with high tables and chairs. There are also a few tables laid out on the mezzanine floor.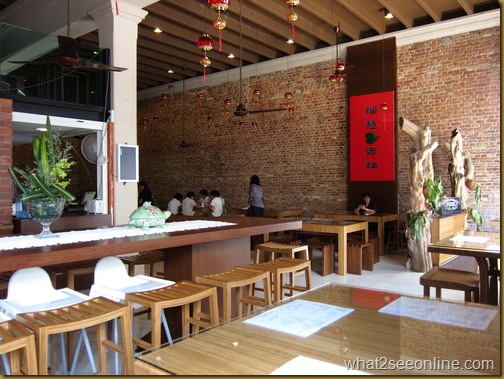 Customers order their food at the front counter and are expected to take the utensils to their table. Food is served by the staff, but the clearing of the utensils to a designated place is expected of the customers.
We order snacks and a bento box. At first glance, the bento box looks sumptuously flavoursome with a soup, multi-grain noodles, vegetable tempura and sushi made of unpolished brown rice. For RM15, it seems reasonably priced.
The tempura, prepared only upon order, consists of cauliflower, baby corn and roots. The white radish, tofu and mushroom soup has seaweed and miso for added flavour.
Bento box filled with variety of flavors
For snacks, we order bean curd with homemade sauce and popiah. The bean curd has a slightly firm texture and is topped with strips of cucumber and carrot and toasted sesame seeds. Its sweet sauce is similar to the one used for Chinese pasembur.
The popiah (RM2) is stuffed with lettuce leaf, yam bean, carrot and bean curd, with a small amount of chilli and sweet sauce spread on. It's delicious.
There's also red bean soup (RM3), prepared minus the sweetness. Sugar is provided for those who want it sweet. For drinks, there's nutmeg juice, roselle juice, soya milk and fresh fruit juices.

The happy set meal (RM5) comprising brown rice with three dishes, is a lunch crowd favourite. Other specialties include Hokkien mee, char hor fun, herbal mee sua and curry mee, served on certain days of the week.
Reasonable prices and its location in the bustling financial center, makes this non-smoking outlet a healthy dining choice. Click here for the Map Location.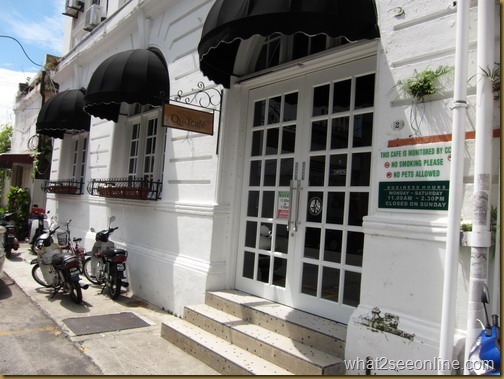 Quay Cafe
2 Church Street Ghaut
10300 Penang
Tel: 012-403 6659
Business Hours: 11am -2:30 pm
Closed on Sundays
* This is a reproduction of my article published in New Straits Times