Golden Crust @Gurney Plaza – Gourmet Pies, Tarts & Quiches
BY CK Lam
Golden Crust, a kiosk with its core of freshly baked hand made gourmet pies, tarts & quiches opened recently in Gurney Plaza. There is a range of fillings and crust including crust pastry and puff pastry. I was overwhelmed by the selections on the menu.
The cottage pie is rich, with a filling of meatiness, green peas, corn, carrots, blend of fresh herbs and a layer of creamy mashed potatoes. The combination of flavors are well-balanced. It is well received by customers, especially for those who like the smooth texture potato with light gravy.
There are other pies to suit the taste buds of just about any diner, including minced beef pie, chicken & leek pie, pepper steak pie and steak & mushroom pie, and the chicken and mushroom pie. Prices range from RM6 to RM10. The latter stuffed with meat and vegetables are crisp and savory, ideal accompaniments to a bottle of cold beer.
There are some fairly reasonable specials at Golden Crust. For an additional RM5 on top of each purchase of any savoury pies, quiches, tarts or sandwiches,you can get a side serving of garden salad OR a packet of Lay's chips And a glass of iced lemon tea. Such pairings indeed make a light meal.
The Oriental chicken pie (RM6) is made to suit Asian taste buds. Made with puff pastry, the pie has a generous filling of chunky chicken pieces, carrots, green peas, potatoes and hardboiled egg. The golden pastry is flaky, hot and delicious.
They also do lovely quiches with choices of smoked salmon quiche and chicken & spinach quiche. The chicken and spinach quiche is made with double cream, chicken, young spinach combined with fresh eggs. Rich and creamy, the quiche is best taken with a side of salad drizzled with vinaigrette.
Chicken & spinach quiche
The other option is the smoked salmon quiche. At RM6.50, the quiche comes with Norwegian smoked salmon, olives and capers. The combination of ingredients went remarkably well with the mixture of rich dairy filling.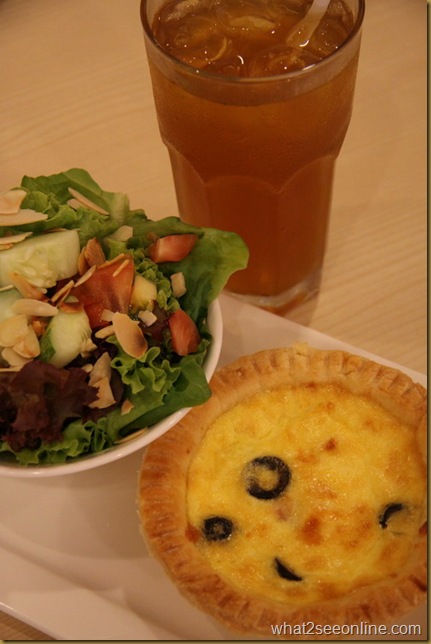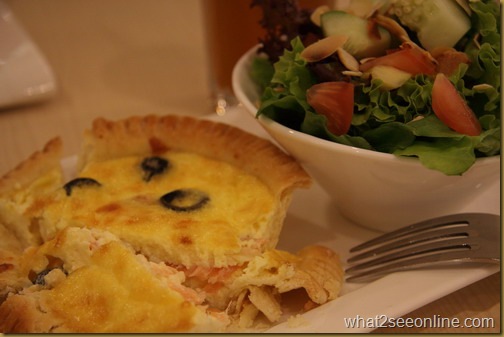 As much as I love the smoked salmon quiche, I also have a spot for the rich and moist pepper steak pie. This savory pie is filled with potatoes, carrots, onions and beef chunks cooked with brown stock and freshly ground white and black pepper. The meat is flavorful and tenderly soft, having been braising for one and a half hours.
For those less inclined towards savory pies, there is a variety of sweet pies and tarts which comes with pleasing flavors and quality. They are priced from RM6.50 to RM9. The mixed fruit tart is a delectable sight with its topping of fruits. The topping is made with kiwi, strawberry and peach and set upon the base made with ground hazelnut.
For the classic apple pie, pieces of apples with seasoning of cinnamon are laid on the pastry base and topped with pastry before baking in the oven. The richness of the pastry goes well with the nice balance of spice and sweetness of the apple.
Mango cheese tart, chocolate strawberry tart, apple pie and mixed fruit tart
The apple pie and the raspberry walnut pie is my best loved of all the sweet items. The raspberry walnut pie with a pastry crust has a semi-sweet raspberry jam spread and plenty of walnuts to complement every bite.
Almond pear tart, blueberry cheese tart and raspberry walnut pie
For something chocolaty, go for the chocolate strawberry tart. The smooth chocolate filling is not overly sweet and is a nice contrast to the fresh strawberry topping. If desire, request to pair the tart with a scoop of ice-cream. Chocolate drinks, soft drinks, juices, floats, fresh milk and beers are also available besides freshly brewed coffee and tea.
Golden Crust location on the second floor is very convenient for shoppers to stop by and grab a bite. Besides enjoying these tasty treat from Gurney Plaza outlet, you can visit the other shop located on the ground floor of Menara Asas in Tanjong Bungah (near the market).
Golden Crust
2nd Floor Gurney Plaza (New Wing)
George Town
10250 Penang
Tel: 016-4228127
* This is a reproduction of my article published in New Straits Times