Italian Style at Spasso Milano, Straits Quay Penang
By CK Lam
Since it opened its doors in September last year, Spasso Milano has been attracting diners with authentic Italian cuisine. The restaurant, on the ground floor of Straits Quay, facing the marina, offers indoor and alfresco dining.
The extensive menu is prepared by chef Felice Martinelli, a native of Milan. My friends and I tried several new Italian dishes for lunch. Its simple homemade pizza aromatica (RM12.80) is topped with olive oil, oregano and sea salt. The pizza base is cooked in a custom-made brick, wood-fired oven.
The porcini mushroom soup is served with focaccia topped with butter and garlic. The distinctive aroma of porcini mushrooms and white truffle and the taste of bits of mushroom give the creamy soup a wholesome flavour.
Porcini mushroom soup RM18.80
Next, we had a salad caprese with a combination of buffalo mozzarella, tomatoes and artichokes. The soft and buttery buffalo mozzarella goes well with the vinaigrette.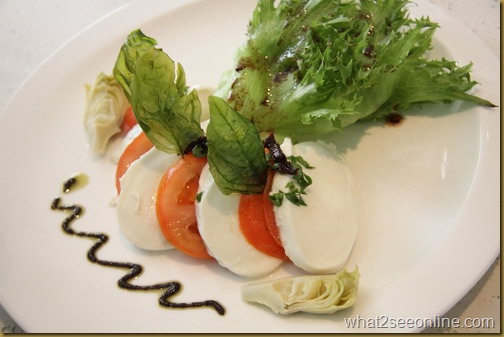 Salad Caprese RM32.80
Another pleaser is the homemade wagyu beef ravioli in a buttery herb sauce with hints of sage and rosemary. Grated parmesan cheese is added to enhance the dish. Don't miss this if it is on the menu for the day.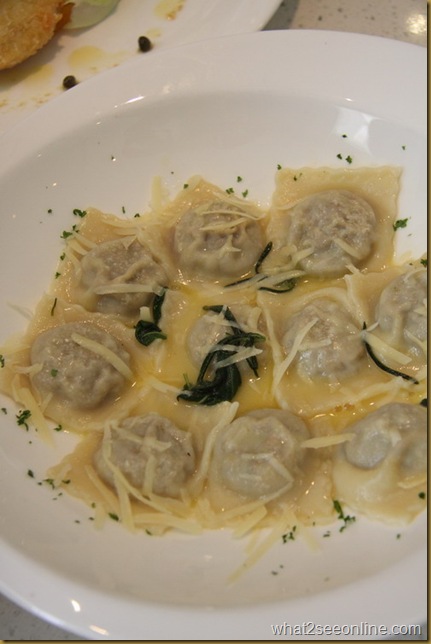 Wagyu beef ravioli RM38.80
The mozzarella in carrozza is a colourful dish. The yellow discs of fried breaded buffalo mozzarella are served with anchovy dressing, capers and a heaping mesclun of vibrant purple, orange, yellow and green young leaves. The sharp flavours of the capers and the dressing are a good balance for the fried buffalo mozzarella.
Mozarella in carrozza RM28.80
We sampled two main items — the beef rossini and chicken valdostana. The beef rossini is a 250g tenderloin served medium rare in a red wine gravy. The beef is seared and cooked in the oven. It came crowned with pan-fried goose liver and black truffle, drizzled with white truffle oil.
Beef rossini in red wine gravy RM98.80
 The chicken valdostana is essentially chicken escalope topped with chicken ham and fontina cheese.
Chicken valdostana RM38.80
From the wood-fired oven, Felice dishes out at least 14 different items. The Napoletana pizza prepared with the standard 140g dough came with a tomato base and a combination of toppings such as anchovies, capers, oregano and mozzarella.
The pizza crust is thin with crispy edges but was slightly heavy on the olive oil. Besides the tomato-based pizza, Spasso Milano also features classic white pizzas that do not contain tomato.
Napoletana pizza RM28.80
For dessert, it was coffee with freshly baked warm chocolate lava cake served with a scoop of vanilla ice cream. Other selections include tiramisu, panna cotta, millefoglie and lemon cream tart.
Besides coffee, teas, beers, wines and freshly squeezed fruit juices, there are many flavoured Italian sodas available. Limonata (lemon), pompelmo (grapefruit), chinotto (bitter citrus fruit) and aranciata (orange) sodas are among the choices from San Pellegrino.
Warm, oozing chocolate lava cake and sodas
The wine shelves to the left of the restaurant's entrance display a noteworthy but small selection of wines from Italy. Diners can also bring in wines from the neighbouring Weisssbrau German Bistro and Bar.
A delectable range of gourmet items are for sale, with many being displayed on the shelves in front of the bar area. The items include tea, coffee, jam, olive oils, and various types of vinegar and pasta.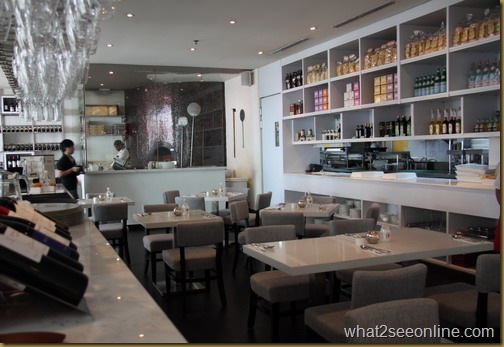 Spasso Milano is open daily.
Spasso Milano
3C-G-2, Block C
Ground Floor
Straits Quay
Penang
Tel: 04-8912888
Business Hour: 12noon – 11pm (Monday to Friday)
12noon – 12 midnight (Weekends)
* Many thanks to Spasso Milano for laying on this invitation.
* This is a reproduction of my article published in New Straits Times