Chocolate Passion offers tiny bites of deliciousness
BY CK Lam
Chocolate Passion is one of the newest chocolate cafes in Penang. Established by Callin Tan, the cafe located in the left side of the main entrance of Straits Quay specialises in handmade chocolates. I found this hidden gem with tiny bites of deliciousness during a shopping trip.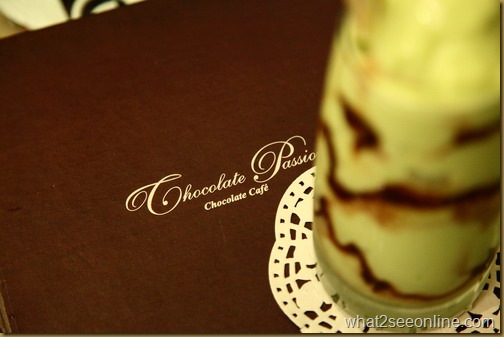 She launched the range of 24 handmade chocolates, with flavours of rum & raisins, cointreau, baileys, caramel melts, banoffee, espresso, cappuccino, lavender, mint, strawberry, earl grey, extremely dark chocolate truffle, orange bee, hazelnut, mango, pineapple, raspberry truffles, peanut truffles, dark chocolate ganache, milk chocolate ganache, nuts, pearl orient, ginger and gianduja. The handmade chocolates are priced at RM37 for 100 grams.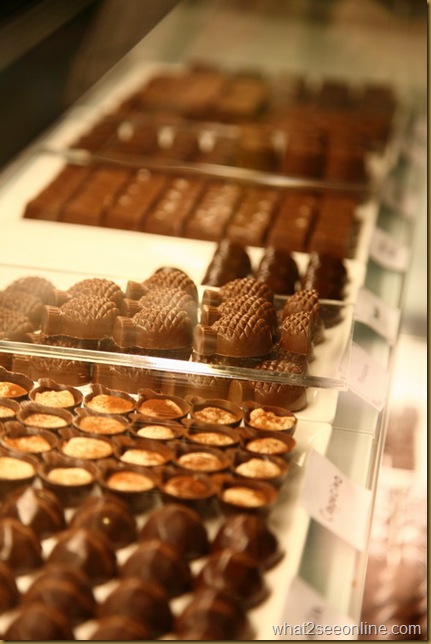 According to Callin, the chocolates are handmade using pure chocolate and each piece has a difference in richness, intensity, sweetness and earthiness. I tried a few pieces. While the chocolate truffle laced with fine rum and raisins is rich, the cappuccino with coffee and stuffed with fine cappuccino's powder is more preferred by me. On the other hand, I also loved the unusual flavours of the lavendar.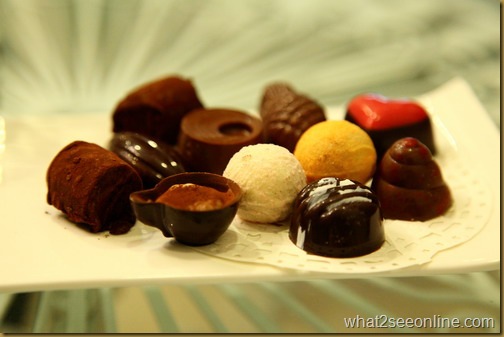 Another items on displayed are the lollipops in cute little shapes and sugar free coco powder.
Apart from offering handmade chocolates, the outlet's menu includes sweet pizzas, fondue, desserts, cocktails, milkshakes, coffee and tea. The chocolate fondue comes with milk or dark chocolate. An order priced at RM49.50 comes with skewer of fruits of the day, chocolate rolls and marshmallows.
There are three types of pizzas and I only had the Going Nuts, but I can say it is indeed nutty with plenty of bite. The thin base served with a thick spread of milk and dark chocolates is topped with almonds, pistachios, walnuts and peanuts. Half a portion cost RM13.50 while the full portion is priced at RM25.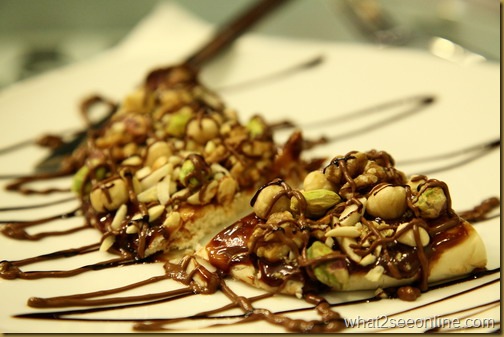 Half a portion of Going Nuts pizza
For those who love the combination of hot chocolate and ice-cream, I absolutely recommend the Affogato (RM12.50). It may sound nothing much but drowning the scoop of vanilla ice-cream in the rich hot chocolate will see myself wanting to come back again!
There are three cocktails and two milkshakes. The ice blended cocktails take on flavours of chocolate, strawberry and avocado chocolate while the milkshakes comes with choices of oreo white chocolate shake and mango yogurt shake. The avocado chocolate ice blended is refreshing, not too sweet but I would like to have stronger amount of avocado. Other beverages include coffee, tea and fresh fruit juices.
Chocolate Passion with an area of around 340 sq feet  is a spot with relaxed environment and the friendly staffs are always ready to present sample for tasting as you step inside the shop.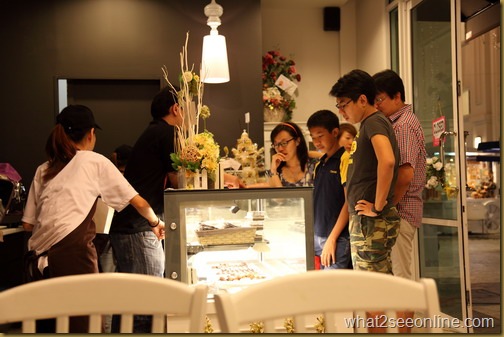 There are many gift ideas that you can find at Chocolate Passion. Gourmet chocolate, gift baskets, and personalized gifts are available and customers can chose the color and the design of the box. A gift box with nine pieces of handmade chocolates is priced at RM45, while the15 pieces and 21 pieces are priced at RM75 and RM115 respectively. Of late, they even provide message engraving on a silver plate for the 15 piece chocolate gift box.
The exterior of the cafe
Chocolate Passion
3A-G-36 Straits Quay
Jalan Seri Tanjung Pinang
Tanjung Tokong
10470 Penang
Tel: 04-890 6121
* Many thanks to Chocolate Passion for laying on this invitation.
* This is a reproduction of my article published in New Straits Times