Macalister Mansion – Introducing Dining Room
BY CK Lam
Penang recently sees the opening of Macalister Mansion, an exclusive boutique hotel. Also known as MM, the restored charming colonial white mansion with minimalism decor takes its name from the road it is located. MM houses Living Room, Dining Room, Bagan Bar, The Den, Eight Rooms and The Lawn, each with its own unique setting.
We made a visit for a culinary evening at the Dining Room located on the ground floor of the mansion. One can be easily charmed by the well furnished white dining room with touches of pink and blue. The vast dining space which can seat around 100 is divided up into several different sections, with the main dining hall and several private rooms comprising one or more tables.
The Dining Room offers semi fine dining. "The menu written in both English and French focuses on fresh quality ingredients and interesting flavor combinations. We change the menu every two months while maintaining some specialties," says executive chef Lance U'ren. The degustation menu is at RM178 while the Petit M is at just RM118.
We generally enjoyed the dishes from both the menu on the day of our visit. Some dishes are prepared with surprisingly interesting flavor combination than others.
We start off our meal with an amuse bouche. With creamy cumin curd cheese and balsamic pearl, the light and crispy mini Vol Au Vent comes in one or two dainty bites. We find it a little bland on its own but it delivers a tasty bite when complemented with the truffle infused honey.
The next dish on the tasting menu is pan-fried scallop. Presented on a rich beurre fondue made with butter, the sweet scallops are paired with the crispy onion and crunchy kataifi.
Chef U'ren prepared the compressed beetroot and melon salad with a range of fresh vegetables and colorful edible flowers. This cooling and refreshing salad (from Petit M menu) blends well with the truffle egg yolk and dehydrated olives.
For many who love eggs, do not miss out on the truffle free range scrambled egg. The egg is gently cooked into soft creamy curds with irresistible balanced flavor of smoked cream, braised leek and deep-fried oysters.
The soup arrives one after another. The creamy Bouillabaisse with a fish soup base comes with fresh and meaty lobster and topped with thick toasted bread. Chef U'ren had this classic French seafood soup infused with brandy, fennel and dried orange peel.
Other soup includes the Japanese leek and potato soup. The creamy soup decorated with strips of seaweed showcases the marriage of the two vegetables and fish stock. It is indeed satisfying with simple flavor and smooth mouth feel.
A sorbet flavored with watermelon fruit juice is served between the courses.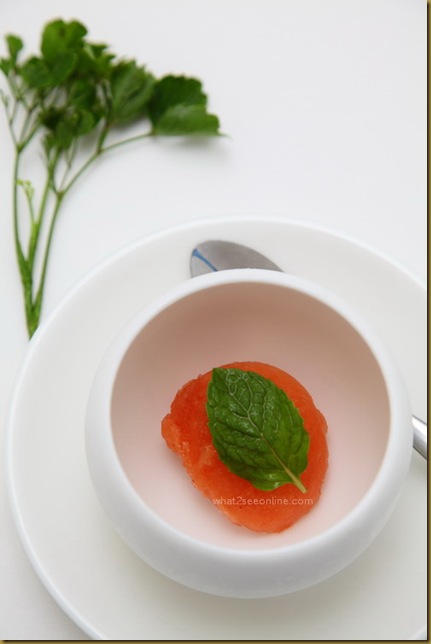 A relatively light seafood course is the Leopard grouper cooked in a folded parcel. What we like about this dish is the flavor of the gravy and the texture of the fish.  The deep-fried papilotte of bean curd skin helps to seal in the flavor of the fish.
The fish is moist and is served with tomatoes, olives, chives and light fragrant dashi stock made from bonito flakes and sea kelp. Few drops of lime juice are added to enhance the flavor of this popular dish which hasn't caught on in Penang.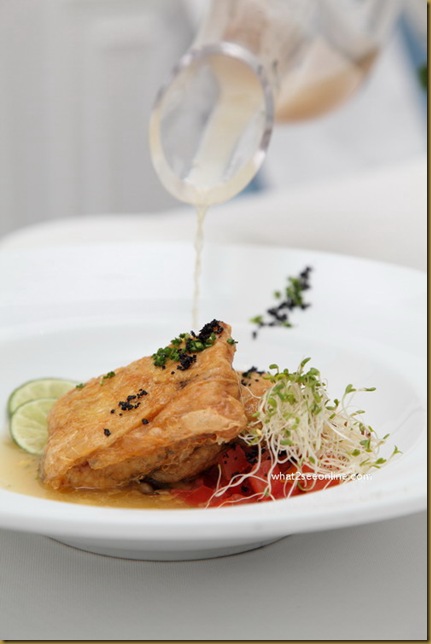 For those who like their meat, the Wagyu cheek with caramalised onion, deep-fried Parisian gnocchi, perigueux & carrot puree is the dish to go for. The long braising imparted flavor to the meat which is tender but still have some chew. The meat is lovely with deep-fried Parisian gnocchi and pungent perigueux & carrot puree.
The menu is sweetly rounded off by two desserts. We truly enjoyed the sweet dessert of poached pear with muscovado crumble, raspberry and vanilla ice-cream. The pear is cooked sous-vide with white wine and vanilla pods. Bold in flavor, the pear is served in a kilner jar filled with smooth, creamy pastry cream.
The other dessert has warm caramelized banana served with muscovado crumble and a scoop of luscious banana rippled ice-cream. This simple dessert created to offer a cold and hot combination is from the Petit M menu.
A light moment with executive chef  U'ren
Before the meal, we were at Bagan Bar which serves an extensive selection of wines and interesting cocktails. The alcoholic and minty MM mojito with mint leaves, lemon peel and logan is refreshing. Another attractive cocktail is an ice blend of nutmeg with pomelo and gin.
Dining Room is open for dinner only. There is also a children's and a vegetarian menu. Click here for the Map Location.
Macalister Mansion
228 Macalister Road
10400 Penang
Malaysia
Tel: 04-228 3888
Business Hours:
Dining Room: 7pm – 11pm (10.30pm last orders)
Bagan Bar: 5pm – 1am (weekdays), 5pm – 2am (weekends)
Website: http://www.macalistermansion.com
* Many thanks to Macalister Mansion for laying on this invitation.
* This is a reproduction of my article published in New Straits Times