The Leaf Healthy House – Healthy Vegetarian Dishes and Bike Rentals
BY CK Lam

Opened in January last year, The Leaf Healthy House on Penang Street serves vegetarian dishes that have been prepared using organic seasonings and natural ingredients. It has a short menu that includes a la carte dishes and rice sets.
A rice set comes with three main dishes, a soup and rice. The dishes are changed daily. Patrons can choose from a variety of rice, including brown rice, butterfly pea flower rice and mustard seed rice.
For brown rice lovers, a special treat of bak chang (steamed rice dumpling) awaits them. It is only available on the eve and first day of the lunar calendar as well as on the eve and 15th day. However the dumpling is also available daily (for nine days) during the Nine Emperor Gods (Kew Ong Yeah) festival.
As I'm not a fan of brown rice, this is the first time I'm trying the bak chang. To my surprise, the brown rice goes well with the Chinese chestnut, mui choy (preserved green mustard) and the different types of beans.
Vegetarian bak chang (steamed rice dumpling)
The cafe serves homemade pasta, with different choices of cheese, mushroom, spinach and tomato. I enjoy the leaf spaghetti (RM8.90) in which the pasta is made from a tantalising blend of basil and pine nut paste. The same dish with  fruit salad on the side and a choice of flora tea or soya milk cost RM12.90.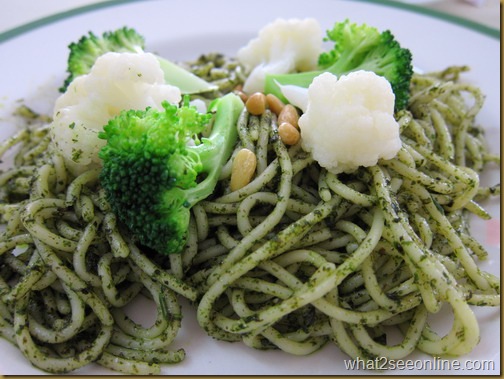 Leaf spaghetti RM8.90
There's a burger list too. It includes leaf burger, big burger, combo burger, classic burger, health egg burger and spicy burger. The big burger (RM7.90) is a combination of soya-based vegetarian meat and antibiotic-free egg. There's also lettuce, cucumber, tomato and carrot in between the two slices of naturally fermented bread. This serving is surprisingly filling, with all the flavours going hand-in-hand.
The cafe also serves five side dishes, including Vietnamese-style hand roll (RM5.90). Served with a special sauce with hints of mint and lime, the roll is stuffed with plenty of lettuce, capsicum, tomato and sesame seeds. And it's delicious.
I like the kerabu bihun and the popiah, which are part of the daily specials that include fishhead bee hoon soup, nasi lemak and pumpkin rice. Another appetizing dish is the fried Tomyam, cooked with brown rice vermicelli, coconut virgin oil and sea salt.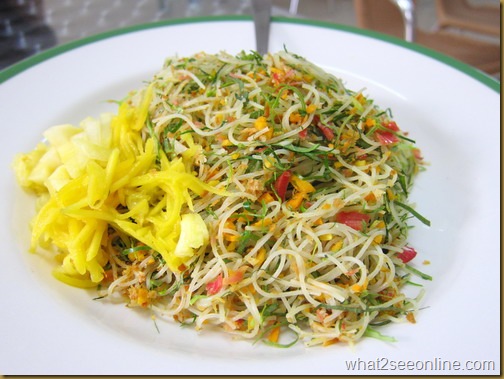 Kerabu bihun RM5.90
Fried Tomyam brown rice vermicelli and two rolls of popiah
To quench your thirst, there's fruit juices, lassi, mixed juices and an interesting concoction called Give Me 5 (RM6.90), which is a blend of beetroot, celery, carrot, apple and lemon juice. Other options are tea, coffee, chocolate and organic soya bean milk and honey lemon.
I end my meal with the Cantonese sweet soup (tong sui) – longan red bean and pumpkin sago.  Another good option is one with dried longan and lily bulb (pak hup), which is served warm.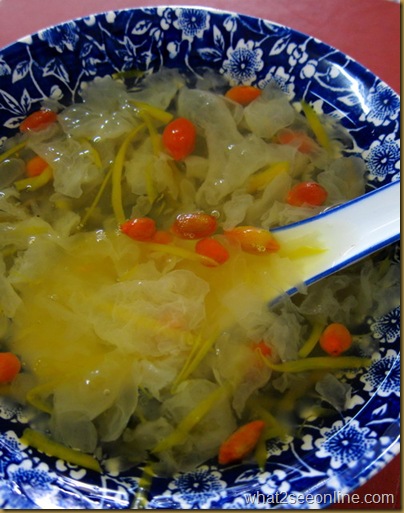 Pumpkin sago dessert RM2.90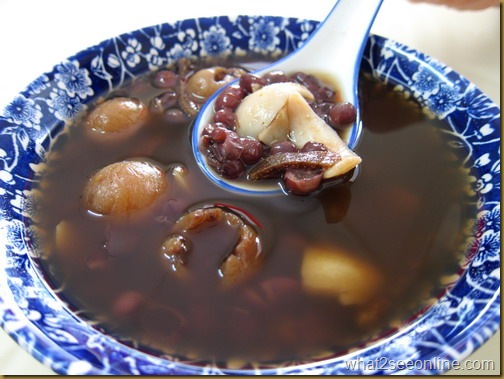 Longan red bean RM2.90
Interestingly, The Leaf Healthy House also offers a bicycle rental service to customers who want to take a leisurely tour of the city. Click here for the Map Location.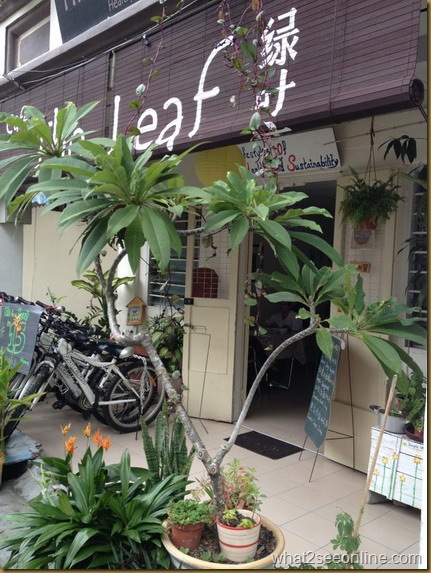 The Leaf Healthy House
No.5 Penang Street
10200 Georgetown
Penang
Tel: 04 2627007
Business Hours:
Monday to Friday-  11.30am – 3pm and 5.30pm – 9pm
Saturday – 11.30am – 9pm
Closed on Sunday
* This is a reproduction of my article published in New Straits Times