Showdown of The Battle of Penang Hawker Masters 2012
BY CK Lam
Chin Ho Plaza in Penang Times Square was the site of The Battle of Penang Hawker Masters 2012 competition finale, where 18 shortlisted hawkers compete in dishing out the best Penang hawker dishes. The event organised by Ivory Properties Group Bhd for the second year was packed with a crowd of 500 food lovers who came and watched the participants in action.
The competition comprising six categories, saw three participants from each category showcasing their skills. The six categories were Hokkien mee, curry mee, nasi lemak, char koay teow, pasembur and rojak, prepared with Khalis santan sawit, Carotino red palm oil and minyak Cap Buruh.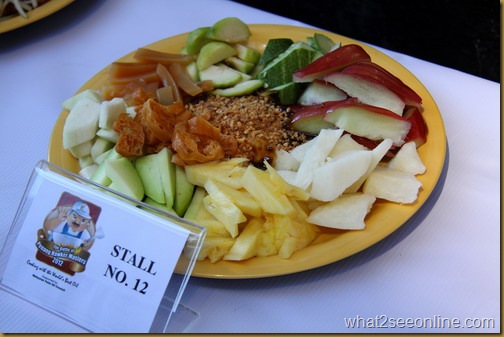 Rojak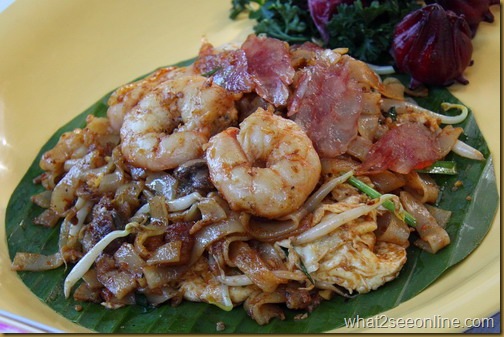 Char Koay Teow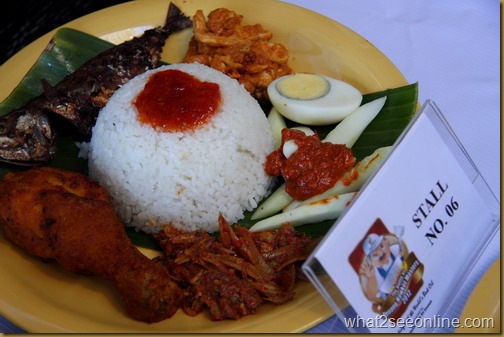 Nasi Lemak
The champions for the event after the final judging:
•     Rojak master – Tan Swee Hoe
•     Curry mee master – Lai Khoon Seong
•     Hokkien mee master – Cheong Hun Meng
•     Char koay teow master –  Penny Pooh Bee Har
•     Pasembur master – Syed Mohamed Shahul Hameed
•     Nasi lemak champion – Hashim Ismail
Rojak winner Tan Swee Hoe attributed his success to the pungent shrimp paste gravy.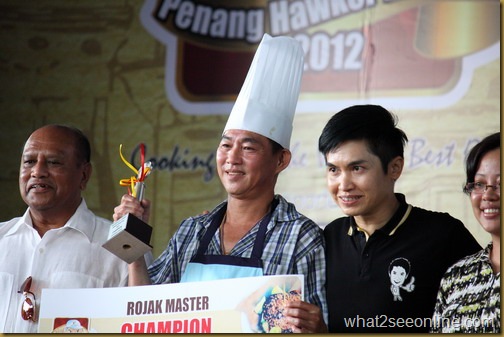 Lai Khoon Seong is the curry mee master.  The young Lai has been learning the trade from his mother since his school days and now runs the stall at Maga Restaurant in Perak Road.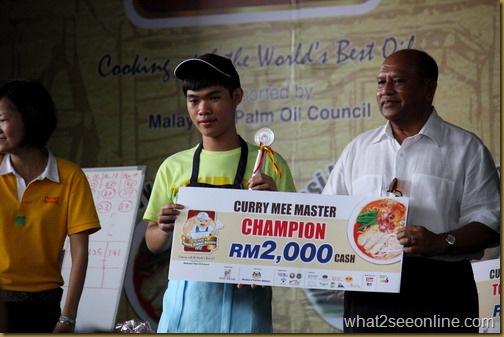 Hokkien mee seller Cheong Hun Meng has a stall in Bangkok Lane, Pulau Tikus.  He has been trading for over a decade. The Hokkien mee version of old flavor comes with homemade chili paste and fried shallots.
Penny Pooh Bee Har who took over the title of the Char koay teow master is the only female taking part in the finale. This self taught cook manages her stall at 78 Cafe, Penang Road. Pasembur winner Syed Mohamed Shahul Hameed has a stall at the Gurney Drive food court.
Nasi lemak champion Hashim Ismail operates his Nasi Lemak Cili Bilis stall at the Gurney Drive food court. The place welcomes customers with  fragrant steamed rice and unique spicy sambal besides deep-fried chicken.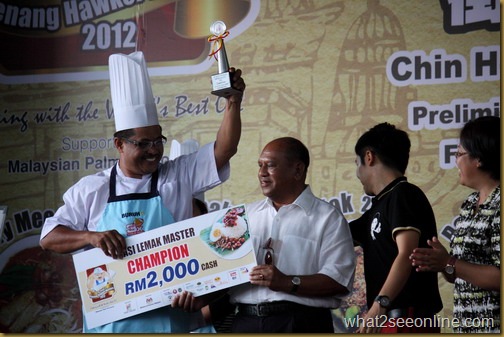 The champions from all the categories took home RM2,000, weekend stay at Eastin Hotel Deluxe Hillview room with breakfast, privileged contract to operate at Penang Times Square Food Gallery, trophies, certificate, hampers from Malaysian Palm Oil Council and Marigold, exclusive interview and write-up in The Star newspaper and Foodsion magazine.
The other two top finalists were awarded with RM400, goodie bag from Malaysian Palm Oil Council, trophy, certificate and a hamper by Marigold while the most popular stall winners from each categories walk away with RM250 and a hamper by Marigold.
The Battle of Penang Hawker Masters was a flavorsome competition, and a great  way in promoting and positioning Penang as the street food capital in the world.
A panel of judges, including myself, Penang Chefs Association representative Audee Cheah, Golden Chef Culinary Academy principal Vincent Lee, The Star executive director and group chief editor Datuk Seri Wong Chun Wai, TV food celebrity host Jason Yeoh along with Helen Ong sampled the dishes.