Celebrating Chinese New Year with home cooked dishes
Happy Chinese New Year 2013, Year of the Water Snake!!!
There are so many life's great things and one of them is having reunion meal with your loved ones. And this year I could not have asked for better with the flying in of my sons, daughter in-law and my granddaughter.
The home cooked meal of Nyonya and Cantonese food prepared by mother-in-law has many ingredients and delicacies which are important signs for the Chinese festival. Here are some of the dishes that we had been enjoying over the years.
The are several choices of soups and one that we particularly enjoyed is the chicken soup. The clear chicken soup with a wonderful balance of rich flavor is simmered for several hours with old chicken, dried scallops, sea cucumber, pig stomach, hu peow (dried fish maw) and Chinese black mushroom. At times, we even have the soup incorporate with abalone.
We had the lettuce wrap with seafood omelette (hoi sin sang choi bao), a classic Chinese dish. The omelette comes with a combination of shark fins, freshly peeled crab meat and dried scallops. The combination flavors of the ingredients melted together delightfully.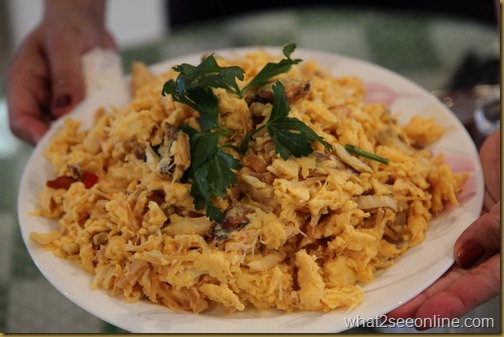 Lettuce wraps filled with seafood omelette
Assam prawn is a prawn dish that we have been tucking into for many years. For this year an addition to the menu is the turmeric prawns. Some enjoyed this new dish while others still preferred  the sour and tangy assam prawns.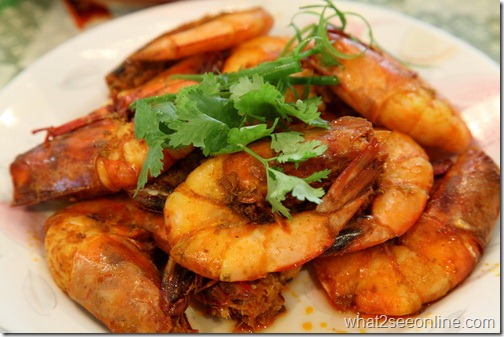 Braised ginger duck with soya sauce and ginger is an all time favorite savoury dish. A large portion is made, with some for keeping as it taste better over the days.
The Nyonya dish of ju hu char is a must have dish at this festive occasion. Stir-fried with yambean, carrot, Chinese black mushroom, streaky pork, dried cuttlefish and fresh prawns, this DIY dish with texture and sweet taste is eaten with lettuce leaf, popiah skin and sambal belachan.
Another dish is the prompet fish curry (tao tay) garnished with torch ginger flower. Cooked in a blend of decadently thick curry sauce and tamarind sauce, the dish is appetizing and had us adding more rice.
Everyone had a great time indulging in the lum mee. The lum mee with yellow noodle is simply delicious, loaded with crab meat, streaky pork, egg, chilli, bean sprouts, crab roes, crispy shallots and pee hu (crispy deep-fried dried sole).
With mother-in-law's recipe of ingredients you will understand why our family members love homemade lum mee so much.
Gong Xi Fa Cai to everyone! May the year 2013 bring good blessings to you and your loved ones.