Beach Blanket Babylon & 32 at The Mansion
BY CK Lam
32 at The Mansion, the town's well known fine dining restaurant is one of those places where you want to treat yourself to a fine dining experience. Within its premises is Beach Blanket Babylon, a beach side bar and restaurant which is charming in terms of its outdoor setting with view of the sparkly sea.
Menus for both 32 at The Mansion and Beach Blanket Babylon are done by executive chef Mathijs Nanne, with no shortage for choice. We sampled a variety of dishes from the menus.
Beach Blanket Babylon's menu is exactly what you would expect from beach side bar. It is a bit more casual with plenty of finger food. We started off with the canapé and gougeres which are served on a rectangular tile. The canapé arrived with smoked salmon served over crisp baguette toast, smoked duck spring roll and tuna croquette. This dish is served with the all-time favorite sun-dried tomato aioli.
The plate of Aged Cheddar Gougeres (French cheese puffs) has mounds of brown gougere nestled in a bed of colourful greens. "These rich bite-sized cheesy savory puffs are very addictive and are best eaten dipped in the homemade shallot and chilli jam," says chef Mathijs.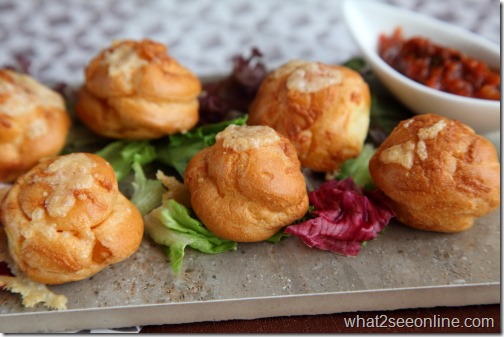 Aged Cheddar Gougeres (6 pieces for RM14)
The heart-warming Oriental and Western Mushroom Soup has lots of chopped mushroom and shaved parmesan. The cheese added savouriness to the thick mushroom soup laced with refreshing aroma of basil leaves.
 Oriental and Western Mushroom Soup (RM18)
The Battered Soft Shell Crab Salad which holds pieces of deliciously fried soft shell crab is freshen up with crunchy bites of purple radish and baby carrot. The accompanied nutty sesame dressing with warm essence of toasted black and white sesame seeds made a lovely combined experience. This salad is a favourite for many who seek crunchy deep-fried ingredients with fresh greens.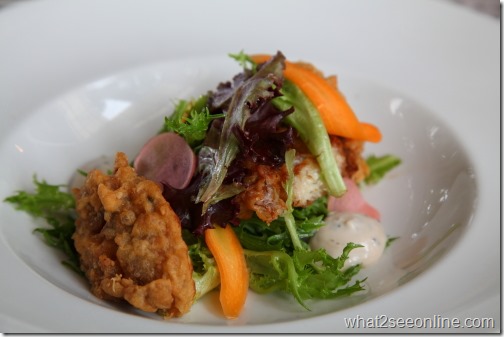 Battered Soft Shell Crab Salad (RM29)
The Pistachio Crusted Lamb Rack is a good meaty option for larger appetites. Priced at RM64, this flavourful main dish came with a sheer amount of meat cooked the way we requested, red and juicy with a crisp searing.
A medley of ingredients including crushed sweet potatoes, rocket and horseradish, peach tomato, eggplant and toasted pine nuts added texture and flavor to the dish.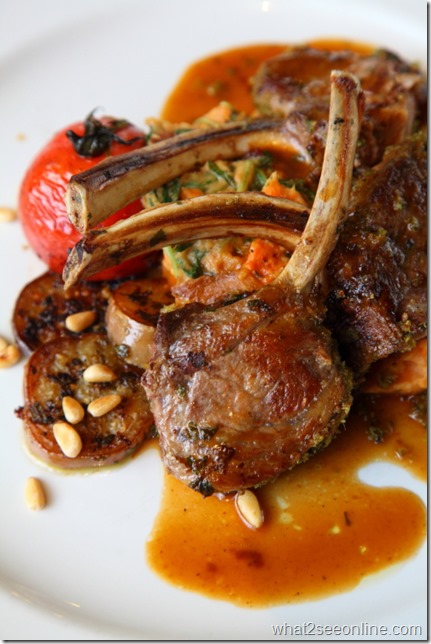 Pistachio Crusted Lamb Rack
Our plates are cleared and we got on with the set menu of 32 at The Mansion which comes with a salad, soup, main course, dessert and coffee/tea (prices depending on the main dish).
The first course is the Marinated Watermelon Salad. It is a concoction of marinated watermelon, crumbled crispy fish, shaved fragrant green mango, chopped pistachio and onions. Served with toasted coconut dressing, all the ingredients made a refreshing salad.
Marinated Watermelon and Crispy Fish salad
Soup of the day presented on a bowl – a thick and rich tomato caramelized onion soup
For the main course we had the Oven Baked Cod. Chef presented the fish dish with starchy texture roasted sweet potatoes, tomato and sharp sourish young mango. Dots of yellow curry decorated the dish priced at RM90.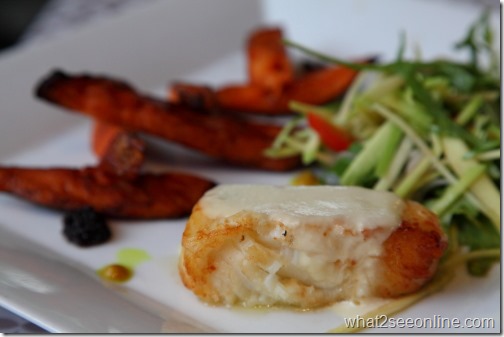 The desserts are worth saving room for. We sampled the Coconut, Red Sugar and Raisin Cake. Speckled with raisins, the cake is  paired with roasted pineapple, basil & dried cranberry and sour cream ice-cream. I finished every last bit of this delicious dessert.
Beach Blanket Babylon makes for a perfect relaxing spot to an evening outing. At the moment the outlet is serving up the 'Sundowner' deal. A glass of house red/white or Hoegaarden with a selection of canapés (RM28++) is available every day, between 5pm and 7pm.
Beach Blanket Babylon
Beach Blanket Babylon & 32 at The Mansion
32 Jalan Sultan Ahmad Shah
10050 Penang
Tel: 04 2622232
Business Hour: 12noon till 3pm & 7pm till 12midnight (Daily)
* Many thanks to 32 Mansion for laying on this invitation.