Nordic cuisine has landed in 32 Mansion, Penang
BY CK Lam
I had my first encounter with Nordic cuisine in 32 Mansion with cozy and comforting signature dishes by guest chef Nizar Achmad. The dishes influenced by flavors from Denmark, Finland, Iceland, Norway and Sweden emphasizes on the old techniques of drying, smoking, pickling, curing and smoking.
Besides the gourmet set menu specially prepared by chef Nizar, the restaurant also offers these dishes in the à la carte menu. We sampled two gourmet course meal, namely the salmon and lamb main dish at RM139 each.
The meal starts with a selection of freshly baked bread with butter and olive oil. We had three nice options. The sourdough with sundried tomatoes is a healthy one while the thin and crisp Swedish knackebrod with lots of black and white sesame seeds is a wonderful addictive snack.
The Nordic salad (RM25) is served on a rectangular tile with rich creamy Hollandaise sauce. Chef Nizar recipe uses plenty of mesclun, tomatoes, beetroot, cucumber, baby carrot, shallots and crispy butter deep-fried seabass skin.
Fully colored, this light salad stands out with its pickle vegetables infused with chili, ginger and lemon grass. Particularly enjoyable is the shallots infused with vanilla.
A wonderful start to the meal is the Oriental and Western mushroom soup, with whisky cream and a combination of mushrooms including the sought-after chanterelle mushroom. This soup (RM18) with a creamy mouth feel is delicious with mushroom goodness.
Fish is high in Nordic diets and chef Nizar had the ginger flower and lemon cured Swedish salmon served on a bed of al dente lentils. The salmon is fried with crispy skin and comes with lovely bites of baby carrot, white asparagus, chanterelle and cauliflower, all cooked in vinegar. To serve, warm yellow gazpacho broth is poured over the fish. Chef Nizar recipe for the gazpacho is made with fish stock which adds a lot more flavor.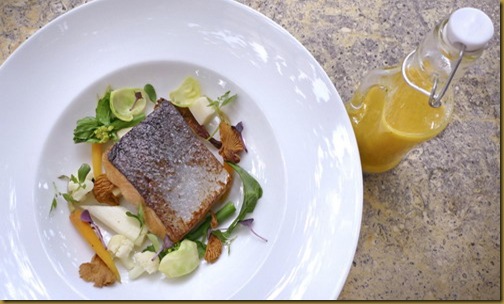 Swedish salmon RM79
The braised lamb (RM75) came together well with flavors. Braised for four hours, the lamb is served alongside mixed mushrooms, black truffle, olives, mash potato and mojo rojo sauce besides the butter nut puree. The appetizing mojo rojo sauce is made using Spanish capsicum, pistachio, chilies and mint.
Other choices of the main course include pan fried chicken, pan fried seabass as well as the grain fed beef tenderloin.
For desserts, there is a plate decorated with chocolate, organic soy milk ice cream, raspberry sorbet and macaroon with fillings of smoked whiskey pineapple. There was enough of crumble for this dish.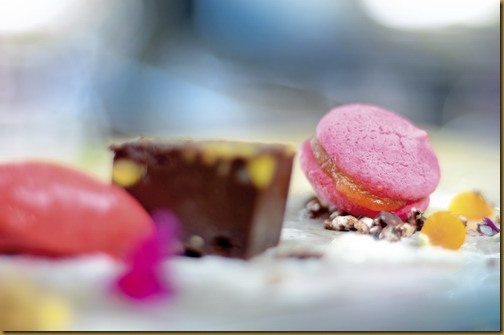 To discover Nordic cuisine by chef Nizar, head over to 32 Mansion. The gourmet set dinner is served from 7pm till 10.15pm and is available until mid September 2012. For reservations, call 04-2622232.
32 Mansion
32 Jalan Sultan Ahmad Shah
10050 Penang
* Many thanks to 32 Mansion for laying on this invitation.
* This is a reproduction of my article published in New Straits Times