Valrhona Chocolate Wine Dinner at El Faro Tapas Bar & Wine
The outlet has since closed down
It was a chocolatey evening at the Chocolate and Wine Dinner held at El Faro Tapas Bar & Wine in Penang. Executive Chef Jack Yeap and his team crafted a six course menu with the high-grade Valrhona chocolate.
We indulged in the Momotaro Tartare, Hokkaido Scallops, Pork Tenderloin Confit, Chicken Thigh 'Tajine', Dorper Lamb Rump and Chocolate Tiramisu. The chocolate and wine dishes were paired with wines by distributor Asiaeuro Wines & Spirits. Some of the pairings stood out with matching flavor intensities.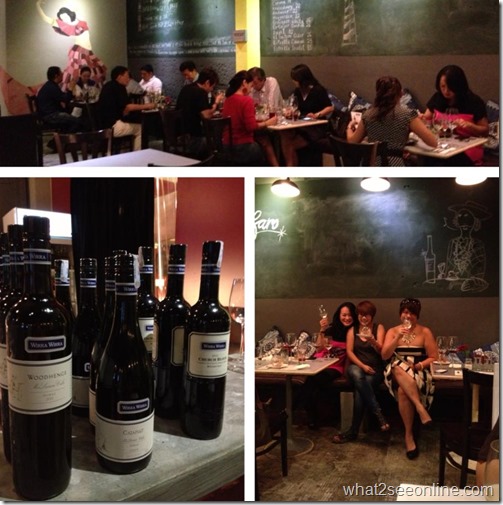 The Momotaro Tartare was a simple dish of chopped sweet and tangy tomatoes served with balsamic, sea salt, mango emulsion and delicate Valrhona chocolate shavings. The chocolate shavings enliven the deliciously refreshing dish, creating a perfect pairing with Batasiolo Cascine 7 Prosecco.
The light in flavor Hokkaido scallops served sitting on the luscious Valrhona chocolate sauce with shallot rings, fennel and gin were paired with the Evans & Tate Gnangara Unwooded Chardonnay.
The seared scallops and chocolate sauce blended well but pairing the two ingredients with the gentle white wine with peach and nectarine fruity notes proved otherwise for some.
A total of three reds from the Wirra Wirra vineyard were featured during the dinner. Wirra Wirra Catapult Shiraz with bouquet of spices was paired with the Chicken Thigh 'Tajine', a strong flavored chicken dish prepared with preserved lemon, olives, pine nuts, bell peppers and intense Valrhona chocolate flavor.
A prominent dish of the evening was the Dorper Lamb Rump. The rich meat cooked with a nice pink center was served together with refreshing pomelo, light touches of chili, sherry vinegrette, prune jus and wonderful dark Valrhona chocolate crumble.
The dish paired well with the bolder Wirra Wirra Church Block, a red wine made with a blend of Sauvignon, Shiraz and Merlot grapes.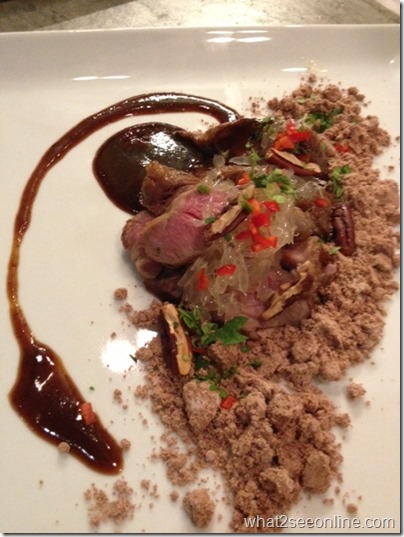 The pork tenderloin confit prepared with Valrhona chocolate, hazelnut puree, crispy coated dates and tiny cauliflower florets was paired with Wirra Wirra Woodhenge Shiraz, a lovely full body red wine. The high per cent cocoa solids of the chocolate complemented the meat well, making this the favorite pairing of the night.
It was chocolate indulgence, with the chocolate tiramisu. The dessert perfected with layers of strawberry granite, chocolate ice cream, tuile and Valrhona chocolate deserves the pairing with Deakin Estate Moscato. Crafted from the muscat gordo blanco fruit, the pairing of this easy drinking wine and sweet dessert was perfect, with the flavors melded together nicely.
Chocolate not only associates with sweet desserts but also goes well with bold-flavoured meat. If you are keen on trying this interesting varying style of food, make a reservation at this tapas joint located on Burma Road. Click here for the google Map Location.
El Faro Tapas Bar & Wine
231 Jalan Burma
George Town
10050 Penang
Tel: 04 2272310
Closed on Wednesday