Chinese New Year 2014 Dining Package Menus at Ixora Hotel in Prai, Penang
BY CK Lam.
2014 is here and it is time to plan ahead for the coming Chinese New Year festive season

To usher in the Year of the Horse, Ixora Hotel in Prai, Penang is offering several promotions for the upcoming Chinese New Year Festivity! Celebrate the auspicious festival with the Chinese New Year Prosperous Reunion eight-course dinner at The Straits Cafe and Lounge from January 30 until February 1, 2014.
There are two packages, priced at RM698++ and RM888++ for a table for 10 people. Executive Chef Aikaun Beh presents the Chinese cuisine artistically on varied white ceramic.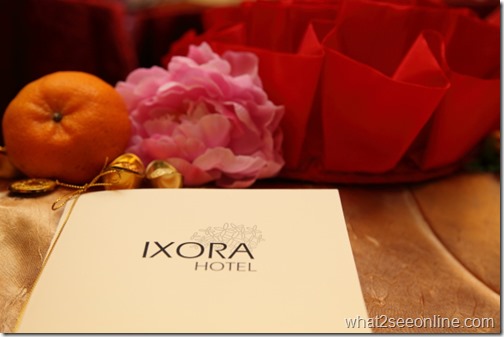 As in all Chinese New Year menus, the colorful 'Yee Sang' platter is an important dish to toss to good fortune. Chef Beh 's version of this 'lo hei' dish is The Ixora Rainbow 'Yee Sang' Platter which features salmon and a long list of julienne vegetable, with tangy plum sauce, sesame oil, garlic oil and lime juice dressing.
The Ixora Rainbow 'Yee Sang' Platter 七仙彩鱼生 (RM698 menu)
Tuck into healthful choices of traditional shark's fin soup with dried scallops or the double boiled chicken soup which offers fish maw, black mushrooms and ginseng. These soups slow simmer with herbs bring warm and comfort.
Traditional Shark's Fin Soup with dried scallops  一团又和气 (RM698 menu)
Double- boiled chicken soup with fish maw, black mushrooms & ginseng 盆满钵又满 (RM888 menu)
The prawn dish has the luscious seafood wok-fried in oatmeal and butter. The light oatmeal adds a delightful bit of crunch.
  Wok-fried oatmeal butter prawns 一团又和气 (RM698 menu)
Nicely blanched broccoli added delicious crunch to this braised vegetable dish with bailing mushrooms, pacific clam and sea asparagus. The dish is brighten up with a braising sauce which offers a sweet note of oyster sauce.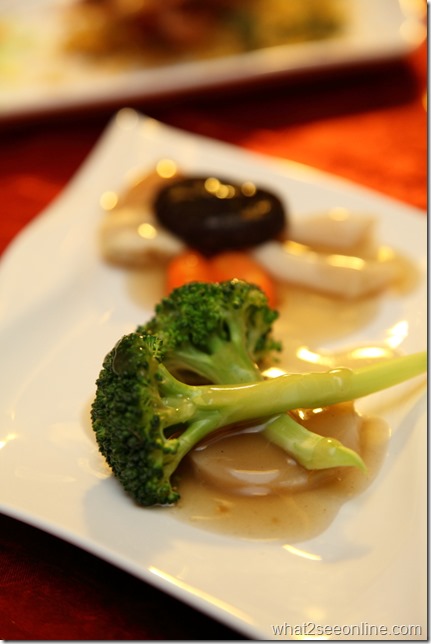 Braised broccoli 好事庆丰收 (RM698 menu)
Another highlight from the menu is the steamed red lion fish prepared with hot and spicy Szechuan sauce. The pieces of fish marinated, rolled up and steamed, contrast well with the spiciness of the sauce.

Steamed red lion fish with hot and spicy sauce (Szechuan) (RM698 menu)
The stir-fried Emperor Noodle arrived next with plenty of succulent prawns, pieces of deep-fried fish and vegetables.
Stir-fried Emperor Noodle  双王来报喜 (RM888 menu)
For dessert, diners can look forward to the slow-boiled tong-sui of white fungus with gingko nuts, red dates, longan and lotus seeds. This sweet dessert reminds me of childhood and sweet memories.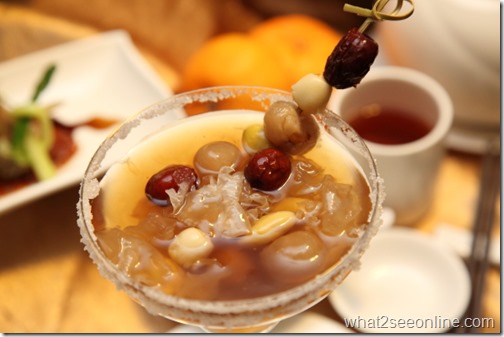 Slow-boiled white fungus tong-sui 幸福好团圆 (RM888 menu)
Chef Beh (on the far right) and his team showcasing the Chinese New Year dishes
Besides the set menu, Ixora Hotel also offers the Chinese New Year 'Wang Chow' Wok Fried Cuisine menu. The menu with assorted Chinese dishes is available from January 1 to 28 February 2014. Take your pick from the regular and large sizes, priced from RM10++ onwards.
The chef rolled out six dishes from the menu, with fishball seaweed soup, crispy mint sauce chicken, stir-fried fish fillet with bean paste sauce and also deep-fried prawns with five spices. For something light to start with, try the fishball seaweed soup.
Fishball seaweed soup 紫菜鱼丸荡
The next item is the crispy mint sauce chicken. The chicken had good texture and is served with mint sauce done deliciously with light touch of mayonnaise.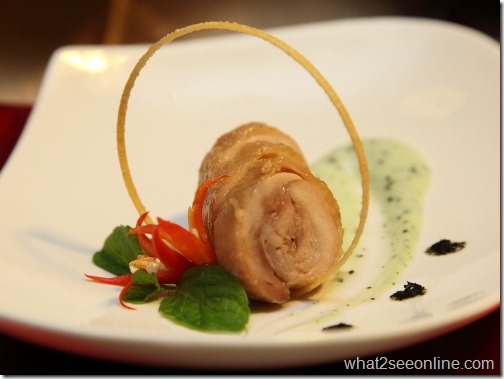 Crispy mint sauce chicken 酥炸薄荷鸡
Chef Beh create the stir-fried fish fillet dish with a robust flavor using bean paste coupled with mild chili sauce.
Stir-fried fish fillet with the bean paste sauce 酱蒸鱼片
For something different, Chef Beh recommends the deep-fried prawns with five spices. The   succulent prawn is a delight with savory flavor from the spices.
Deep-fried prawns with five spices 酥炸五香虾
In addition to the list of dishes, there are warm and cold desserts. There is the Taiwan Chinese tong yuen, with colorful big and small glutinous rice balls in sugar syrup. For a lighter dessert, try the Chinese herbal pudding with honey.
Taiwan Chinese tong yuen 台式汤圆
Chinese herbal pudding with honey 密糖药膳布甸
Ixora Hotel is just 5-minute walk from Megamall Penang. For reservation, contact 04-3828888.
Ixora Hotel
Jalan Baru
Bandar Perai Jaya
13600 Perai
Seberang Jaya
Penang
* Many thanks to Ixora Hotel for extending this invitation.