A Spread of Jawi Peranakan Delights at Jawi House Cafe Gallery
BY CK Lam
The Jawi House Cafe Gallery, offers an eclectic Jawi Peranakan (Straits Muslim) interior with a comfortable atmosphere to entertain friends and family.
Located on Armenian Street in the heritage zone of George Town, Penang, the cafe is owned by Datuk Dr Wazir Jahan Karim, an anthropologist and culture conservationist.
Although Wazir is a good cook herself, having learned from her mother, she often leaves food preparation at the restaurant to her son and head chef Nurilkarim Razha.
Nurilkarim, who learned the art of cooking from his mother, makes Jawi Peranakan and Indian Muslim fare combining herbs and spices from Malay, Northern Indian, Arab and Persian cultures. Meanwhile, Wazir supervises and ensures the authentic flavours of the Jawi Peranakan dishes are retained.
Home-cooked dishes such as the Jawi balmieh and herbal lemuni rice have since become favourites. "We cooked the Jawi balmieh with lamb stock and many herbs such as coriander, fennel and cinnamon," said Nurilkarim.
This Arab Peranakan dish, with chunks of lamb and okra, goes well with the crusty Benggali bread.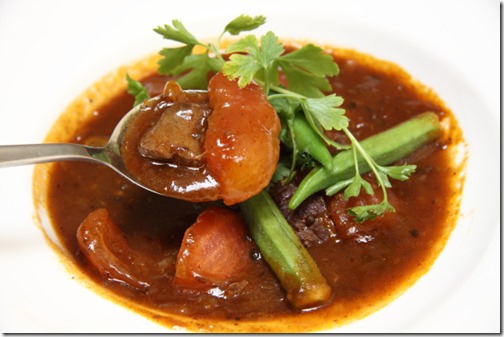 Jawi balmieh is one of the favourite dishes among diners
"The type of rice we use is also important. "We use long grain basmati in our herbal lemuni rice and briyani," explained the chef.
The signature herbal lemuni rice has an interesting mix of flavours. The rice is cooked with ginger, lemon grass, coconut milk, shallots, garlic and homemade lemuni leave paste. The rice has a bright blue hue from the butterfly pea flowers. Lemuni leaves are said to have medicinal properties.
It is served with crisp deep-fried anchovies, hard-boiled eggs, homemade sambal and a side of chicken curry. The chicken curry is made with the thigh of the chicken in a delicious mixture of Indian and Malay type curry while the homemade sambal is spicy and tangy.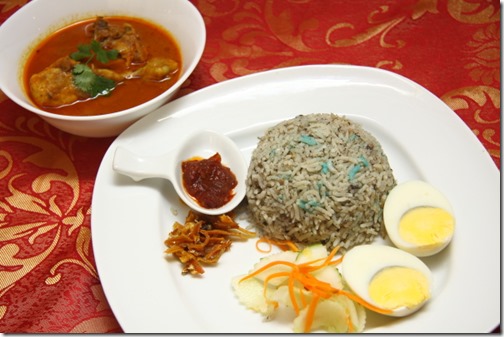 Herbal Lemuni Rice with chicken curry
If you have a hearty appetite, don't miss out on the multi-coloured briyani, done Peranakan-style. The mildly spiced and flavoured fluffy rice is boiled with briyani masala, coriander and evaporated milk and is topped with raisins and cashew nuts along with daging masak hitam (spicy black beef), cucumber yoghurt and papadum.
The beef is flavourful with a slightly sourish taste from the use of assam keping (tamarind slices).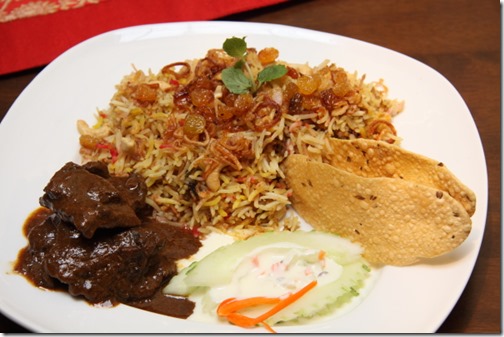 The restaurant recently introduced the Jawi laksa, that is garnished with bunga kantan (torch ginger flower), onions, mint, lettuce and cut chillies.
The fish-based broth is made with tuna, coconut milk, fennel, turmeric, chilli, star anise and fingeroot (known as temu kunci, a root widely used in Javanese cuisine) and gives this dish a creamy, fragrance and a wonderful spicy taste.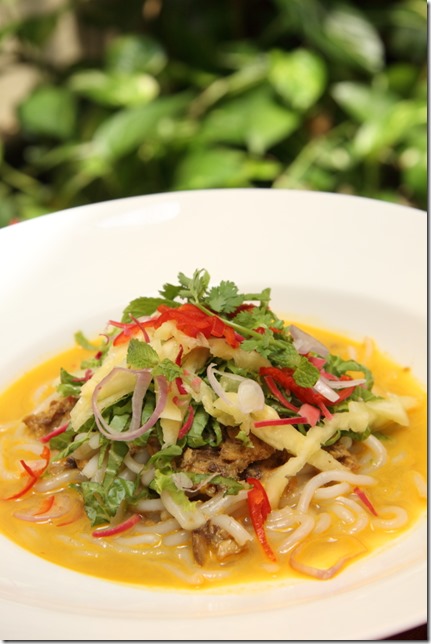 For drinks, cool down with Penang favourites like nutmeg with honey and lime and the Arabian sherbet.
Jawi House's traditional version of the Arabian sherbet dates back more than 800 years in Southeast Asia. The Arabian sherbet is an attractive pink colour, and is a blend of iced rose syrup and milk, topped with biji selasih (basil seeds), buah kembang semangkuk (malva nut) and getah anggur.
For dessert, there is tiered red velvet galletes with cream cheese and sago gula Melaka. The desserts are moderately sweet.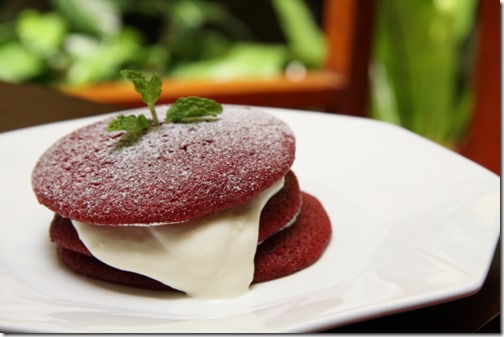 Tiered red velvet galletes
This cafe cum art gallery is open everyday except Sunday from 10am to 7pm, serving breakfast, lunch and afternoon tea.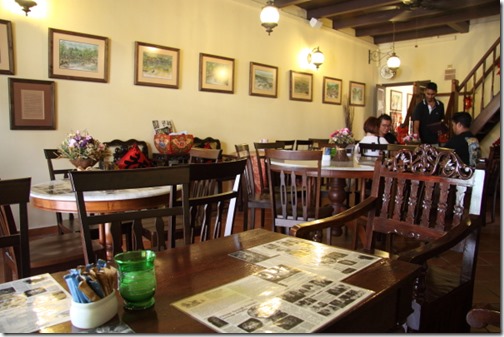 Jawi House Cafe Gallery
85 Armenian Street
10200 Georgetown
Penang
Tel: 04-2613680
* This is a reproduction of my article published in New Straits Times.