A Taste of Fusion @Asiatique Kitchen & Lounge @Vantage, Penang
*The outlet has since closed down

Our eyes were drawn to the newly opened Asiatique Kitchen & Lounge in Vantage, Tanjung Tokong, Penang. The kitchen helmed by young Aldrien Moh offers Modern Australian cooking, with food prepared combining Asian flavors into French cooking techniques.
We were at the fusion theme place for a weekday lunch after it had opened, and we returned recently for dinner.
The chef and his team introduced to us an array of  MSG-free dishes prepared with vast array of ingredients and surprise combinations. For sweet indulgence, the kopi'o bread butter pudding and the chendul and red bean panna cotta are recommended choices.
The chendol panna cotta appeals to many who wants to be pampered with flavors of the Penang chendul drink. Chef Aldrien did an interesting take, with presentation of soft jelly with chendul and soft stewed red beans. The dessert is served with gula Melaka syrup and homemade ice-cream infused with desiccated coconut.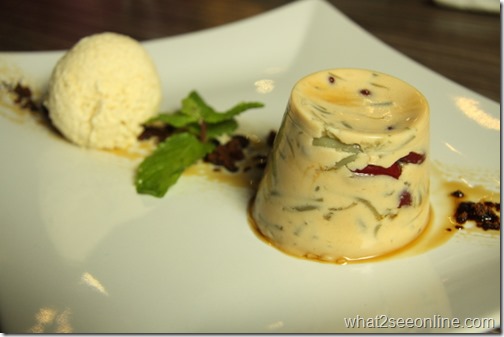 Chendul and red bean panna cotta RM12
The kopi'o bread butter pudding is a merge of three breakfast dishes, with freshly baked pudding infused with local kopi'o, kaya mousse and scoop of homemade teh tarik (milk tea) ice-cream.
Kopi'o bread butter pudding RM14
The pasta dish of coconut and ginger carbonara fettuccini with pieces of poached Hainanese chicken is a comforting indulgence. Tossed in a creamy rich coconut ginger and pandan leave cream, the al dente pasta is paired with a lump of spicy sambal.
Packed with fresh flavors of shallots, garlic, ginger and belacan (fermented prawn paste), the sambal is a great accompaniment to the dish.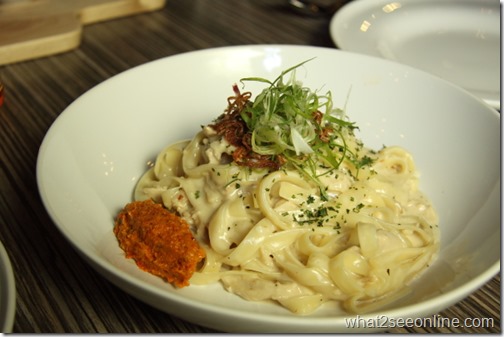 Coconut and ginger carbonara fettuccini RM24
There is an abundance of hearty dishes under the main course. The five spice duck breast which is a different take on the traditional yam duck, is pan-seared, then baked and served on sauteed chilli spinach, yam puree and orange plum reduction.
It may not be an interesting combo of texture and flavor, but the duck breast with warm aromatic flavour of five spice is tasty on its own.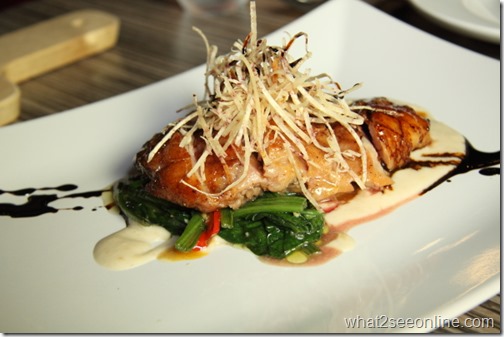 Five spice duck breast RM34
The pan seared salmon awakened with Penang assam laksa flavor is an interesting dish. The fish set on tangy laksa cream and fermented prawn foam (belacan foam) is garnished with toppings of mint salad and pickled cucumber.
Pan seared salmon RM30
For starter, there is the fried crab and corn cakes topped with arugula. A serving includes three pieces. A dip in the Singapore chilli sauce enhances the cake with a spicy finish.
Crab and corn cakes RM 16
Dishes for sharing include tofu and chicken wings. The chilled silken tofu is transformed to a delicate refreshing dish with onion, chewy dried shrimps, hoisin jam, basil, parsley oil, chilli sauce, caviar and chives.
The Laksa fried chicken wings are seasoned with a light flavor. The chef permeates the chicken wings with laksa paste, finished in a deep-fryer and served with a side of chili and lime sauce.
 Chilled silken tofu RM12
Laksa fried chicken wings (4 wings for RM13)
When it comes to soups, we were recommended the green pea cappuccino soup and the mushroom soup. While the latter topped with herb oil, herbed croutons and parmesan cigar has always been a popular choice, the green pea cappuccino soup served with parmesan nutmeg foam and cinnamon lavash is gaining a following with its light and clean flavors.
Classic mushroom soup RM11
Green pea cappuccino RM11
Besides the many intriguing MSG-free fusion choices at this semi fine-dining restaurant, the kitchen is on its toes in thoughtful tweaking and refining process since its opening in little over five months.
The ambitious chef with his culinary exposure in Australia and the US is having thoughts of launching a brunch fusion menu. Well, let's keep our fingers crossed.
Asiatique Kitchen & Lounge
C-G-3 Vantage Desiran
Jalan Desiran Tanjung
Tanjung Tokong
10470 Penang
Tel: 04 8903995
Business Hour: 12noon – 11pm
Closed on Tuesday