Glow Penang Rolls Out Zest Cafe
BY CK Lam
Glow Penang; an ordinary hotel but well done!
Macalister Road in Penang continues to develop with the opening of Glow Penang on December 2013. Managed by Zinc/InVision Hospitality, the mid-scale hotel offers convenient and comfortable accommodation for both holiday and business travellers. The hotel fuses 131 stylish guest rooms, a bar and the all-day dining Zest Cafe.
The cafe brightly decorated with artwork on the walls, and simple yet modern furniture is open from 7am to 11pm daily.  It occupies two separate floors, a space on the ground floor and a large space on the first floor.
In a recent visit to the cafe, we satisfied our tummies with dishes full of bold combination ideas. For starters, there is the Glow Mixed Salad (RM15). Served with, salmon, feta cheese and mustard sesame dressing, this dish can be shared or just eaten as a light main course.
For the vegetarian option, there is the Vegetarian Platter which allows us to taste many ingredients.  The dish had a pleasing combo of steam rice, roasted pumpkin, sundried tomato, mango avocado salad, zucchini slices and a tower of baked potato (RM18). The flavors meld well together.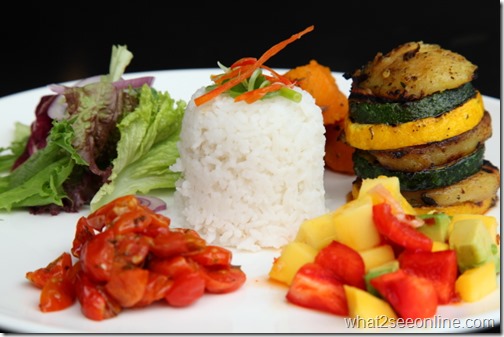 Then there is the Glow Burger (RM22), made with two Australian beef patties, richness of three cheeses and crispy onion rings. It is served with cubed potatoes and herb mayo.
The patties are well seasoned and offers a good bite, but prepared a bit greasy than they should be.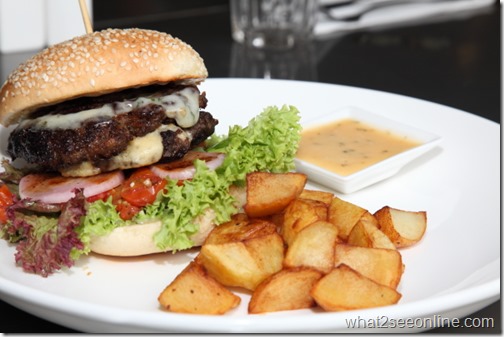 The Thai Green Chicken Curry with steam rice (RM18) is up on the menu too. The dish is served with carrot cucumber pickle, perfectly balancing the creaminess of the rich curry.
The Thai-style Laksa (RM15) comes with yellow noodle and cooked chicken meat in a creamy, and slightly spicy Thai prawn broth.
Condiments of lime, red chillies, bunga kantan, chili padi and fried chili paste provided on the side of the plate offer burst of flavors and fragrance. This noodle dish indeed thrill the senses.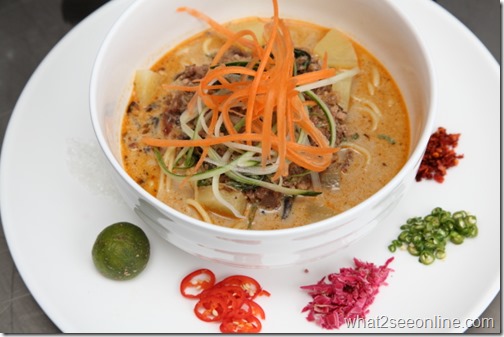 And finally, the Grilled Beef and Ginger Soup with soba noodle is served with asparagus zucchini, mushroom and chili soy sauce (RM22). The noodle dish is spiced up with chili soy sauce, done with some cheesy twist. Surprisingly, it worked out totally well.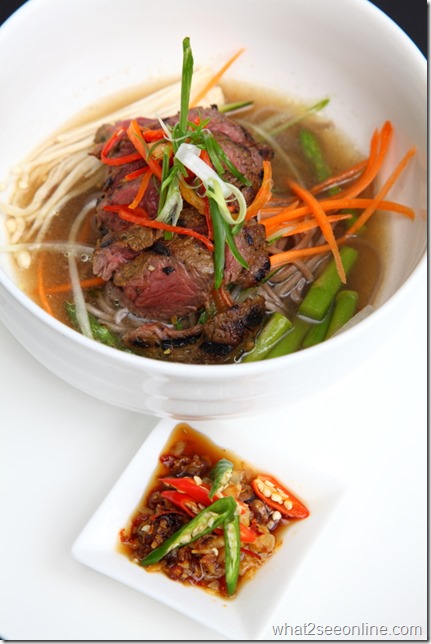 We embraced our sweet tooth with desserts, such as Pulut Mango with thick santan and fragrant gula Melaka and Apple Crumble with chunks of apple and nut toppings. Both are lovely examples of their desserts besides the chocolate & almond flan and strawberry yogurt.
There is a list of beverages: beers, smoothies, milkshakes, freshly squeezed fruit juice, soft drinks, tea and coffee. And that is the weekly set lunch that is good to know about. Available from 11.30am to 6pm, the menu with an entree, main and dessert changes every week, and is priced at RM15+.
Pulut mango
Apple crumble
After the meal, we are given a tour of the rooms and the surroundings.  There is a room for everyone, with choices of superior twin, superior queen, superior single, family triple and family quad. In addition, facilities such as free Wi-Fi is also included.
The hotel is offering an attractive opening rate, at RM188 per night. The package includes complimentary breakfast. For more information, visit their website.
Check this out:
 Lobby
Zest Cafe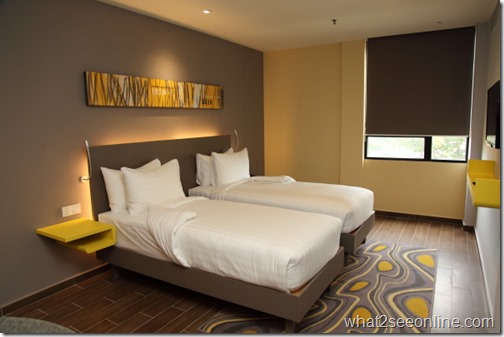 One of the many rooms in the hotel
Swimming pool on a raised platform
Glow Penang
101 Jalan Macalister
10400 Penang
Malaysia
Tel: +60 4 226 0084