Spice Market Cafe offers special "6 in 1 + P60" Buffet Promotion
BY CK Lam
Rasa Sayang Resort & Spa, Penang recently introduced the enticing "6 in 1 + P60" Promotion at its Spice Market Café. Diners can savour treats and desserts from the specialty stations offering different types of cuisine, ranging from Japanese, Western, Indian, Chinese and Malay.
According to Suleiman Tunku Abdul Rahman, Director of Communications, the '6 in 1' promotion is a great way for buffet lovers to taste the best of six food promotions. The buffet is available from Sunday to Thursday but the the special price applies for only Monday and Tuesday. For variety, the menu changes every fortnight.
The perfect way to start the meal is with the appetizer, salad and cheese. There is plenty of seafood and the selection of chilled crayfish, oysters and scallops is sure to tempt seafood lovers. A few drops of lemon juice give a welcome freshness to the oyster and there is a variety of dipping sauces to complement the crayfish.
Chicken terrine, marinated fish and smoked duck is best to go with the pleasing choices of salad. The creamy potato salad comes with beef salami, chicken salad with jalapeno and pasta salad with tuna flakes. You will also find a nice selection of pungent cheeses such as brie, blue, camembert, cheddar and emmental.
  Various kinds of terrine and cheese
For those who feel like having something a little more fiery, go for the Gujerati specials. The pilau rice is best eaten with chick peas curry, bateta nu shaak and ringna no olo.  There are options to please vegetarian eaters too.
Vegetarian Gujerati specials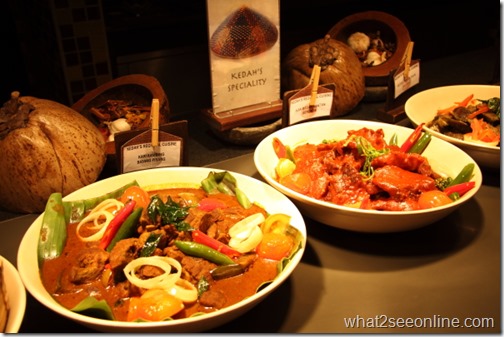 Kedah's speciality at the Malay kitchen
Tandoori highlights include staples such as tandoori fish, tandoori lamb, chicken tikka and fish tikka masala (fish marinated in spices and yogurt). Freshly-prepared, these tandoori dishes with flavorsome marination and chargrilled aroma are a real treat for those who appreciate Indian cuisine.
There is also a small yet nice selection of satay – lamb and chicken satay.
When it comes to Japanese, take your pick from the many delectable seafood, served with many condiments. You can either have the seafood with pickled ginger, chuka hotate, shiba zuke or chuka wakame.
There is a trio of dips – basic shoyu sauce, lemon shoyu sauce, and the sweet shoyu sauce which contains alcohol.
For dessert lover, there is a decadent array of desserts, chocolate fountain, fresh seasonal fruits and Nyonya kuih muih. Enjoy a coffee with a slice of pralinosa bavaroise, apricot crumble or with Chef Dino's perfectly sweet plain cheese cake.
The chocolate fountain along with plenty of skewered marshmallows and dried fruits keeps many chocolate lovers coming back for more.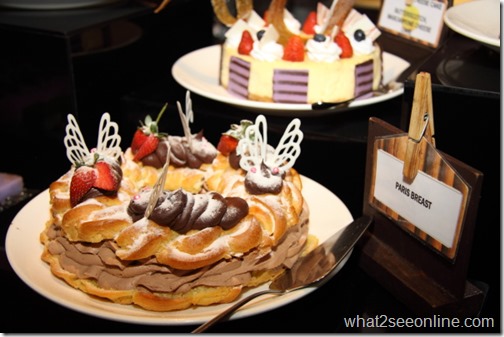 The buffet dinner is ongoing weekly from Sunday to Thursday, and is priced at RM 128++ per adult and RM 64++ per child. Guests will pay only 60 per cent of the actual menu price when dining at Spice Market Café on Monday and Tuesday. Prices shown do not include the discount. Terms and conditions apply. The offer is not applicable on the eve of public holidays and on public holidays.
Watch the chefs prepare the ingredients and turn them into tasty meals 
Shangri-La's Rasa Sayang Resort and Spa
Batu Feringgi Beach
11100 Penang
Tel: 04 8888788
* Many thanks to Shangri-La's Rasa Sayang Resort and Spa for extending this invitation.