Flavour Guide on Penang Hawker Food: Chapati
BY CK Lam
Penang is a hawker paradise with a huge variety of interesting street food stalls offering plenty of good and reasonably priced Chinese, Malay and Indian cuisine. I revel in the delights of hawker food, sold throughout the market area, neighbourhood stalls and the narrow back alleys of Penang.
Some of the stalls offer sitting areas while others have none, so you may have to eat while standing up – a bit of a challenge. However, it's an even bigger challenge to decipher what goes into each dish and just where those flavours dancing on your palate stem from. This is where I can help.
CHAPATI
What it is: Chapati is an Indian flatbread made of wheat flour. It's a staple in the Indian community's diet. There is a very light flavour stemming from the wheat dough to this flatbread and it is simply delicious when dipped in curry.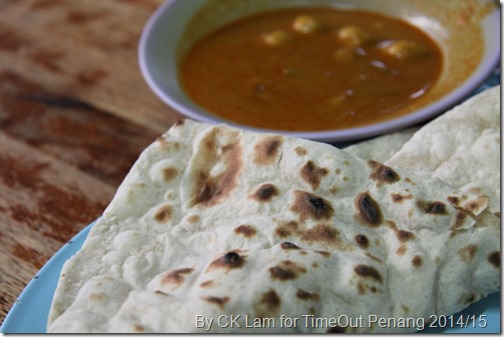 The best way to enjoy chapati is to dip pieces of it into curry
How it's cooked: The eateries in Penang churn out chapatis with different textures, ranging from soft to chewy ones. There's an art to flattening the ball of dough and rolling it out thinly in circular motion.
The piece of chapati is then cooked or 'grilled' over a fire. The edges are pressed lightly to encourage a puff that makes the chapati light. Some vendors still use a charcoal fire instead of a flame grill, which gives the chapati a delicate smoky flavour.
Where To Try:
G. Tholasi Corner @Wa! Coffee Cafe
28 Lebuh Bishop
George Town
Penang
Open from 6.30am till 2.30pm
Closed on Saturday and Sunday
Tip: Check out this family-run stall selling Southern Indian dishes and chapati cooked over a gas stove. The accompanying dhal is deliciously spicy.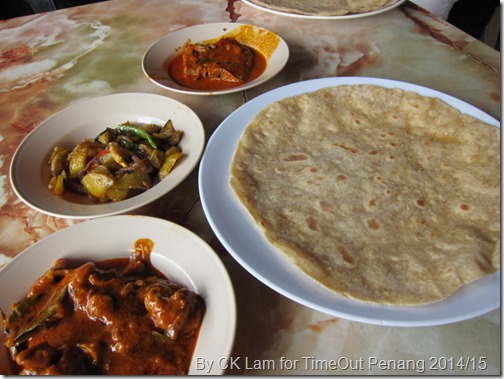 Gerai Makanan Dan Minuman Maj
Next to No. 47 Ah Quee Street
George Town
Penang
Business Hour:  7am till 6pm
Closed Sunday
Tip: They grill the chapati using a griddle over a gas stove and serve it fresh in a tiny little shack for the early morning office crowd. They've got good sardine and mutton curries for dipping too.
Stall in front of Restaurant Sulltania
57 Queen Street
George Town
Penang
Tip: The chapati here is cooked quickly on wire gauze directly over a charcoal fire, and flipped continuously to ensure even cooking on both sides. It has a pungent charred aroma and is best eaten with vegetable curry.
* This is a reproduction of a part of my article published in TimeOut Penang guide 2014/15. The guide can be purchased at their website.