Flavour Guide on Penang Hawker Food: Pan Mee
BY CK Lam
Penang is a hawker paradise with a huge variety of interesting street food stalls offering plenty of good and reasonably priced Chinese, Malay and Indian cuisine. I revel in the delights of hawker food, sold throughout the market area, neighbourhood stalls and the narrow back alleys of Penang.
Some of the stalls offer sitting areas while others have none, so you may have to eat while standing up – a bit of a challenge. However, it's an even bigger challenge to decipher what goes into each dish and just where those flavours dancing on your palate stem from. This is where I can help.
 Pan Mee
What it is: Pan Mee is also known as mee hoon kueh in Hokkien. You can have either the dry version or with soup. Pan mee is a type of noodle made of rice flour that is handmade manually on the spot. The prepared small lumps of dough are kept fresh in a tight container, and when the time comes, they're flattened and cut into strips using a noodle-making machine.
How it's cooked: A lot of anchovies are used in boiling the stock, which makes the soup very flavourful and sweet. The main ingredients for the dish are deep-fried anchovies, black fungus, minced meat, Chinese mushroom and the leafy, aromatic kowkay or sayur manis.
The dry version comes with a small serving of soup and spicy chilli sambal while the soup version comes with cut chillies on soy sauce. This dish is a healthy choice as it is prepared without preservatives or artificial flavouring.
Condiments of chilli flakes and lime to add zest to a bowl of pan mee
Where To Try:
Kedai Kopi Gou Lou
55 Jalan Kampung Malabar
Business Hour: 6pm – 10.30pm
Closed on Sunday
Tip: A good option if you are looking for a dining place in George Town. Be sure to check out the pan mee with venison meat and also the pan mee with clams.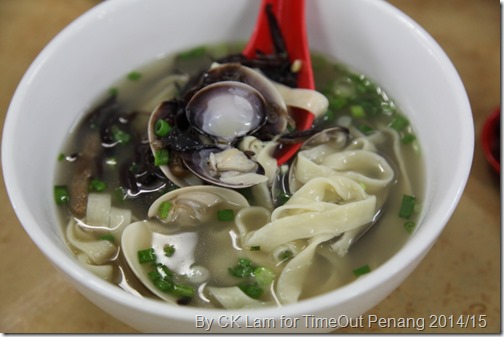 IU Win Pan Mee Cabin
74 Jalan Aziz Ibrahim
Sungai Nibong
11900 Penang
Business Hours: 7am to 10pm (daily)
I Mum Mum Restaurant
294 PDC Flats
Pengkalan Weld
10300 Penang
Business Hours: 7am – 3pm
Closed Every Alternate Monday
* This is a reproduction of a part of my article published in TimeOut Penang guide 2014/15. The guide can be purchased at their website.