Shangri-La's Rasa Sayang Resort & Spa and Golden Sands Resort, Penang Launched "Rooted In Nature" Campaign
BY CK Lam
This April, Shangri-La Hotels and Resorts worldwide launched the "Rooted in Nature," Campaign. The campaign sees the Shangri-La group hosting a month long celebration of the group's most exceptional food purveyors.
To celebrate the event, Shangri-La's Rasa Sayang Resort & Spa and Golden Sands Resort, Penang will highlight sustainable sources of seafood and free-range chicken to diners with special menus throughout the month April 2015.
At Shangri-La's Rasa Sayang Resort & Spa, guests are invited to savor the special dishes at Feringgi Grill and Spice Market Cafe. Over at Golden Sands Resort, Penang, the menu is available for diners at Garden Cafe and Sigi's Bar and Grill.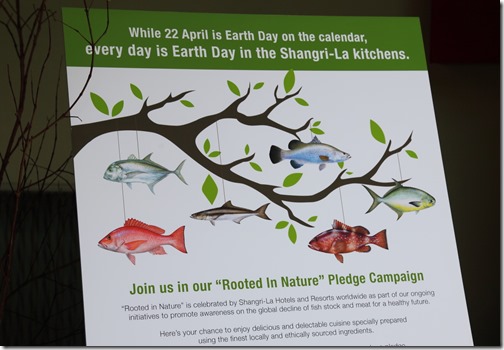 The resorts are working closely with local suppliers like GST Group and Ayam Plus to bring in harvested fish and free-range chicken. "The Rooted In Nature programme will be an on-going programme, maybe with us for good.  As we go along, we will increase the number of dishes in the menu," said Suleiman Tunku Abdul Rahman, director of communications at both resorts.
In conjunction with the launch, the resorts organised a "Rooted In Nature" Food Trail for the media and bloggers. The first destination is the GST's fish farm, located off Pulau Jerejak, Penang.
Joining in the fish farm visit was Suleiman, Golden Sands Resort Chinese chef Danny Tan, Shangri-La's Rasa Sayang Resort and Spa executive chef Lim Soon Leong, and Shangri-La's Rasa Sayang Resort and Spa chef de cuisine Matthias Tretbar.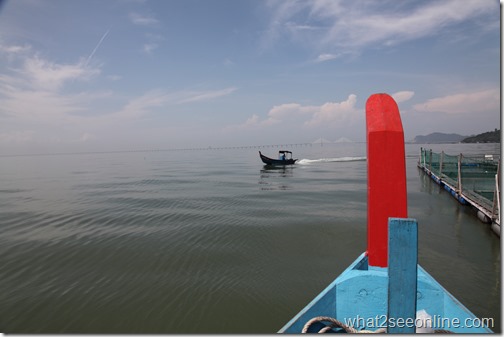 Carried by the gentle current of the water for 15 minutes, the GST's appointed boat finally arrived at the fish farm. We dismount and met up with GST marketing manager Goh Chin Twan who provided insight from the management perspective.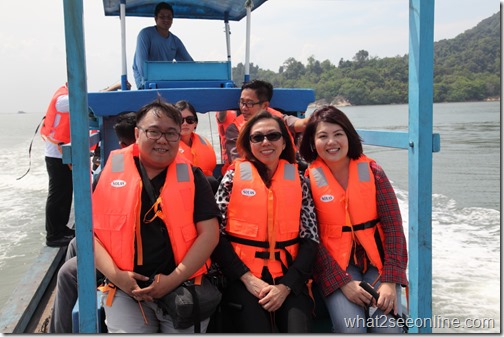 The GST Group which goes by the initials of Goh's grandfather, Siong Tee, is about 40 years old. According to Goh, GST Group is the sole fish exporter in the northern region to be recognised by the European Union (EU), and the fishes are exported mainly to Switzerland, United States and Australia.
"There are many things to control, like: fish feed, physical environment, water quality, and production of fish fries," he says. "We have to adhere to strict requirements imposed by the EU on the fish farm maintenance and cleanliness to ensure that we are committed to sustainable production."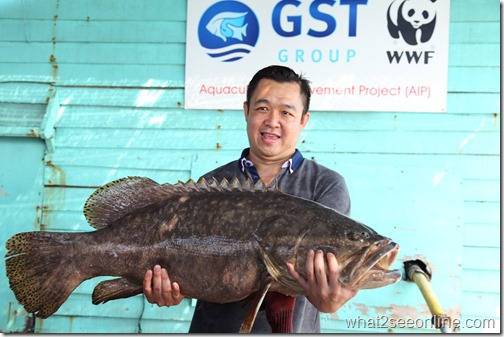 C.T. Goh with the huge 17kg grouper (long dan)

The relatively large GST farm with marine cage farming facilities is home to a vast array fishes. There are species such as red snapper, barramundi, giant grouper, sea bass and yellow tail, and much, much more.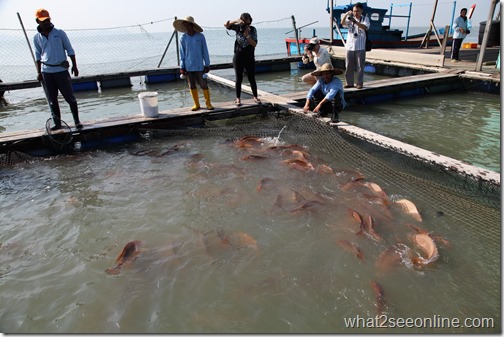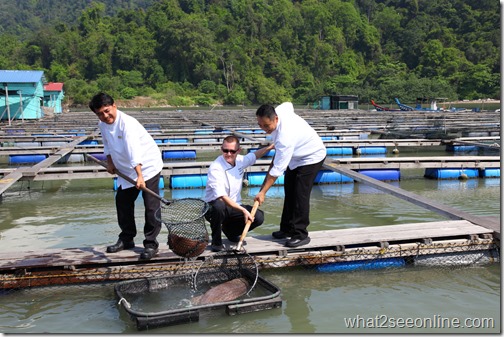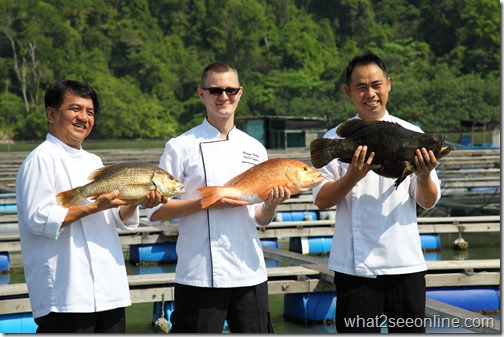 Chef Danny Tan, chef Matthias and chef Lim with their selection of fishes

The tour ended with the "Rooted In Nature" luncheon at both the resorts. It is a chicken and marine feast with harmony of natural flavors.
At Sigi's Bar and Grill in Golden Sands Resort, Penang, we savor Grilled Free Range Chicken with Organic Tofu and also the Grilled Sustainable Sea Bass. The latter comes with a simple combination of mashed potato and greens, with the fish retaining its natural flavors.
Other dishes on the menu include Citrus Mesclun Salad with Cold Grilled Free-Range Chicken and also Sweet and Sour Prawn Tempura. When it comes to identifying the Rooted In Nature menu items, be on the lookout for the RIN pea shoot logo beside the dish description.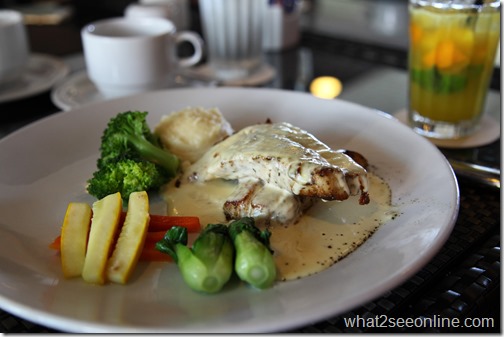 Grilled Sustainable Sea Bass with mashed potato and greens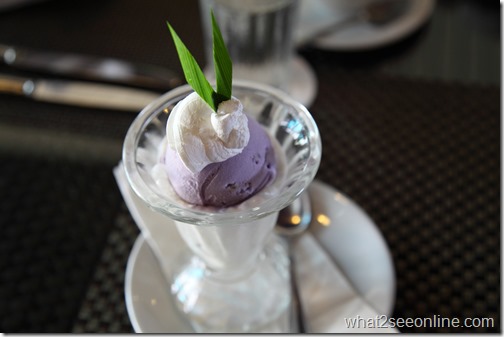 Rooted In Nature dessert – Yam & Coconut Ice Cream with fresh whipped cream

Over at Shangri-La's Rasa Sayang Resort & Spa, Penang, we savor fish cooked in a myriad of ways at the resort's Spice Market Cafe. The selection of dishes includes Steamed Pearl Grouper with Superior Sauce, Grilled Grouper, Red Snapper Tiga Rasa (red snapper cooked in three flavors), Red Snapper Curry Fish, Steamed Grouper in Nyonya Sauce and the Double-Boiled Free-Range Chicken Soup. These dishes will be featured in the buffet spread.
The double-boiled free-range chicken soup is boiled with a combination of free-range chicken, dried scallop, Chinese wolfberries, black mushrooms, fish maw, chicken stock and ginseng root. With hours of simmering, the nourishing herbal soup filled the tummy with warmth.
Double-Boiled Free-Range Chicken Soup (Photo by RSRS)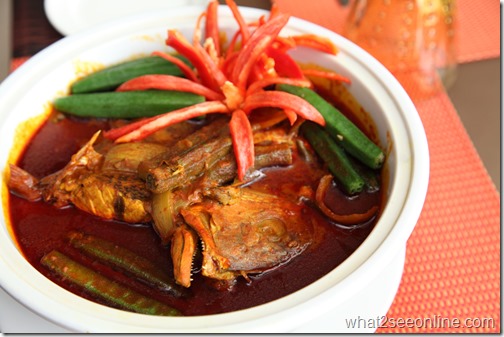 Red Snapper Curry Fish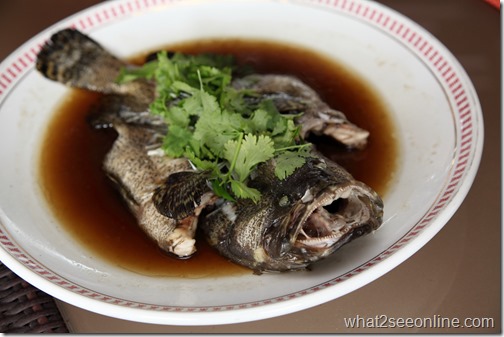 Steamed Pearl Grouper with Superior Sauce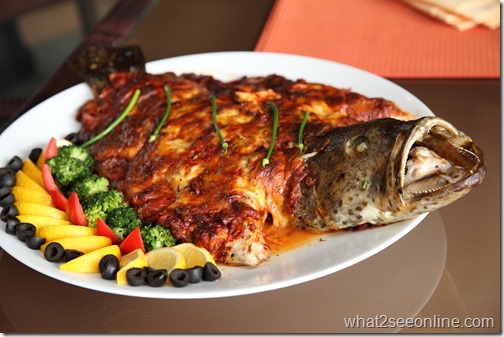 Baked Pearl Grouper Parmigiana (Italian Style)
Red Snapper Tiga Rasa
Chef Lim with the Steamed Grouper in refreshing Nyonya sauce
The Lemongrass Creme Brulee with coconut and pandan sauce prepared by executive pastry chef, Dino Wan Teik Boon made an appearance after the meal. The dessert delicately perfumed by lemongrass sweetens our palates.
Cups of Rooted in Nature organic coffee followed next at FIP Lounge. Simply a delightful way to end the Rooted In Nature" Food Trail outing.
Organic coffee at FIP Lounge
Lemongrass Creme Brulee
Rooted in Nature items on the menu must meet one or more of five guidelines for an ingredient that is prominent in that dish.
With Shangri-La's Rooted in Nature initiative, the luxury hotel group aims to follow the guidelines which include sourcing from free-range livestock, serve organic and fair trade products, support local agricultural and fishing communities, pesticide-free and acquire sustainably sourced seafood caught through ethical means.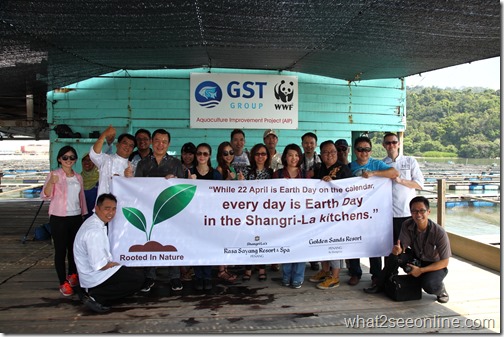 With all the focused on sustainable food, it is reassuring that the Shangri-La kitchens worldwide will continue providing truly sustainable dining experience for the guests. "By 2020, our goal is to serve 75 per cent more sustainably sourced food on our menus," said Peter Finnegan, Shangri-La's group director of food and beverage.
Golden Sands Resort Penang
Batu Feringgi Beach
11100 Penang
Tel: 04-8861911
Shangri-La's Rasa Sayang Resort and Spa
Batu Feringgi Beach
11100 Penang
Tel: 04- 8888788
* Many thanks to both the resorts  for extending this invitation.