Dcova Cafe on Bishop Street, George Town, Penang Launches New Dishes
BY CK Lam
Dcova Cafe on Bishop Street in George Town Penang which opened a year ago has proven popular with cafe diners. The variety of food choices on the menu has since expanded with the introduction of exciting additions.
We made a visit to the cafe and sampled the new dishes, alongside other old favorites. We started off with a cool refreshing glass of Yuzade, where citrusy yuzu soda is served with home-made Japanese yuzu jelly.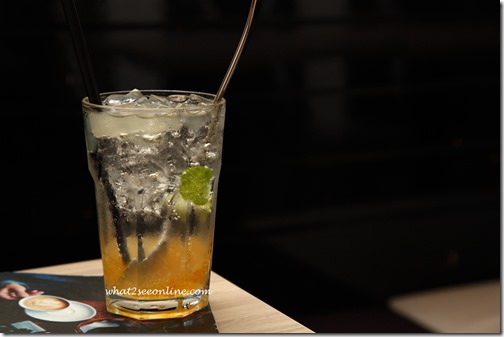 Yuzade RM14.90
The cafe has added on two black beauties, with the intro of  squid ink rice and pasta. The Pasta Al Nero di Seppia had al dente pasta tossed in olive oil and squid ink and smooth richness of ebiko. I took a mouthful of the pasta. The briny notes of the squid ink is not overbearing but instead allowing its flavor to coat the soft yet chewy pasta.
Pasta Al Nero Di Seppia (Seafood Squid Ink Pasta) RM25.90
Besides Pasta Al Nero Di Seppia, the chef has also added Riz Al Nero Di Seppia to the menu. The warm and fragrant rice tossed in squid ink is comforting with briny sweetness of the fresh juicy prawns and squid. Its flavors lingered after the first spoonful.
Riz Al Nero Di Seppia  (Seafood Squid Ink Fried Rice) RM28.90
This is followed by another simple pasta dish, the Ebiko Alfredo. This pasta is a Japanese and Italian fusion, with spaghetti tossed in rich creamy Alfredo sauce, and served with grilled prawns, nori strips and crunchy ebiko.
The dish will be downright comforting if you are a nori and ebiko lover. As for me, I have yet to appreciate its combination of flavors.
Ebiko Alfredo RM21.90
The final pasta dish has a firm place among diners at Dcova –  Spicy Seafood Aglio Olio. As the name suggests, the pasta dish has prawns and squids lightly sauteed with garlic and extra virgin olive oil. The dish is given a touch of spiciness with some bird's eye chilli.
Spicy Seafood Aglio Olio RM21.90 – an old favorite

The King's Breakfast is one breakfast feast with freshly toasted bread, scrambled eggs, crispy bacon, cheesy sausages, sauté mushroom, and garden salad.
With the eggs scrambled nicely, and the garden salad tossed in balsamic vinaigrette dressing, the dish with abundance of flavors is guaranteed to brighten up any day.
King's Breakfast  RM25.90
We enjoyed desserts along with lovely cups of  coffee, cafe latte and frothy matcha latte.
Cafe Latte RM9.50
Matcha Latte (RM11.50)
There is a dessert selection of  rum and raisin cheese cake, creme brulee and lava cake. The rum and raisin cheese cake proved to be a hit with us.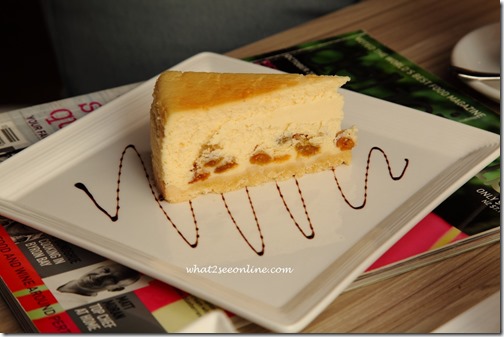 Rum Raisin Cheese Cake
Creme Brulee
This cafe is always a delight to visit for a meal or just for coffee and cakes. Hop over to my previous review for more varieties of the coffee and food.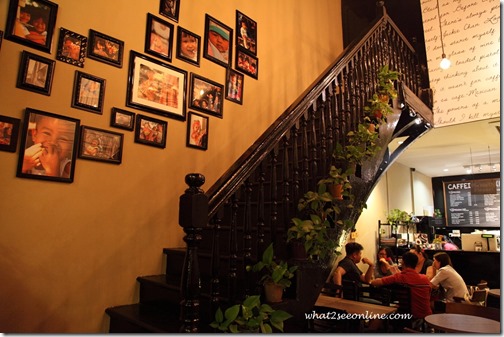 Diners will be glad to know that Dcova is currently offering a BIG GIVE AWAY. Just spend RM80 in a single receipt to take part in the Sure Win Lucky Dip to win delectable Dcova treats!
Dcova Cafe
No.4 Lebuh Bishop
Logan Heritage Building
Georgetown
10200 Penang
Tel: 04- 261 3121
Business Hour:
9am until 10pm (Monday, Thursday & Sunday)
9am until 12midnight (Friday and Saturday)
* Many thanks to Dcova Cafe for extending this invitation.