43 Cafe @ Sungai Dua, Gelugor, Penang
BY CK Lam
It's time to take your taste buds to the cozy and humble homecook 43 Cafe, sitting at a quiet corner on Jalan Sungai Dua, Gelugor, Penang. The cafe with the slogan "Cook What We Love,  Love What We Cook" has its simple menu added with new dishes.
"We strive to keep our food healthy as possible, using ingredients such as the Himalayan pink salt, and red sugar. There is no MSG in our food and we limit the usage of oil," said proprietor and chef Jacgy Chan.
The chef is redefining the cafe with different offerings. An interesting main is the Dry Aged Pork Steak. The dried aged meat is cooked via sous-vide technique and baste in hot oil before serving. The accompanying potato, salad and creamy sauce provided textures and flavors to the tender, aromatic piece of meat lightly spiced with  salt and pepper.
White meat fans can try the Sous-vide Chicken served with sides of potato, salad and creamy onion sauce. Cooked via sous vide in a water bath for two hours, the chicken breast is tender to the last bite.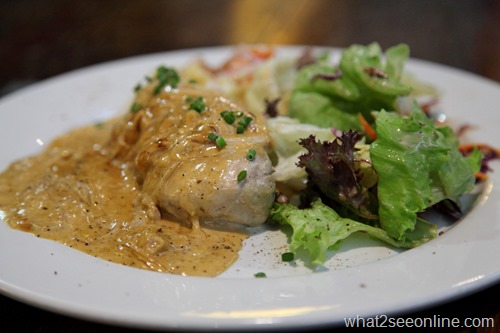 The Sesame Salad had a combination of carrot, purple cabbage and lettuce topped with generous amount of crunchy oats. The salad adds a crunch to the many meat dishes.
Fork Pork Blanket is one of the many burger creations at the cafe. The burger filled with layers and layers of pork bacon is a dish for the bacon-focused!
Pasta is also on the menu.The Mushroom Carbonara Spaghetti topped with raw egg yolk, and spring onions easily adds up to a filling meal.
Rest assured, the cafe still retained some of  its signature dishes – Nom nom nom (satay) and egg pecah.
The Nom Nom Nom satay is inspired by Penang's Balik Pulau satay. Made with just lean meat and herbs such as galangal, shallots, and turmeric, the taste of the satay is sweeter than expected.
The favorite egg pecah (broken egg) brighten things up, with a toast topped with wok fried egg cooked with homemade chili paste
  Nom Nom Nom (RM1.20 per skewer, min 5 per order) and egg pecah (RM3)
End your meal with some refreshing icy treats! These aren't the normal ice cream but rather homemade ice scream, made with just cream, milk, sugar, and egg. Choose from varieties like honey wheatgrass, black sesame, dark chocolate mint, Vietnam coffee, Baileys, Black Dog, kea liau vanilla, pomegranate, and milk candy rosmary.
"We encourage everyone to be adventurous and try our ice scream with salt, chili flakes, and black pepper – it brings the experience to a whole new level," said Jacgy.

The Baileys and the Vietnamese Coffee ice scream vie for attention.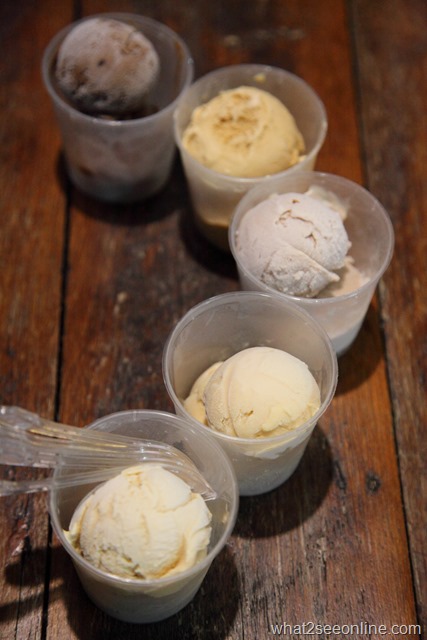 43 Cafe still features service rolled out by family members. Do not expect air-conditioned as the patio by the side of the house makes for the dining area. Click here for the Map Location. The place is only open for dinner.
43Cafe
43 Jalan Sungai Dua
Gelugor 11700
Penang
Tel: 016 4307009
Business Hour: 5.30pm till 10pm
* Many thanks to 43 Cafe for extending this invitation.