AirAsia Bloggers' Community Penang Food & Heritage Trail Photo Challenge
BY CK Lam
AirAsia in collaboration with Penang Global Tourism recently initiated the Bloggers' Community Penang Food and Heritage Trail Photo Challenge. Several Penang bloggers and myself were invited to take part in the event together with 16 bloggers flown in from Kuala Lumpur, Kuching, Kota Kinabalu.
It is great to be on board once again with AirAsia. The last travel blogging that I took up with them was the Media FAM Trip to Kuching, Sarawak.
The bloggers were divided into several teams, and each team led by the Penang bloggers had to complete several tasks with the allotted amount of time. Our group 3 teammates include Ruby, Amir, Ila and Lingzie. Together, we performed fun and challenging activities as we explored the vibrant part of Penang, comprising Armenian Street, Cannon Street, and Ah Quee Street.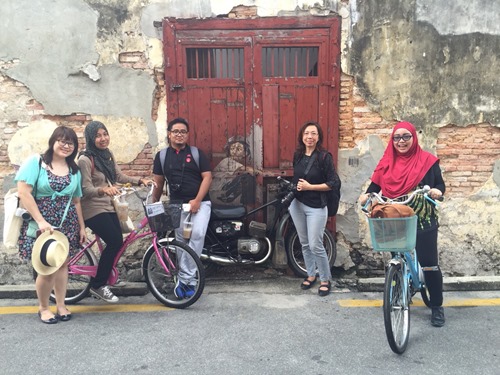 Our first stop was at a local-style breakfast place. At a popular pork-free stall off Hutton Lane, we soaked up the smells of roti bakar and nasi dalca. The charcoal toasted roti bakar came topped with half-boiled eggs.
Everyone had their mobile phones out, snapping  the photos and hashtag with – #AABCPenangTeam3 and #AABCPenangTakeover.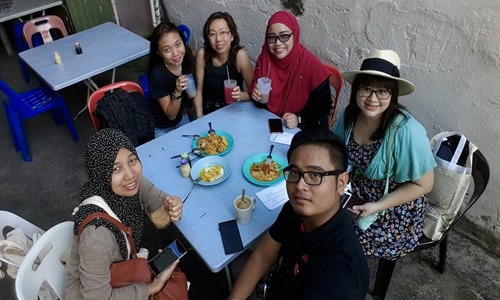 #ABCBestBreakfast
#rotibakar
#nasidalca #roticanai
After breakfast, we took a walk around town visiting clan houses, and historic places. Along Armenian Street, we stumbled upon Teochew Puppet and Opera House.
The place houses a collection of puppets, opera instruments and information on the art of puppet opera. We spent some time learning how to handle a puppet besides trying on the opera costume.
#teochewpuppet
Sights along Armenian Street
On the way, we visited several eye-catching wall murals by Ernest Zacharevic  – Boy on a Bike mural on Ah Quee Street and Little Children on a Bicycle mural on Armenian Street. These two murals made George Town worth many many photos.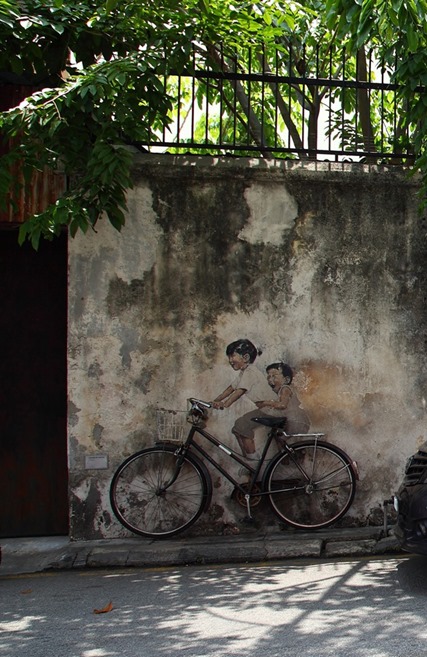 After the sight seeing, we head over to to Moh Teng Pheow Nyonya Koay & Canteen, an eatery located on Jalan Mesjid (off Chulia Street).
The eatery offers satisfying Penang hawker food experience, with appetizing spicy and sourish Penang assam laksa served with thick hae koe (shrimp paste), and a selection of freshly prepared Nyonya kuih.
#penangassamlaksa #nyonyakuih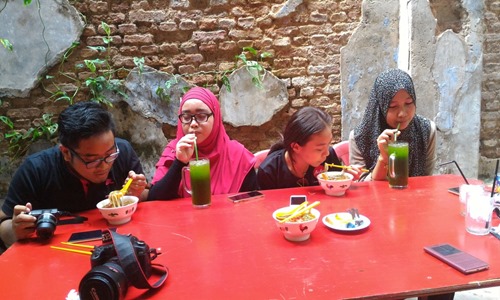 To reach further destination in Penang, we got on the Hop-On Hop-Off double decked tour bus. It was an enjoyable experience for all. Cooled by breezy air with the sun up above, the city route ride offers high views of major landmarks and attractions.
That evening, we adjourned to Yeng Keng Cafe & Bar on Chulia Street for a meal of Hainanese cuisine. As the food was pre-ordered, the dishes came quickly. Noodles, rice and a selection of  Hainanese specialty  dishes such as deep-fried spring rolls (choon-pieh) and chicken chop were served. The taste of the food have changed much, less tasty compared to the time when they started out.
 Deep-fried spring rolls (choon-pieh) and chicken chop
After dinner, everyone joined in the lucky draw session, and prize presentation ceremony by Mr Kenneth Tan, head of AirAsia Penang. I am one of the lucky draw winners, and will be flying soon to Medan, another one of AirAsia's destination.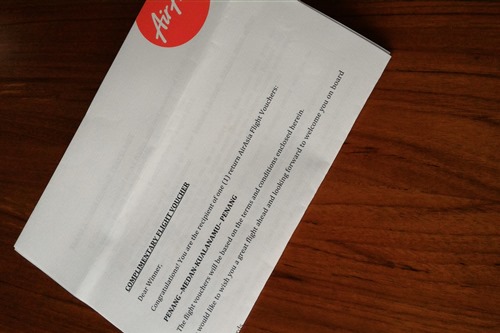 Thanks to AirAsia for bringing together the bloggers to Penang to taste the food and experience the heritage and culture that the city has to offer. I greatly enjoyed the event, and meeting up with all the bloggers.
Looking forward to more of AirAsia events in bringing people closer to experience the cross cultures of different entity in Malaysia and around the world.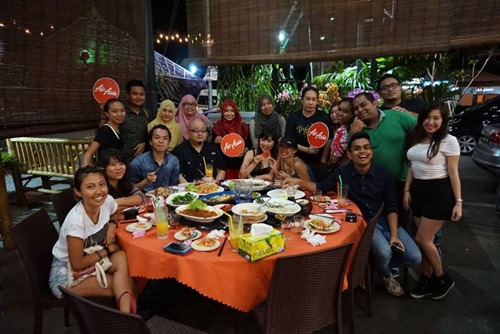 * Photos credit to all the bloggers