Auction Rooms @Kimberley Hotel, Penang
BY CK Lam
Auction Rooms at Kimberley Hotel is another addition to Penang's cafe scene. Located on Jalan Sungai Ujong in George Town, the outlet is actually the name of the hotel's in-house cafe.
The hotel maintains the pre-war house facade, which in turn emboldens the heritage feel of the restaurant. It will be tough to miss, as its name gleams bright and white in the night light on the busy one-way street.
Upon stepping in, customers are greeted by a cozy space redecorated with tiles flooring, wooden table and chairs, vases and collectibles. One side of the cafe has large windows which open up to the hotel.
I visited the place with some food bloggers for dinner on a weekday and the wholesome pork free menu has more than enough choices to satisfy our tummies. There were serving of salad, soup, munchies, meat, seafood, pasta, and even desserts.
Between sips of mocktails, we savored salad, soup and munchies like fruit salad, nachos and cheese, and seafood bruschetta. The fruit salad has melange of watermelon, honeydew, orange, apple and green coral leaves, topped with plain yoghurt and honey. It was light enough to set the tone for the meal.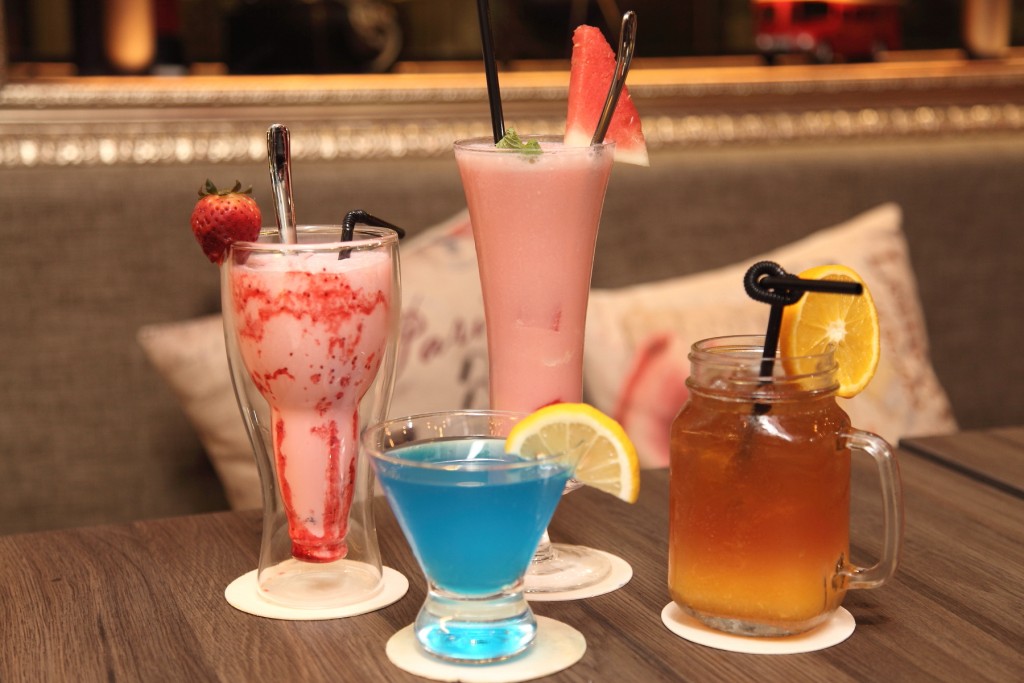 The nachos and cheese with baked tortilla chips in hearty Italian Bolognese sauce and toppings of melted mozzarella was good for sharing.
The seafood bruschetta was pretty standard and one thing I did noticed was its topping. As stated in the menu, the bruschetta should have chunks topping of fish, squid and prawns, but the chef however puts a smooth spin on the seafood spread instead.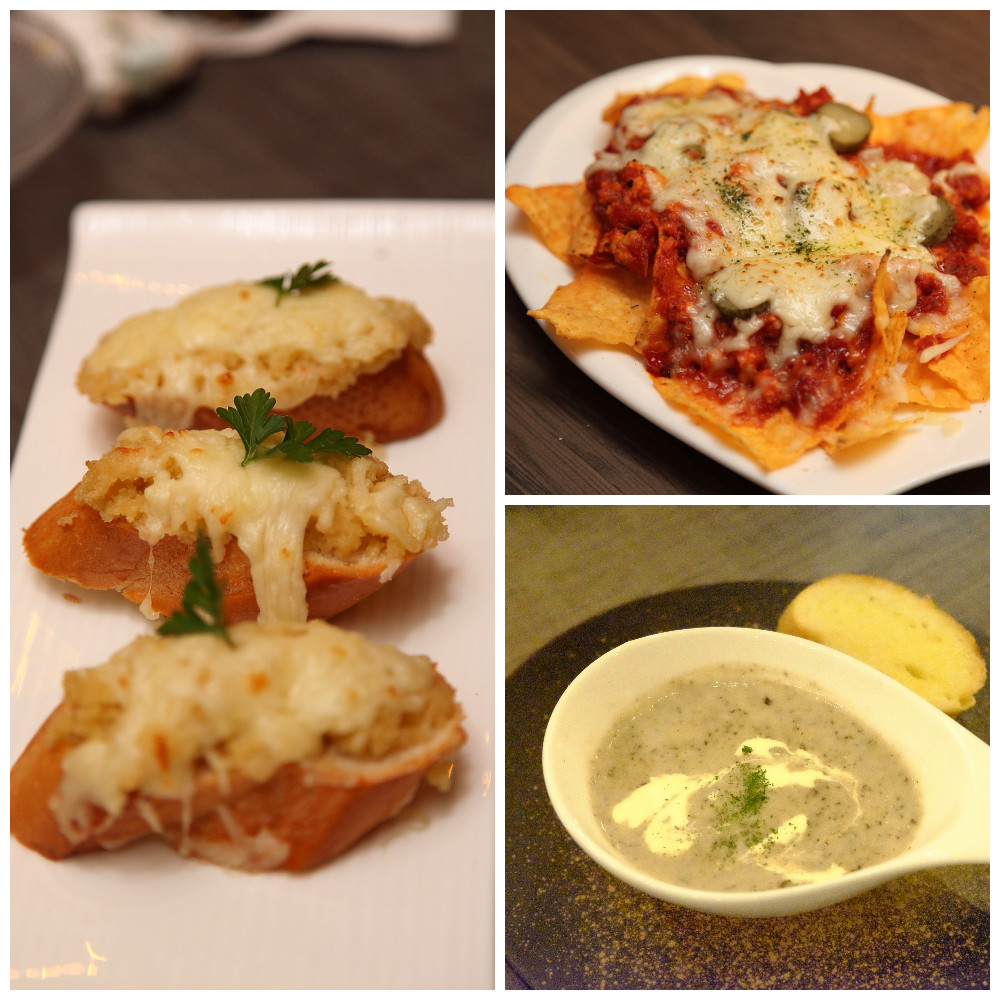 Then the meat dishes arrived, starting with the chicken roulette – an orient-inspired roulette with tender chicken breast slices rolled with Japanese pickles, carrot, chicken frank and cheddar. Served sitting on a mash along with sauteed vegetables, the roulettes were perfumed with a mix of herbs, house gravy and rich savouriness of cheddar.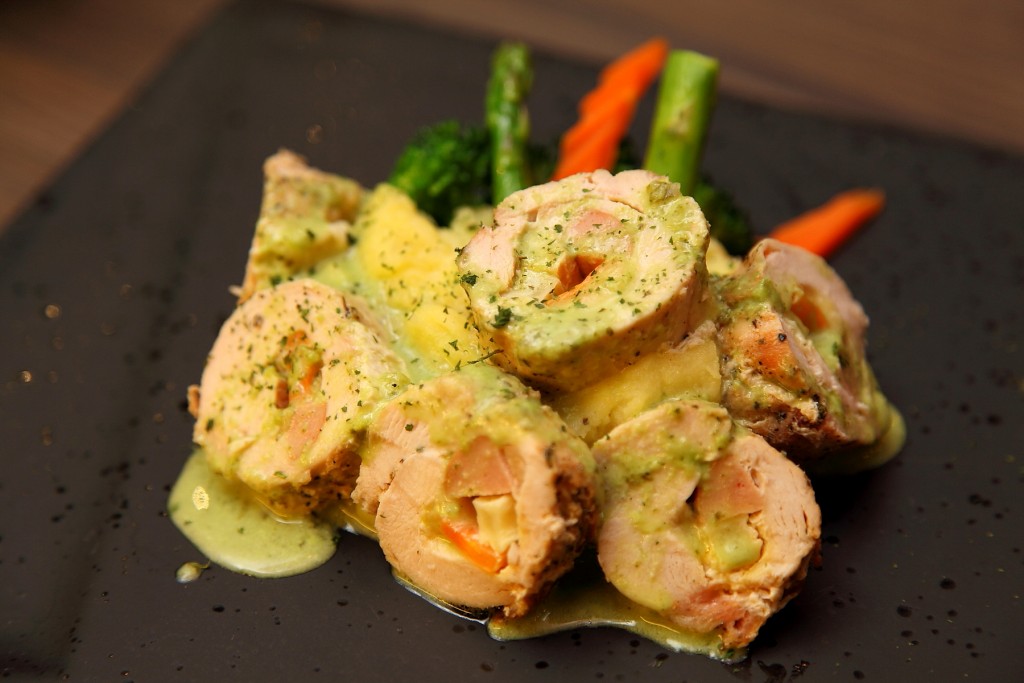 The grilled bbq chicken topped with in-house BBQ sauce has a nice touch of charring, giving it that smoky taste. Paired with white rice and sauteed vegetables, it was a convincing tasty dish but seemed deceptively small in quantity.
Another way of serving the chicken is with stuffing, as in the stuffed chicken, which was an infusion of smoked chicken stuffed with duck breast, cream cheese and spinach. The combination of ingredients indeed gave a boost to the taste. A side of sauteed vegetables, golden potato fries and creamy wild mushroom sauce rounded out this dish.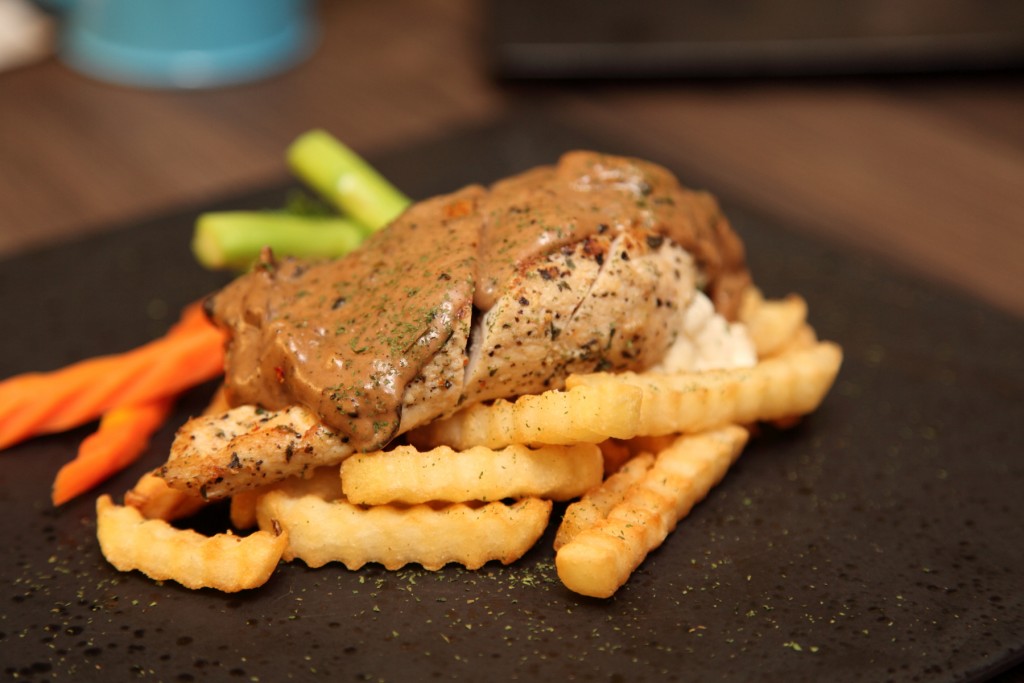 The grilled lamb shoulder served with sides of mash and sauteed vegetables was finished off in mint sauce. Charred nicely on the outside, the pieces of meat were however rather tough.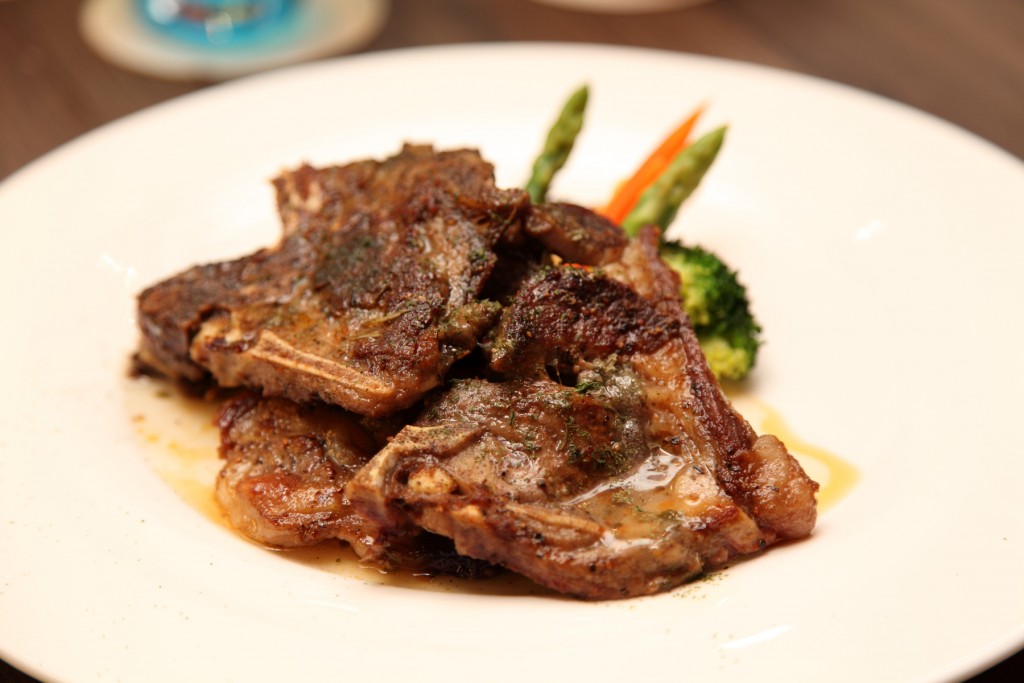 We tried the Australian rib-eye served with sides of fried mashed and sauteed vegetables. Priced at RM52, the tender rib-eye presented with pinkish, medium-rare appearance was bolstered by a rich and salty black pepper corn sauce.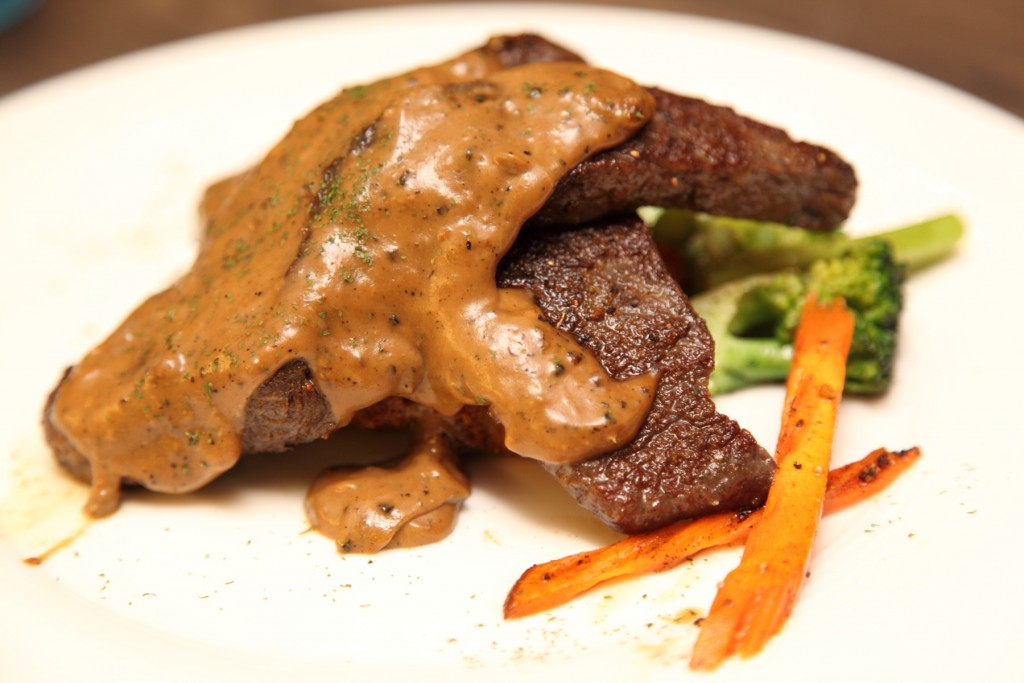 For a lighter appetite, there were two seafood dishes; grilled tilapia and pan-seared mackerel.
The unique presentation of the mackerel (rarely seen in cafes) did pulls off that eye-widening moment of surprise when it was served. Pan-seared in leek pesto sauce, and beautifully presented on mound of mash and sauteed vegetables, the mackerel was fresh and it complimented well with the sauce.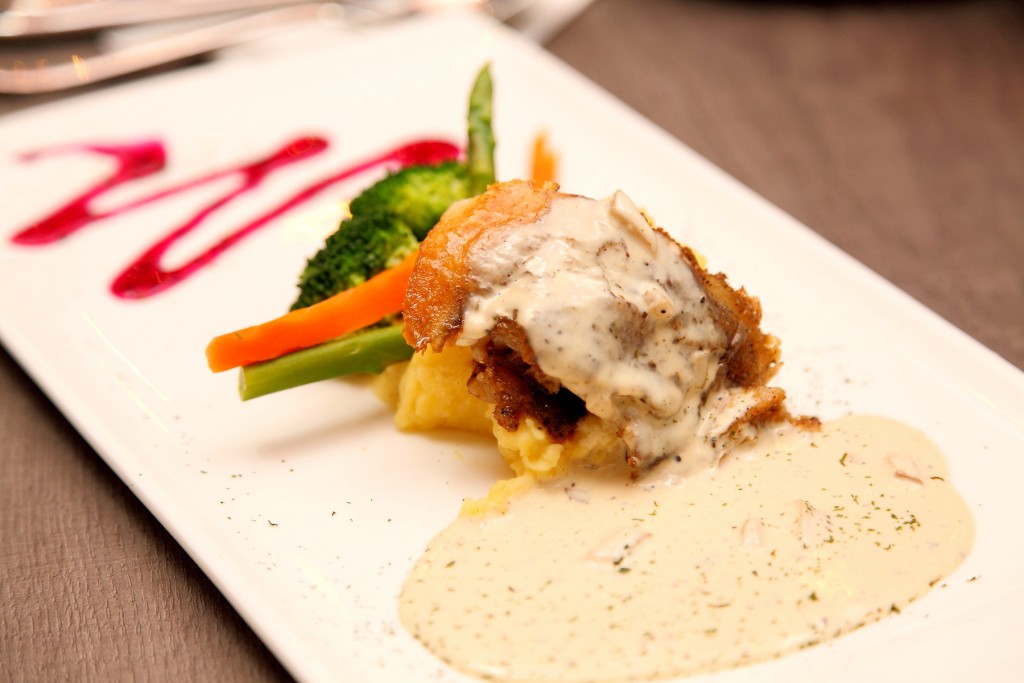 As for the pasta dishes, we were recommended three dishes with spaghetti done with al dente texture. The first was the crabmeat pomodoro served with traditional house tomato sauce, crabmeat, cherry tomatoes and fresh basil leaves.
The second pasta was smoked salmon aglio eolio, and the dish had pieces of smoked salmon, broccolli, cherry tomatoes and wild shiitake mushrooms pan-fried in an infusion of olive oil and garlic.
The fried cuttlefish spaghetti was truly the better dish of the three. Prepared with garlic, butter,  fried cuttlefish and parmesan, the dish was enhanced with added slight touch of spiciness and fragrance of curry leaves.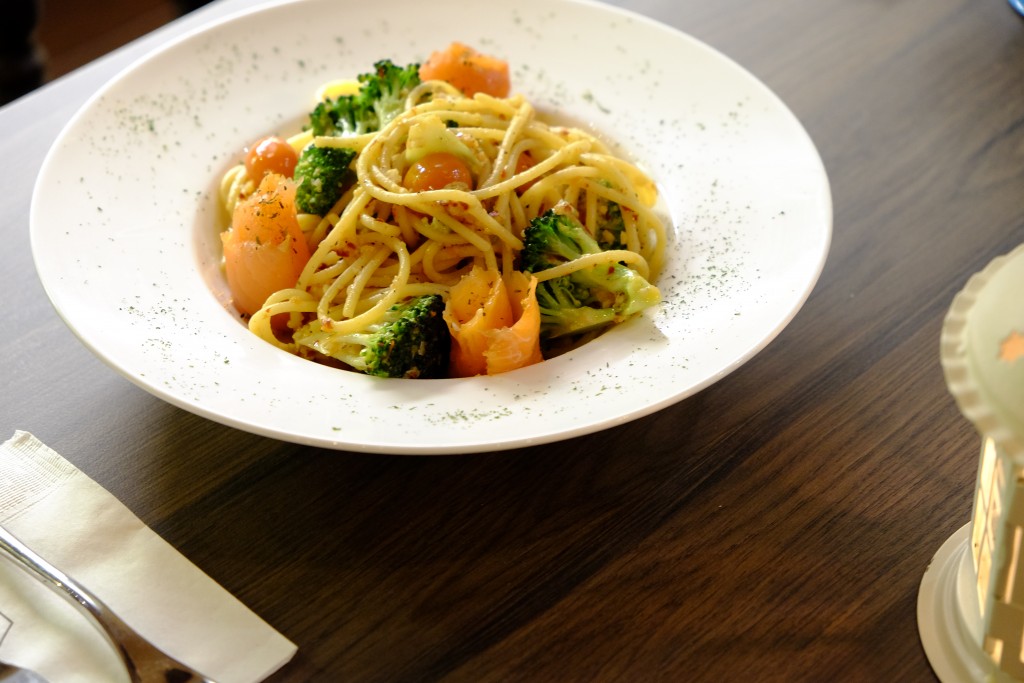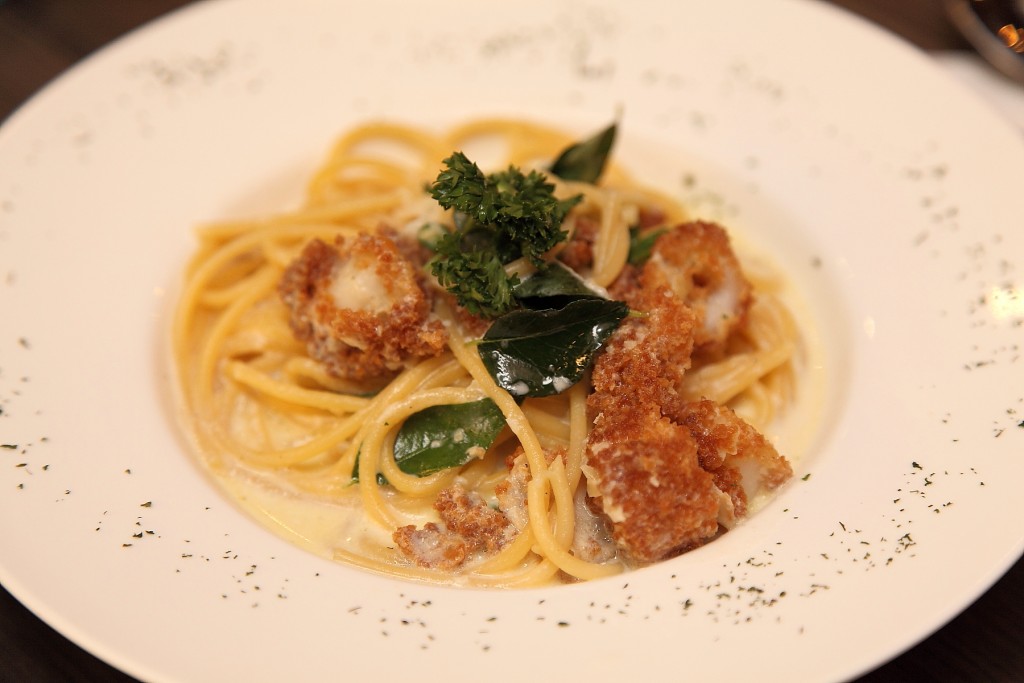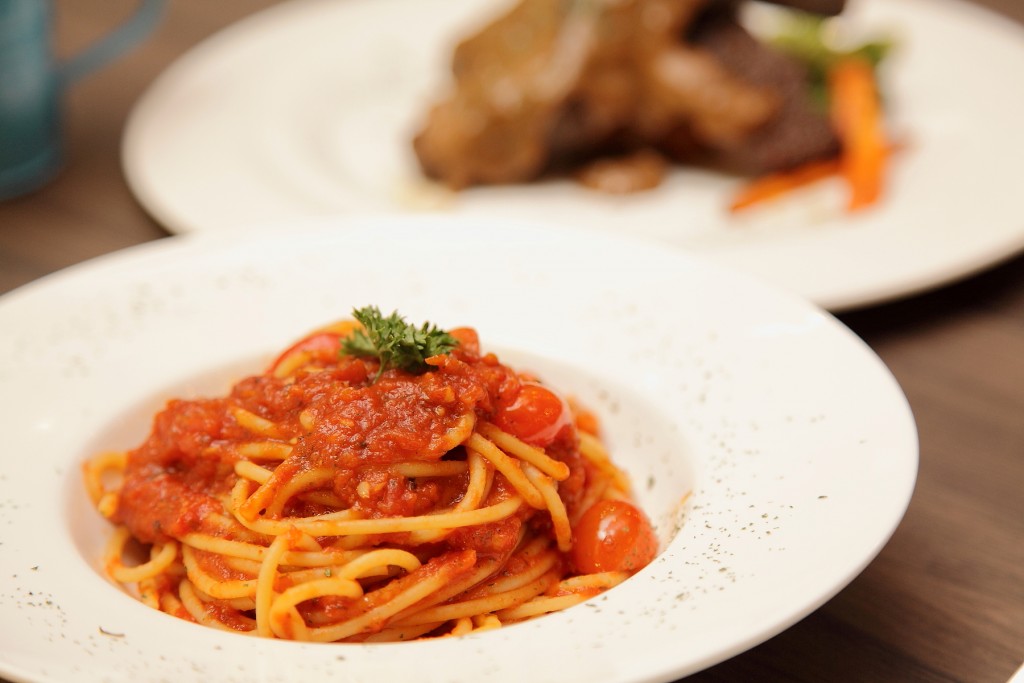 The night ended with coffee and hot tea.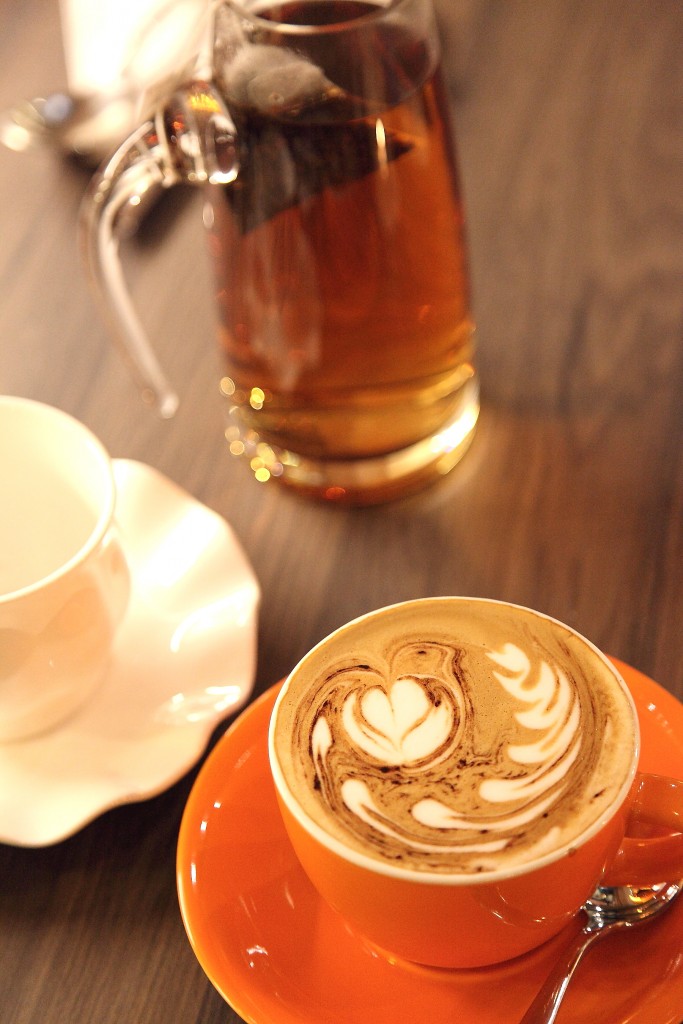 When you are around the touristy George Town area and feel like having a snack or a full meal, you can consider dropping by Auction Rooms. Business hours are from 10am till 10pm daily.
Auction Rooms @Kimberley Hotel
38A  Jalan Sungai Ujong
George Town
Penang
Tel: 04-263 6688
* Many thanks to Auction Rooms for extending this invitation.