Macalister Mansion Penang – Chef Johnson Wong Tasting Menu
BY CK Lam
Nestled in Macalister Mansion along Macalister Road in Penang is Dining Room, a fine dining restaurant that produces innovative gastronomy using finest products and ingredients from Malaysia and around the globe.
Being the first and only member of Design Hotel in Malaysia, Macalister Mansion, the hotel had recently organized a gathering to give insight to the media and bloggers on the its new concept and launching of the Chef's Tasting Menu with the concept "From Farm to Table".
Behind the creativity of the Chef's Tasting Menu is Head Chef Johnson Wong, who was previously appointed as Sous Chef  in Macalister Mansion, working under Chef Eric Heijkoop who has since moved on.
On the day of our visit, we were greeted by Datin Karen H'ng, who welcomed all present with a short speech, followed by the serving of food from the new Chef's tasting menu.
The series of dishes are prepared using modern French cooking techniques with the flavors Malaysia has to offer. The 8 courses tailor-made menu is at RM268nett per pax. With the additional top up of RM160, guest would get to enjoy wine pairing on each dish with Macalister Mansion's professional recommendation.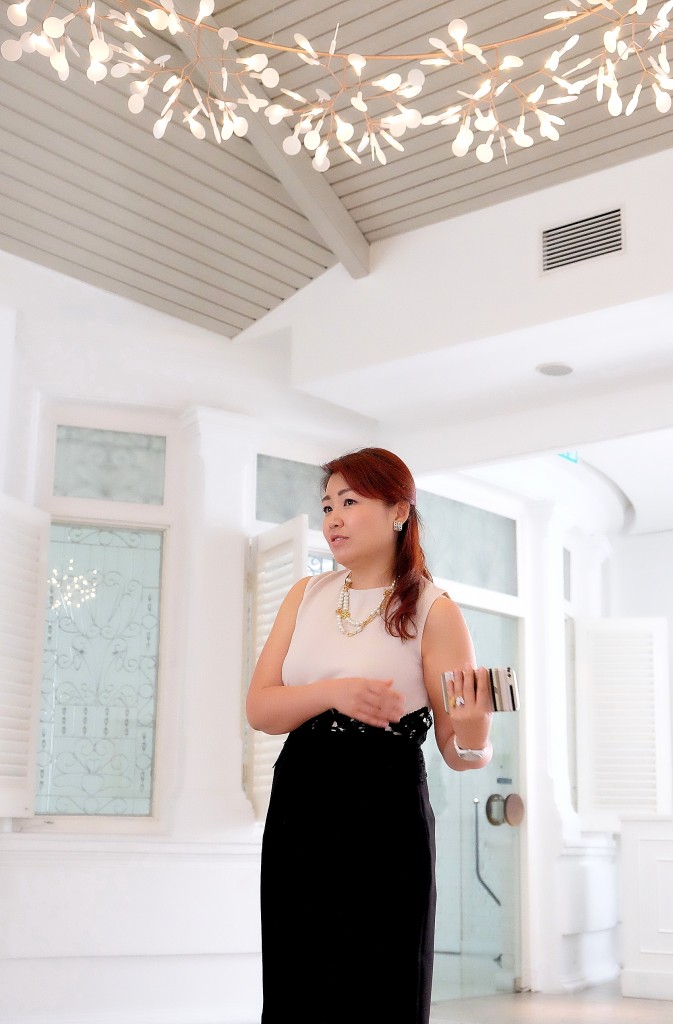 The meal commenced with freshly baked rolls made with light hint of coffee flavor. It's easy to get carried away with this tiny rolls accompanied with addictive creamy smoked butter.
Chef Johnson presented the organic green salad with an interplay of local quality ingredients. The Garden of Macalister Mansion made a romantic expression of local produce from Malaysia – highlighting varieties of local flowers, herbs, vegetables and smoked salmon. The chef enticed the palate with an addition of tomato soup.
For prawn lovers, the Carabineros – jumbo size Spanish red prawn renowned for their strong flavor of deep sea and striking bright red color is a fresh choice.  For this dish, the chef focuses on local produce like pineapple and peppercorn both from Sarawak, Malaysia.
The prawn is thoughtfully de-shelled, with sashimi texture, and its head filled with oozy goodness. This dish hits all the right notes with white balsamic vinegar, olive pesto and sweet tangy momotaro tomato. The crustacean puts a smile on most faces.
Another gem that gets everyone excited is the 62.5 C Slow Cooked Egg. This Japanese inspired dish had the egg cooked  sous-vide (62.5 degree) for an hour, crumbed with shredded filo and then lightly deep fried.
The egg served with leek and matcha emulsion, together with Hokkaido scallop and anchovies is delicious especially mixed with the runny egg yolk which is a sauce in its own.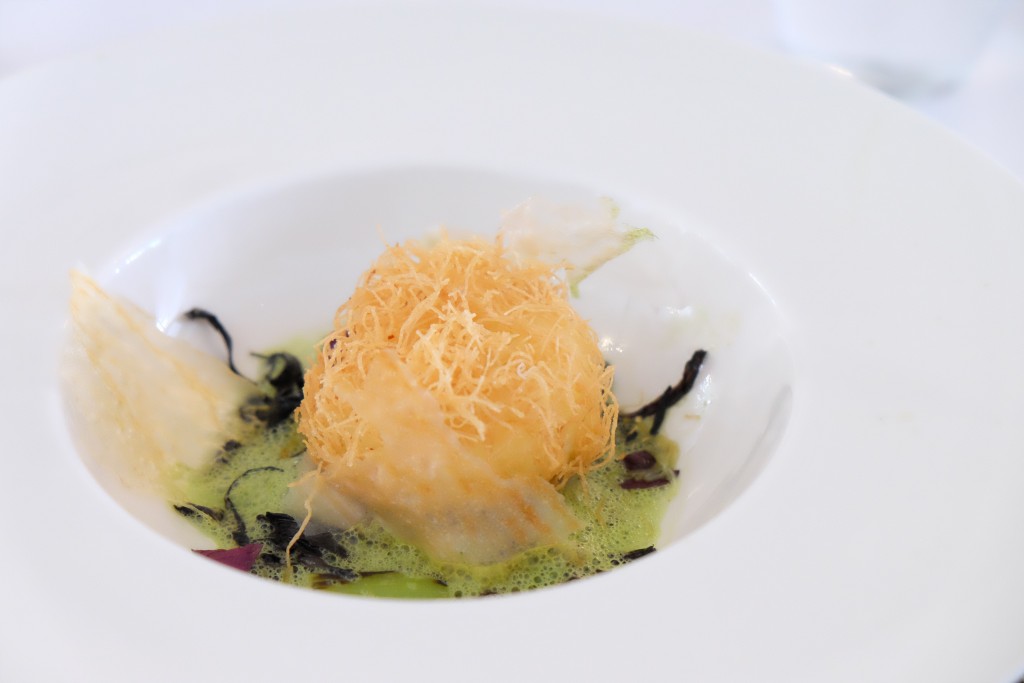 We pleasantly enjoyed Foie Gras Cappuccino, a dish of Foie Gras soup (in cappuccino texture) with classic Italian combinations of arugula and aged balsamic. The piece of foie gras is timed just right and its richness punctuate by fresh pomelo, making it exciting and fresh.  "You will never go wrong with this classical combination," said Chef Johnson.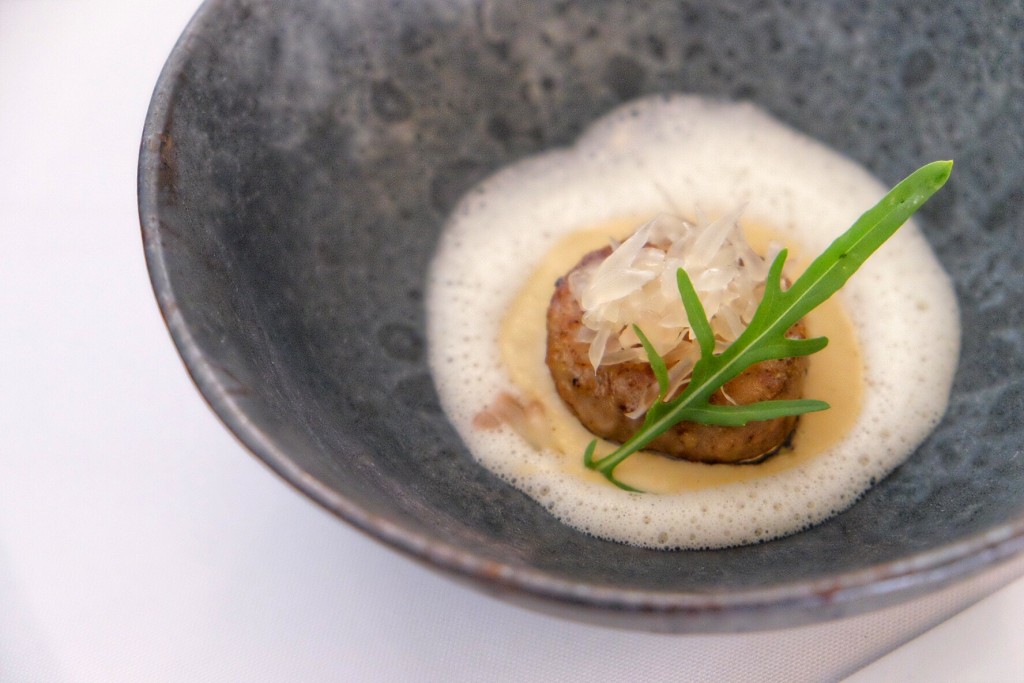 Chef Johnson concoct the palate cleanser with apple, hazelnut, nasturtium and mint leaf. A spoonful served between the courses offers a refreshing taste.
Next, we sampled the signature Blue Lobster; an appetizing looking seafood dish. Chef Johnson had the blue lobster, an upscale ingredient from Brittany, France, served with a peanut sauce (similar to the local satay sauce) made with strong lobster flavor.
The blend of lobster freshness in a local flavour is balanced off with the bittersweet earthiness of kale, a highly nutritious leafy vegetable. 
Fans of chicken will find the Grain Fed Chicken interesting. The chef presented the chicken creatively in two ways – one preparation with a mixture of slow cooked chicken, blue mussel, and basil wrapped with crispy filo and another offers slow roast chicken mousse layered with cepes powder.
Both are paired with dry chili, classic Spanish Escabeche sauce and creamy ricotta puree. The chicken wrapped with light crispiness got off better compared to the relatively dry slow roast chicken.
For pre-dessert, the Penang Native included local Penang flavours with a composition of lemon granite (shaved ice) with nutmeg and white fungus.
As for dessert, we get the Cafe Mocha, a culmination of coffee and chocolate fantasies. Plated with a base of frozen cookie with chocolate crunches and coffee mousse, the dessert came luxuriously paired with coffee ice cream. Not many could resist the allure of this dessert with pleasant sweetness.
It is a pleasure to discover the delights of the 8 course Chef's Tasting Menu by Chef Johnson which has struck a balance between seafood, as well as chicken and foie gras, prepared with best of local ingredients.
Other dining options at Dining Room include a 4-course MM's Discovery Menu. Priced at just RM168nett per pax, guest can also opt for a la carte menu.
Dining Room business hours are from 7pm till 11pm, Tuesday to Sunday.
Macalister Mansion
228 Jalan Macalister
Penang
Tel: 04-228 3888
Thank you Macalister Mansion for extending this invitation.