Passionis, Penang – Cake & Tea Pairing
BY CK Lam
What better way to welcome the weekend than with an assortment of handcrafted French desserts at Passionis? The patisserie located on Siam Road, Penang, takes the concept of styling desserts up a notch.
At the recent AYONS GATEAUX Let's Eat Cake event hosted by the patisserie, the kitchen team had many colorful delicatessen items gracing the table.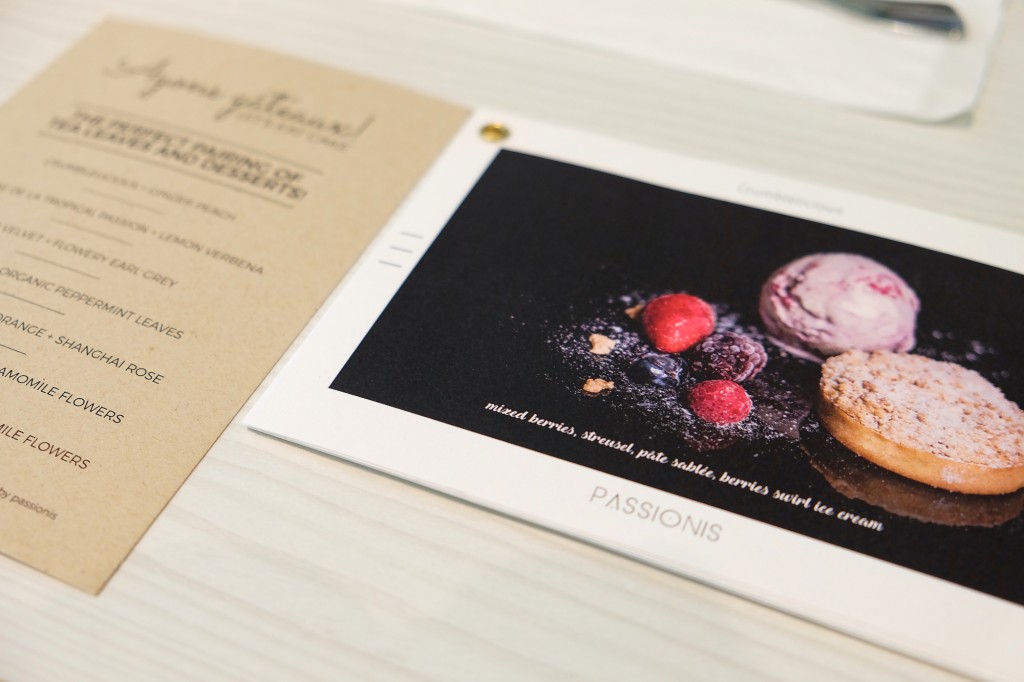 Each plated dessert is paired with tea and selections include: Flowery Earl Grey, Organic Chamomile Flowers, Shanghai Rose, Organic Peppermint Leaves and Lemon Verbena.
Each tea flavor creates a unique experience
The kitchen helmed by Catherine Lim churns out a creation to what she calls Eskimo's Mint, encased with white chocolate mint mousse and 64% dark ganache. The dessert sitting on a crunchy chocolate disc pâte sable is a delight for the eyes as it is for the palate. I can taste refreshing mint in every morsel, which reminded me of the squares of After8 mint chocolate, which is commonly served after a meal.
Eskimo's Mint RM15.90 paired with organic peppermint leaves tea
For those who have yet to try the Crumblelicious, do check out this delight made with fruit compote of mixed berries and crumbly streusel topping on a pate sablee. It is served with housemade berries swirl ice cream.
The combination of the creamy ice cream and sour side of the mixed berries will win you over on the first bite!
Crumblelicious RM17.90 paired with ginger peach tea
Mousse de la Tropical Passion is baked with its outside crunchy and its inside soft and moist. Sprayed with orange-hued cocoa butter, the dome-shaped dessert features passionfruit and mango mousse puree filling. It is relatively sweet for me, however when paired with a cup of lemon verbena tea, its lemon citrus flavors dissipate the sweetness of the mousse perfectly.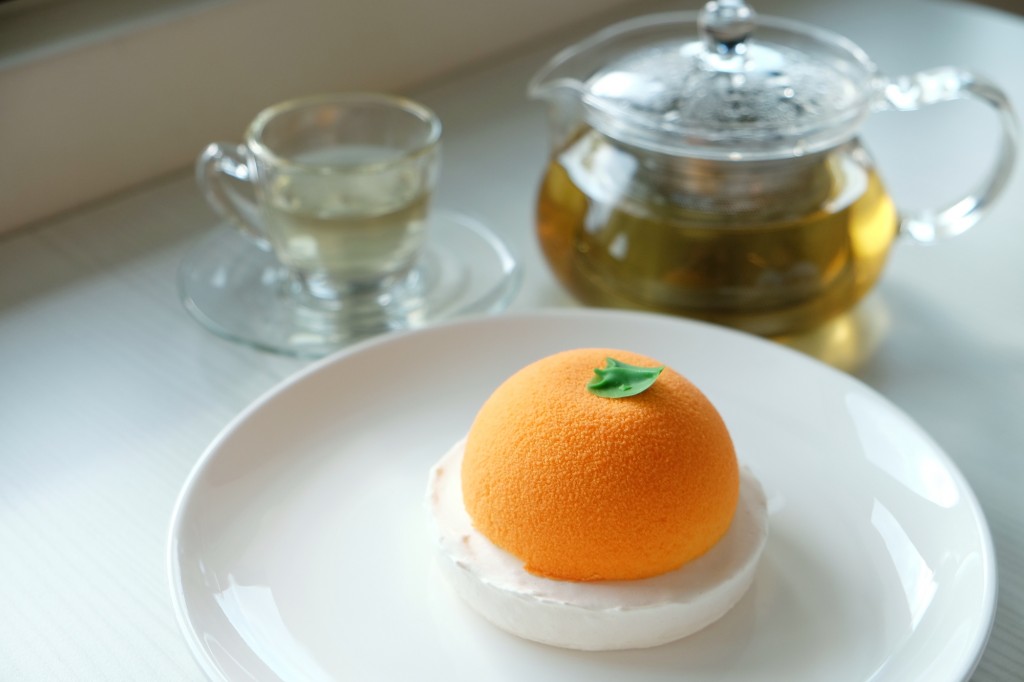 Mousse de la Tropical Passion RM15.90 paired with lemon verbena tea
For those who have never tried Red Velvet Cake before, the striking red colour sponge cake with cocoa flavor and vanilla cream cheese mixture has firm texture. Its flavors are rounded off with light lemon zest.

Red Velvet RM16.90 paired with flowery earl grey

The Tarte au Chocolat et Orange is presented with orange flavored milk ganache and pipped with whipped chocolate cream in a pate sablee tart shell. Toppings of tangy candied citrus peel (imported from France), ties this refined and slightly sweet dessert together.
Tarte au Chocolat et Orange RM14.90 paired with Shanghai rose tea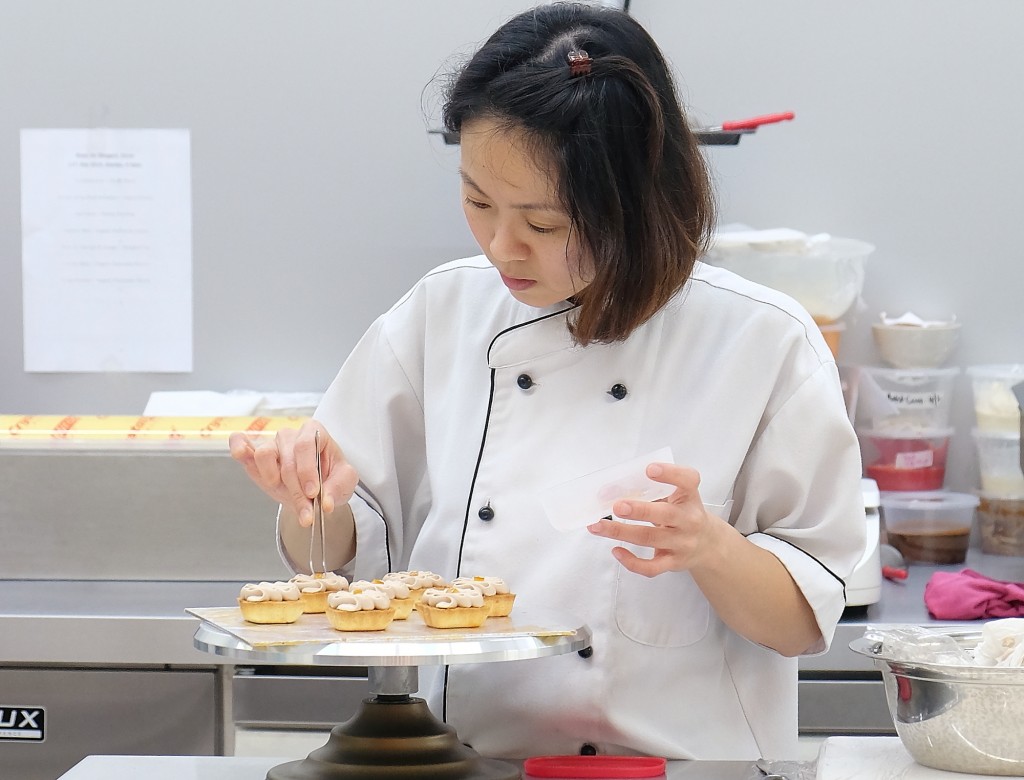 Pastry chef putting the finishing touch to the Tarte au Chocolat et Orange
The Noir Ou Blanc has white chocolate mousse enrobed in shinning dark chocolate glaze, and surrounded with chopped caramelized almonds. There is tangy originality to the raspberry gelee made from pure fruits.
Noir Ou Blanc RM14.90 paired with organic chamomile flowers tea
For those searching for a dessert where nuts and chocolate are the main flavors, try the nutty Fudgy Brownie. Roasted assortment of walnuts, almond cuoquelin and chocolate chips are used to accentuate the nutty, complex flavor of the dessert.
Served warm and dusted with icing sugar, the brownie is delicious with housemade vanilla ice cream made with Madagascar vanilla beans. Garnish is a drizzling of chocolate sauce.
Fudgy Brownie RM17.90 paired with organic chamomile flowers tea
On the visit, we were surprised with the serving of Orange Souffle. Not many cafes make souffle and almost none have the souffle flambee with liqueur on the spot. Passionis does and they do it with Grand Mariner – an orange cognac liqueur.

Orange Souffle RM18.90
Orange Souffle flambee with Grand Mariner RM23.90
Knowing that Christmas is around the corner, Catherine has put on her thinking cap and came out with a new custom-made Christmas Log. We were treated to a slice of the cake made with mascarpone cheese mousse, layered with dark chocolate sponge, bitter sweet blood orange jam and white chocolate. With simple adornments, the log cake indeed offered something a bit different in taste and presentation from the traditional Christmas log.
According to Catherine, the 1kg Christmas Log cake priced at RM150 is available for booking starting 1st December 2016.
The patisserie is expanding its hours on Friday and Saturday, starting from 12pm till 11pm while maintaining its usual hours from 10am till 7pm on Monday, Wednesday, Thursday and Sunday.
Passionis
74-D Jalan Siam
10400 George Town
Penang
Tel: +604 218 9314
Closed on Tuesdays
* Many thanks to Passionis for extending this invitation.