The Alley @Stewart Lane, George Town, Penang – Coffee and Desserts
BY CK Lam
If you are looking for a cafe to spice up your coffee break, you can do just that by paying a visit to The Alley. Located on Stewart Lane in George Town, Penang, this cafe with a casual setting occupied a previous corner shop selling praying incense.
The short menu is rather simple given the tiny size of the kitchen. You can expect cold and hot beverages alongside an array of made-in-house desserts.
You can sip a pretty cup of coffee made using the Sanremo machine.  Aside from the list of hot coffee drinks, the cafe also offers refreshing cold brew, ice mocha, chocolate mint frappe, ice black coffee and mocha frappe.
The black coffee is aromatic and leaves a pleasant after taste.
 Latte, black coffee & chocolate mint frappe
Indulge in a cup of cappuccino prepared with right sweetness and creamy mouth-feel. The Alley complements this hot drink with a piece of kong thng. Also known as kacang tumbuk, the kong thng offers texture and peanut flavour.
A perfect warm and cold choice to pick up at The Alley is the affogato. Made with espresso, Haagen-Dazs vanilla ice-cream and chocolate topping, this coffee based dessert has become one of my favorites.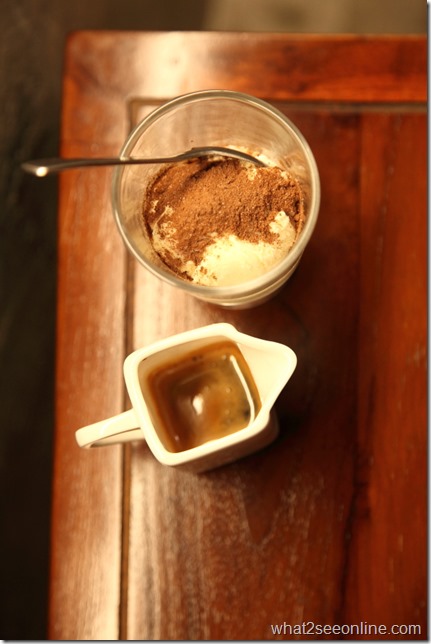 Affogato
The Alley has its own unique freshly baked goods and pastries. Those craving for substantial bites should look out for their signature fluffy cronuts and churros, with both being big hits with diners.
The warm strips of deep-fried churros with soft interior and crisp exterior turned out to be delicious. You can enhance this deep-fried treat with choice of salted caramel, chocolate, nutella and caramel sauce or cinnamon sugar.
You will be glad to know that both the cronuts and churros are recently available in a handy box. Each box is packed with baby-sized churros and cronuts, served with a scoop of macadamia ice cream and salted egg yolk dip. It proved to be a winning combination.
The cafe also prides itself on making its cheese cakes. Lemon cheesecake, espresso cheesecake, oreo stracciatella cheesecake, chocolate hazelnut cheesecake and avo-smashed lime cheesecake are just some of the choices available. If you love Japanese-style flavors, the Uji matcha tart is simply divine.
The refreshing lemon cheese cake with smooth texture is served with nuts, oreo crumble and chocolate sauce, bringing a wonderful blend of flavors.

Comel- comel caramel cheesecake

Lemon cheesecake

The Alley is a great place especially for fans of late night coffee and desserts with its daily opening hours from 12pm till 12am. Besides the indoor seating area, the cafe also made use of the front and side outdoor spaces, furnishing the two areas with more seats.
Since opening its door in 2013, the cafe already has another outlet in Lagenda Heights, Sungai Petani, Kedah.
The Alley
5 Stewart Lane
10200 Georgetown
Penang
Tel: 04 – 2613879
The Alley SP
108 Jalan Lagenda 4
Lagenda Heights
08000 Sungai Petani
Kedah