Durian Cream Puffs at Rasa Deli, Shangri-La's Rasa Sayang Resort & Spa, Penang
Durian Cream Puffs at Rasa Deli, Shangri-La's Rasa Sayang Resort & Spa, Penang
Delight your senses with durian cream puffs at Rasa Deli in Shangri-La's Rasa Sayang Resort & Spa, Penang as the bakery celebrates its Durian Cream Puff promotion from August till September 2017.
Created by Executive Pastry Chef Dino Wan and his pastry team, the dainty delicacies come with cream of durian, the local King of Fruits.
The cream puff has choux pastry and crunchy topping of craquelin made using plain and bread flour, unsalted butter, filtered water, milk, brown sugar and eggs. For Chef Dino, filtered water is used since it is softer and less acidic, and hence gives the dessert a more molten texture.
As for the creamy filling, it is made using Musang King and other varieties of durian flesh mixed with non-diary cream.
Every piece with nicely browned crackly topping and melt-in-the-mouth feeling ignited with light blaze of durian flavors is delightful to bite into. Consuming it slightly chilled makes it even more pleasing.
The durian cream puff is an ideal companion to a cup of tea
Chef Dino reveals that the durian cream puffs are well received among walk-in customers and guests, with an average of 150 puffs sold in a day. They are available at Rasa Deli from 11am till 6.30pm daily and priced at RM8 nett per piece and at RM20 nett for three.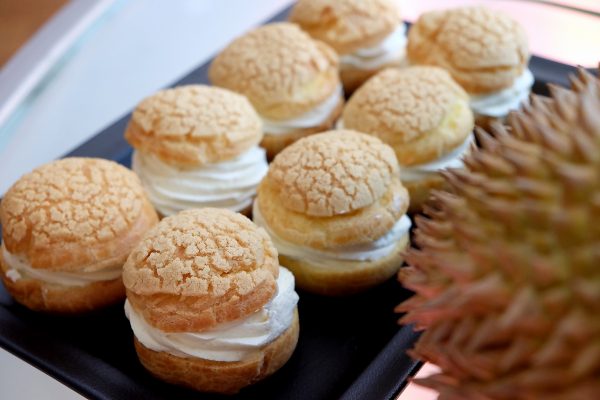 The blossoming of the durian cream puffs in the window of Rasa Deli
This culinary creation prepared with the King of Fruits is all about pure enjoyment, perfect for durian lovers. You too can try the easy-to-prepare durian cream puff using the following recipe, courtesy of Chef Dino.
DURIAN CREAM PUFF RECIPE BY CHEF DINO

Craquelin
Ingredients
-50 gr unsalted butter
-50 gr brown sugar
-60gr flour
Method:
1. Beat the butter and brown sugar until creamy
2. Add the shifted flour
3. Mix to a dough
4. Roll to 2mm thickness
5. Using a round cutter cut into disc
6. Put in chiller to hardened
Choux Puff
Ingredients
-300 gr whole egg
-200 gr bread flour
-5gr salt
-10gr sugar
-150 gr unsalted butter
-150 gr milk
-150 gr water
Method
1. First boil the butter, water and milk
2. Add in shifted flour
3. Mix into a paste
4. Put in a mixer, using a beater and mix slowly
5. Add in the slightly beaten egg and mix well
6. Using a round nozzle pipe onto a baking sheet
7. Before baking, put the round disc of craquelin on top of the choux paste
8. Bake for around 20 to 25 minutes until golden brown
9. Let cool on wire rack
Durian Cream
Ingredients
– 100 gr non-diary cream
– 100 gr sieve durian flesh
Method
1. Whipped up the cream and fold in the sieve durian puree
2. Cut the puff into half
3. Using a star nozzle, pipe the cream on the bottom half of the puff
4. Then cover the top with the other half
Photo and recipe courtesy of Chef Dino
Rasa Deli
Shangri-La's Rasa Sayang Resort and Spa
Batu Feringgi Beach
11100 Penang
* Many thanks to Shangri-La's Rasa Sayang Resort and Spa for extending this invitation.