CEKI Nyonya Restaurant @Sri Bahari Road, Penang
If you're craving for a meal of Nyonya (Peranakan) cuisine in George Town, Penang, CEKI Nyonya Restaurant 一枝娘惹餐厅 is definitely the place to drop by. The restaurant is located along Sri Bahari Road, which is a few doors down from the popular Kheng Pin Cafe.
The interior is homely, with detail given to vintage decoration and furniture, and walls adorned with paintings.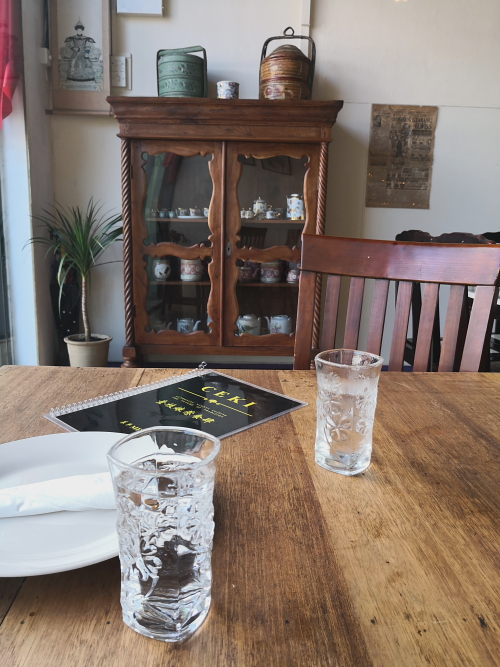 The restaurant offers a splendid spread of Nyonya specials that centers around meat, seafood, chicken, and vegetable. The dishes are prepared using fresh herbs and ground spices, pulverised by traditional methods.
One Nyonya dish that gives a dose of eggy and creamy richness is the Otah-Otah. You will probably have heard of this dish in which fish is steamed with a mixture of herbs, chili, egg and coconut milk. Mildly spicy, and pungent, the custardy dish is a perfect combination with white rice.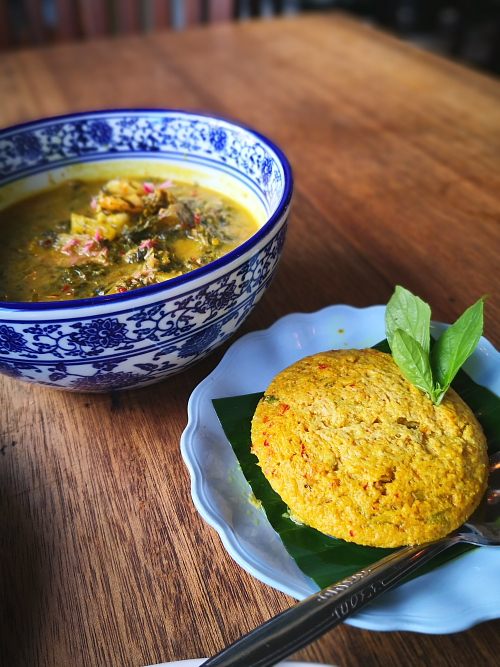 Otah-Otah RM5
For fans of the Perut Ikan, the version is loaded with ingredients such as pineapple, preserved fish stomach (perut ikan), prawns, and herbs, all in a flavorful tamarind and coconut milk based curry.  For the herbs, expect to find a combination of laksa, mint, kaffir lime, wild pepper leaves and more.
Toppings of chopped torch ginger flower (bunga kantan) added piquancy to this truly delicious dish enriched with spices and herbs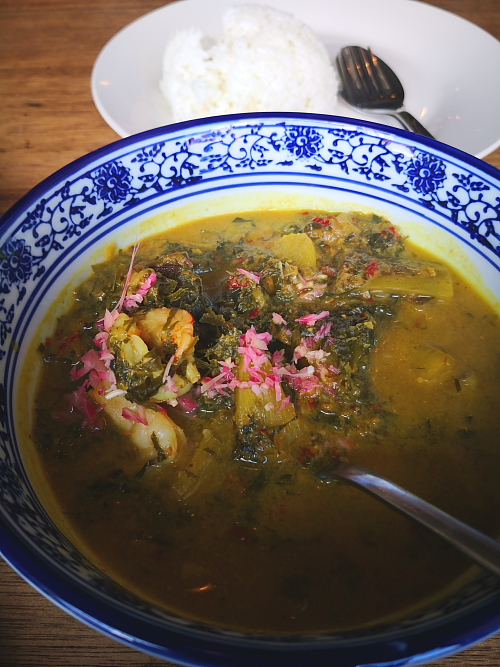 Perut Ikan RM18
Next is the braised chicken ponteh, a combination of chicken, potato and fermented soybean paste (taucheong). The dish in a dark thick gravy is pretty special, albeit slightly sweet.
For a vegetable dish to accompany the meal, nothing beats having the stir-fried Jiew Hu Char. The dish has hand cut strips of yambean, carrot, cabbage, mushroom, and pork belly stir-fried with jiew hu (dried cuttlefish in Hokkien).  A must have complements are savory and spicy sambal, and fresh lettuce leaves. Wrap the jiew hu char with the lettuce accompanied by a dot of the sambal. A bite into the parcel offers an explosion of savory flavors and interesting texture.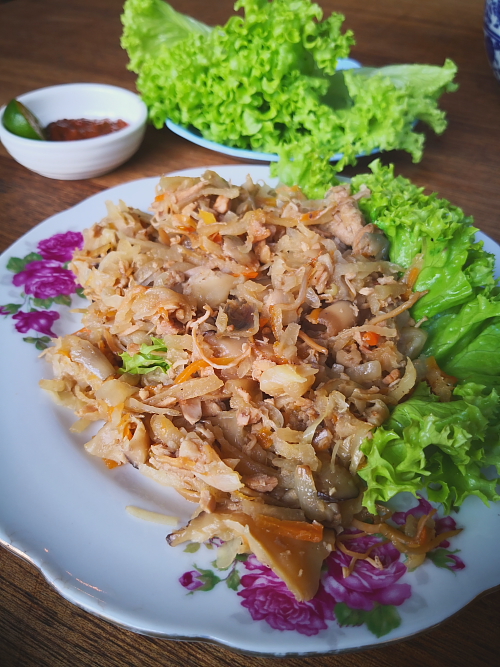 Jiew Hu Char RM18
The  Nyonya-style Sambal Petai comes with pungent petai (stinky beans), and prawns stir-fried in a spicy and robust sambal made of garlic, chlllies and shirmp paste.
To some diners, the stinky petai are beans of joy but for some, they rather give the dish a skip.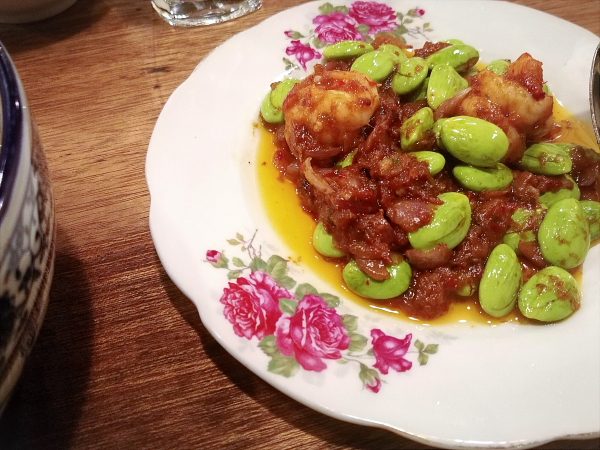 Sambal Petai (stinky beans in spicy chilli paste) RM18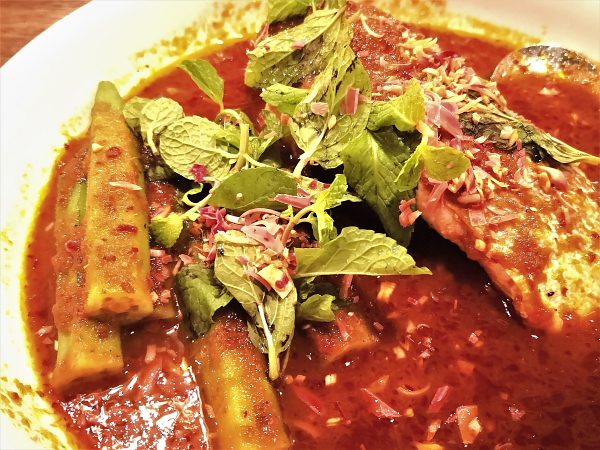 Assam Pedas Grouper RM38 (market price)

A Nyonya meal is not complete without a serving of dessert. At Ceki Nyonya Restaurant, the choices vary from Pengyat, Pulut Hitam and Gandum. The colorful Pengyat comes with varieties of sweet potatoes, besides yam and fragrant pisang rajah (banana) in coconut milk scented with the fragrance of pandan leaves.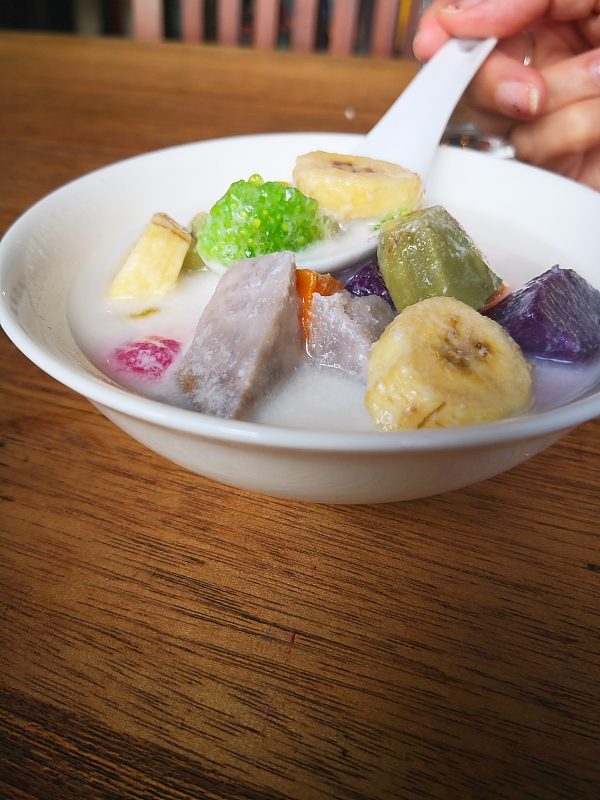 Pengyat RM6
The food at Ceki Nyonya Restaurant is appetizing and the dishes are being offered at reasonable prices with its portions slightly bigger as other Nyonya restaurants. The outlet open daily from 11am till 2.30pm, and from 5.30 till 9.30pm do take reservations.
Ceki Nyonya Restaurant 一枝娘惹餐厅
11-A Jalan Sri Bahari
George Town
10050 Georgetown
Penang
Mobile: +6011-1051 7976