Penang Teochew Porridge @Cecil Street Market Food Court
Cecil Street Market Food Court in George Town, Penang is food heaven for diners with its ample choice of hawker food. The food court may not be the most comfortable place to dine with its bustling market goers, however, the varieties of dishes have sufficiently captivated diners for years now.
When you need to have a light meal, the Teochew moi (porridge) stall is worth visiting. Run entirely by a family, the stall offers the porridge daily during lunch hours only.
The Teochew style of cooking porridge has firm rice grains cooked in water with sweet potato, totally light and easy. Customers enjoy the warm bowl of white porridge along with a combination of savory veggies, meats, and sauces.
Glancing through the stall, one finds choices of salted fish, chye poh omelette (preserved radish), stir-fried cabbage, bean curd, salted egg, steamed tiny white bait, and many more. The fried chye poh omelette prepared with egg spiked with slight salty umami from the preserved radish is a welcoming dish.
The fish dishes that are served here are prepared pretty straightforward – either steamed with soy sauce or deep-fried. There are also Chinese preserved vegetables and what you will find is char choy (pickled mustard), ham choy, and mui choy. These intensely flavoured pickled vegetables are stir-fried with meat.
For the adventurous, do consider ordering the braised pig ears and intestines. Prepared in bold dark soy sauce with aromas of five spice powder, the pig ear with soft bone has a nice crunch – making each bite interesting.
Braised pig ear
Fried fish
One particular unique dish is the signature braised dried oysters. To many, it is a 'must order' dish. This comfort food well braised with flavorful soy sauce and spices somehow works perfectly with the porridge.
Braised dried oyster
But if you prefer to go with the standard fare of savory canned food, the stall has pickled lettuce, braised peanuts, and black beans with salty goodness.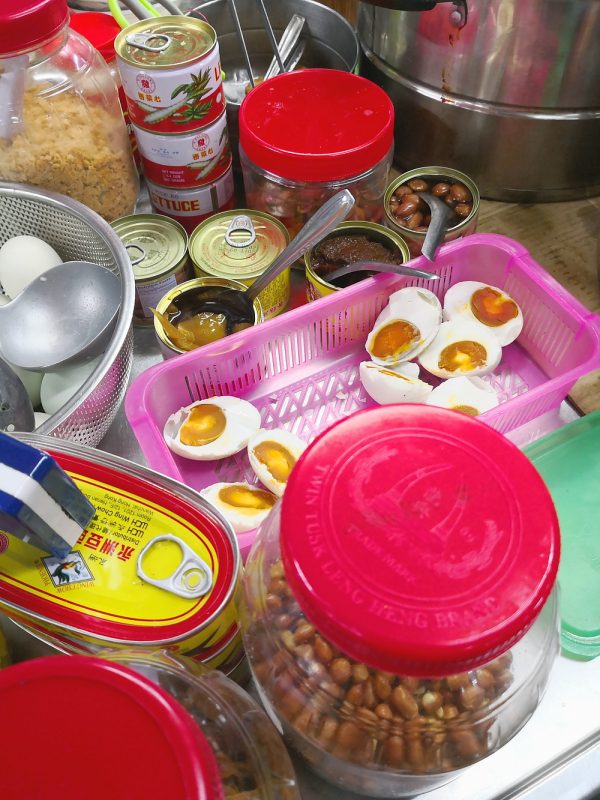 If you are heading to this part of town, do check out this humble Teochew porridge stall. It's a bustling place for a quick lunch.
Cecil Street Market Food Court 七条路巴刹
Junction of Cecil/Mc Nair Street
40-48 Lebuh Cecil
10300 Georgetown
Penang