The Loft – Pizzeria & Bar, Love Lane, Penang
Heard of The Loft? Well, the pizzeria & bar located in Love Lane, George Town, Penang, boasts Neopolitan-style wood fire pizza along with an extensive pork-free menu of salads, pasta, steak and more.
We popped in on a weekday for dinner. The big and quintessentially comfortable dining and drinking place is opened by the folks behind the popular Holy Guacamole Mexican Restaurant & Bar. Its upmarket and dressed interior with ambient lighting has an imposing centerpiece which has a bar and a pizza open kitchen with a custom-made oven.
There is something soulful about cooking with wood and it definitely suits the simple style of pizza. In the open concept pizza kitchen, watch the chefs prepare pizzas using a combination of imported ingredients.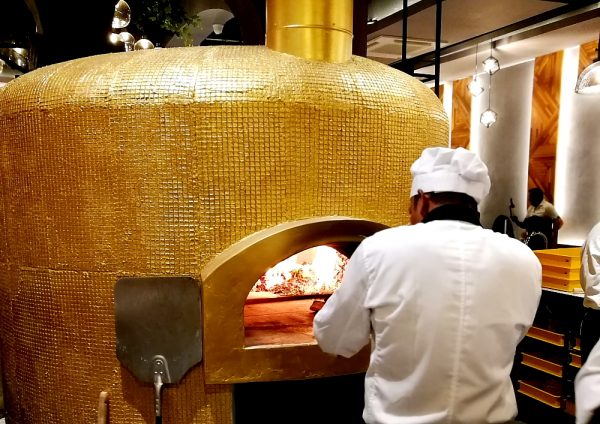 The menu reassures that they make the pizzas with the finest flour (Italian Le 5 Stagioni 00), and also a myriad of toppings to choose from. The Lot pizza served piping hot from the oven satiates the taste buds of those who love beef. It comes with beef pepperoni and beef bacon alongside mushrooms, onions, green pepper, pineapple, and black olives.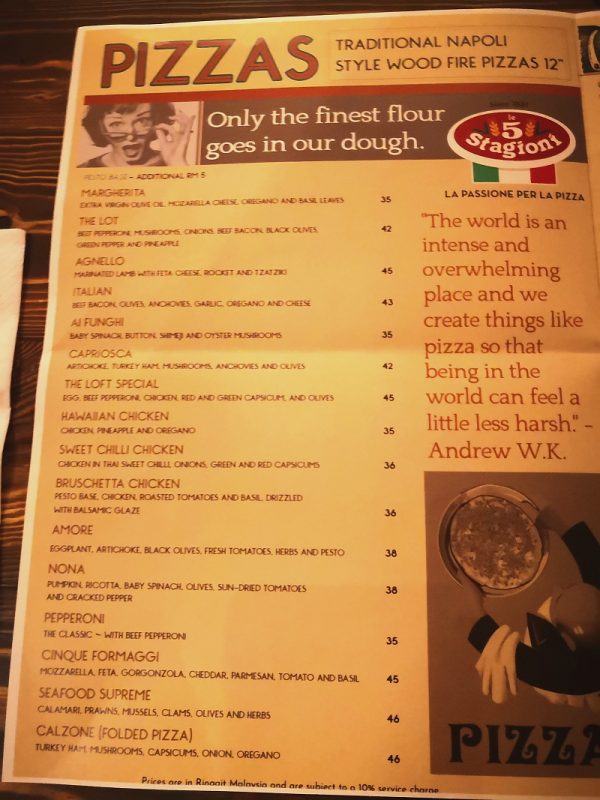 The Lot Pizza RM42
For more bites, check out the variants of pasta, soups, and salad. The pasta dishes come with choices of linguine, penne, fettuccine, and gluten-free spaghetti. It doesn't stop there though!
There are many appetizers too, with servings like the cheese and spinach patties which emphasize on its cheese, spinach, and Italian herbs stuffing. On the other hand, the eggplant parmigiana is flavorful, basked with Napolitana sauce and cheese.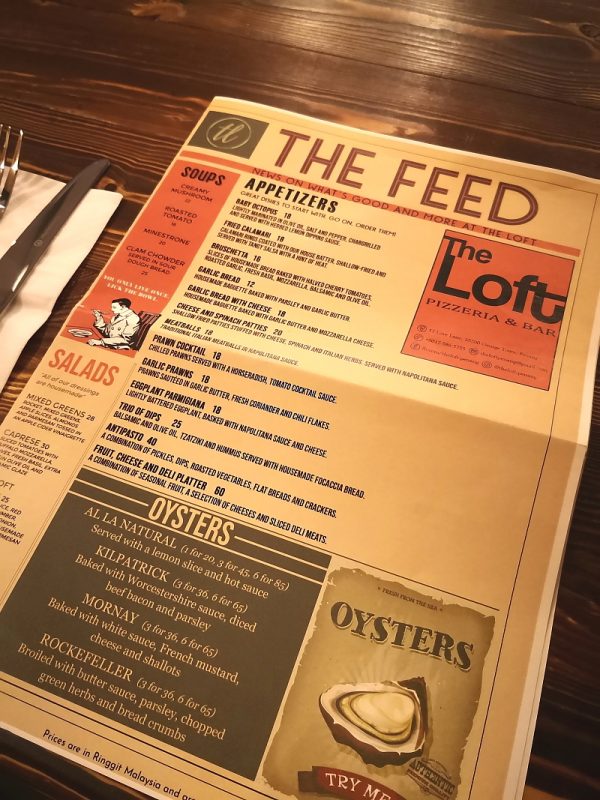 Cheese & Spinach Patties RM20
Eggplant Parmigiana RM18
The menu also holds equal allure for meat lovers, with the inclusion of Australian grass-fed steaks that are flown in. Choices like rib-eye, T-bone, mixed grill, and rack of lamb are chargrilled and served with either mushroom, red wine, black pepper or rich and creamy diane sauce.
Drinks include beer, wines, fruit juices, cocktails, coffees, and teas. We sampled the avocado bravodo, a culmination of avocado fantasies which is lightly sweet and less creamy. For sweet tooth, the outlet serves the customer with choices like tiramisu, affogato, panna cotta, and nutella calzone.
Avocado Bravodo RM18
The The Loft – Pizzeria & Bar opens daily, throughout the day from breakfast until late (11pm). Its location on the touristy Love Lane makes it a popular choice for tourist and locals alike. Diners can choose to sit indoor or opt for the outdoor tables for a view of the bustling lane.
The Loft – Pizzeria & Bar
57 Love Lane
George Town
Penang
Tel: 017-5865755