Passion Heart Cafe @Muntri Street, George Town, Penang
***Passion Heart Cafe has since shifted to 23 Jalan A.S. Mansoor,  George Town, Penang***
Passion Heart Cafe with its location on Muntri Street in George Town, Penang is a gathering place for both locals and visiting tourists. Housed in a prewar shophouse without any air conditioning, the cafe's high ceiling provides a casual relaxing atmosphere to enjoy homemade delights.
The pork-free cafe serves up a variety of homemade delights at pocket-friendly prices by owner Nely Koon. One can indulge with a meal, a coffee, or a cake.
To fuel the morning, start with the selection of pasta, soup, sandwiches, and All-Day Breakfast. The soups are made fresh upon order and come with choices of wild mushroom, tomato, and broccoli.
A hugely satisfying option for a sandwich is the Smoked Salmon with Cheese Sandwich – put together with bread made from rye flour (naturally lower in gluten), mayonnaise, and greens. The rye bread is also fitted into the All-Day Breakfast dishes. Why not try the Rye Toast with home-made Nutmeg Jam, and Scramble Egg & Rye Toast?
Smoked salmon with cheese sandwich RM14.90
The pasta dish lets the quality of the homemade sauce speak for itself. The menu got you covered with freshly made creamy Carbonara to Aglio Olio, refreshing Pesto Spaghetti, and Tomato Spaghetti.
For lovers Aglio Olio, the pasta dish bursting with fresh greens, juicy sweet tomatoes, garlic, chili padi, olive oil, and generous amount of parmesan cheese is the one for you.
For those who are interested in going for local delights, you can savor the signature Jawa Mee. This savory dish with boiled yellow noodles in a thick sweet potato gravy is topped with chicken slices, hard-boiled egg, beancurd, prawn fritters, fresh greens, fried shallots and a blob of spicy sambal.
If you want more, the cafe also offers the Nasi Lemak. The dish pay homage to another Malaysian street staple. Here, the dish features a generous portion of deep-fried chicken breast along with hard-boiled egg, coconut milk rice, crackers, fried anchovies, and sambal – all for the price of RM14.
Jawa Mee RM10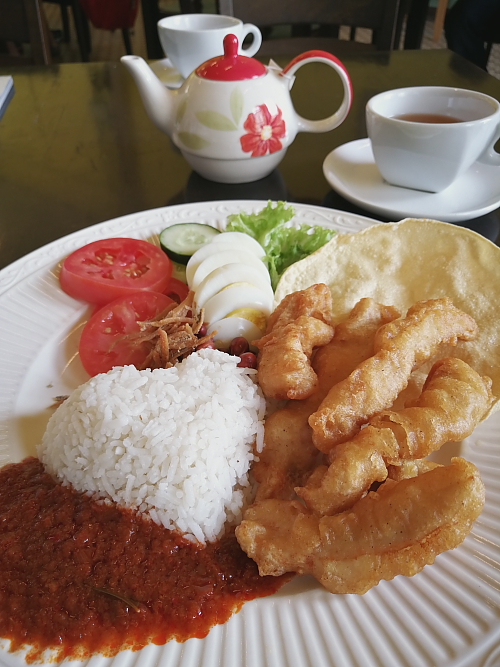 Nasi Lemak RM14
For desserts, Nely prepares a vast number of cakes, like the Black Forest Cake with red wine, Coffee Meringue Cake, Banana Crumble, Apple Crumble, Orea Cheese, Yam Coconut, and Cempedak Cake. The cakes are unique in their own ways and are available whole or by the slice.
The creamy Cempedak Cake infused with the fragrant aromas of the local fruit can be extremely addictive. It is utterly delicious and it continues to grow in popularity.
Cempedak Cheese Cake
The sweet and beautiful treats are something to be enjoyed with coffee (come with double shots) or simply with a cup of tea. Other beverages offered at the cafe include milkshake, nutmeg juice, freshly squeezed fruit juice, and chocolate drink.
Bake Well Cake with almond and orange jam RM12
Cappuccino RM9
So, look out for Passion Heart Cafe the next time you drive on Muntri Street. The cafe located on the right side of the one-way street is open daily from 12noon to 10pm, except Tuesdays.
Passion Heart Cafe
83 Jalan Muntri
10200 George Town
Penang
Tel: 016 – 4431336