Fettes Park Coffee Shop at Tanjung Tokong, Penang
No visit to a coffee shop is complete without a cup of local brewed kopi-o, as it is pretty much ingrained into Malaysian culture.
What better than kickstarting your day with a cup of thick kopi-o paired with a packet of nasi lemak. A place that you can enjoy such simple pleasures is at Fettes Park Coffee Shop 彎島尾茶室, located at Jalan Fettes in Tanjung Tokong, Penang.
One of my favorite stalls is Aunty Kim. Located at the entrance of the coffee shop, the stall offers a breakfast-packed menu of economy fried beehoon and nasi lemak. Besides that, you can order deep-fried offerings such as lobak ayam, popia goreng, cucur udang, and nuggets as side bites.
At this coffee shop, there are many other options to fill the tummy. Don't miss the chance to try the Hokkien Mee and Lam Mee. The Hokkien Mee has noodles served with egg, small prawns, meat slices, bean sprouts, and kangkong in spicy meat stock. The stall also sells Lor Mee where the noodle dish is served with gooey brown broth.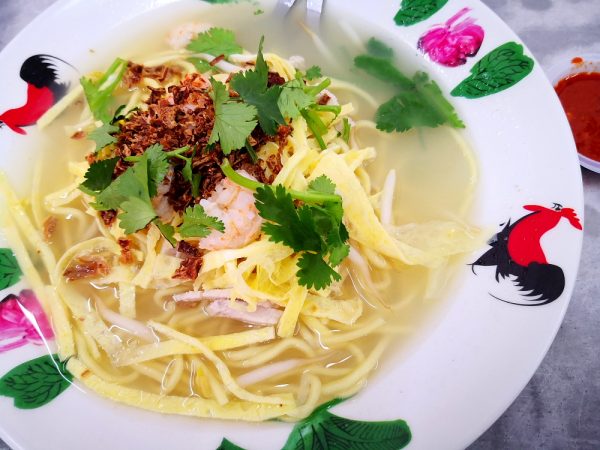 Besides that, taste the flavors of stir-fried Sar Hor fun and Hokkien Char from a nearby stall. You will want to enjoy the noodles with pickled green chillies and a red sambal kick.
For lunch, there is also this economy rice stall where you can easily have a plate of white rice along with various Chinese cooked dishes prepared with different cooking styles. The rice dishes are the easy way to get meals at home especially if you are busy.
Fettes Park Coffee Shop with its business hours from 8am till 8pm is a short walk from Kazumasa Japanese Cuisine.
Fettes Park Coffee Shop
38 Jalan Fettes
Fettes Park
11200 Tanjung Tokong
Penang
Mobile: 016 – 4868889
Closed on Tuesday