The Shark Food Court at Burma Road, Penang
Burma Road in Penang has no shortage of hawker food and one beloved spot is at The Shark Food Court 大百鯊. Formerly known as Pakma Food Court, the food court at the junction of Burma Road and Edgecumbe Road offers an airy atmosphere for diners visiting for breakfast, lunch, and dinner.
There is a mix of Chinese, Malay, Indian, and Western food and you get to enjoy noodles and rice meals all under one roof. Count on choices of food from Nasi Campur Wani, Jones Road Lor Mee, Wan Yee Steamed Rice, Kuantan Road Curry Mee, Duck Koay Teow Thng, Loy Kee Wanton Noodle, The Shark Breakfast, Bite Me Dessert, Food Master Bak Kut Teh, and various other snacks. A handful of the stalls were moved here from the nearby Jones Road Hai Beng Coffee Shop.
There are a number of stalls selling rice dishes. The dishes at Nasi Campur Wani are simple and unpretentious. There is a wide selection of dishes which include poultry, seafood, red meat, and vegetables. For fish lovers, the fried ikan cincaru (mackeral) stuffed with spicy sambal is a natural choice. If chicken is more of your choice, there are various dishes like ayam curry, ayam sos pekat and the ayam goreng (deep-fried chicken).
It is best to come early as the varieties of dishes are at their most diverse, and nothing beats having a bit of everything on the plate together with tomato rice.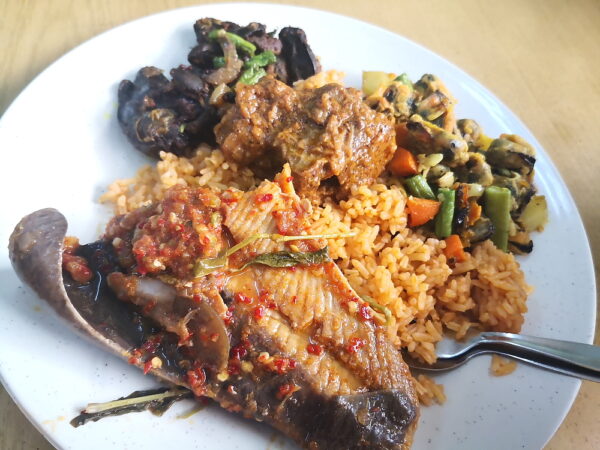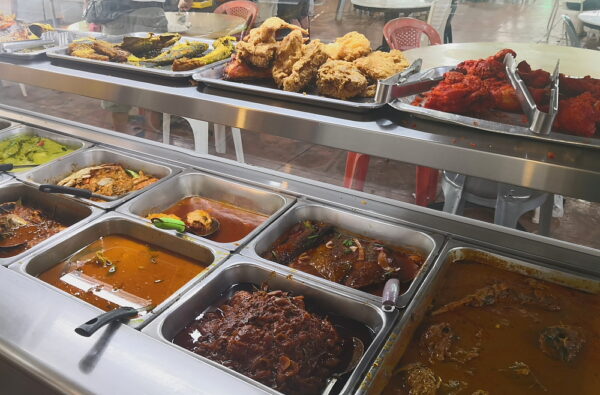 Another stall is Wang Yee Steamed Rice where one can find some comforts of home-cooking Chinese set meals. To appeal to diners, the owner has a main dish served on a bowl of fluffy steamed rice (cup rice). Choices of main include chicken with salt fish, black pepper chicken, sesame oil with ginger strip chicken, pork leg, mui choy pork, and more.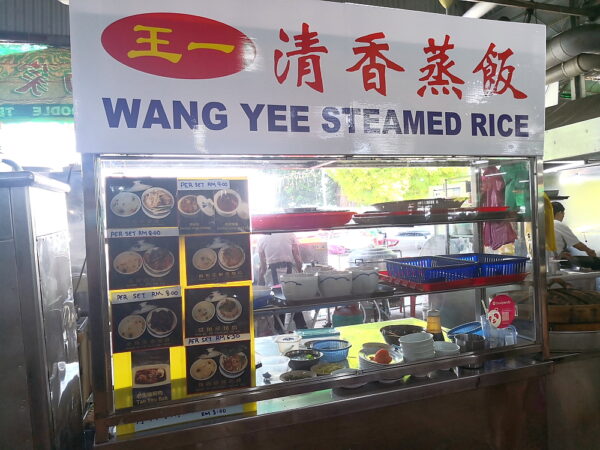 There are also a number of noodle stalls. For those looking for clear soup noodle, you may want to consider the duck meat koay teow thng. The bowl of koay teow thng served in clear meat soup is topped with fish and meat balls, and slices of duck meat. The difference of add-on here is the minced meat patty, which is limited to three pieces only.
Priced at RM7, the combination of the minced meat patties in the bowl of koay teow thng and the always necessary chili padi in soy sauce makes a fulfilling meal.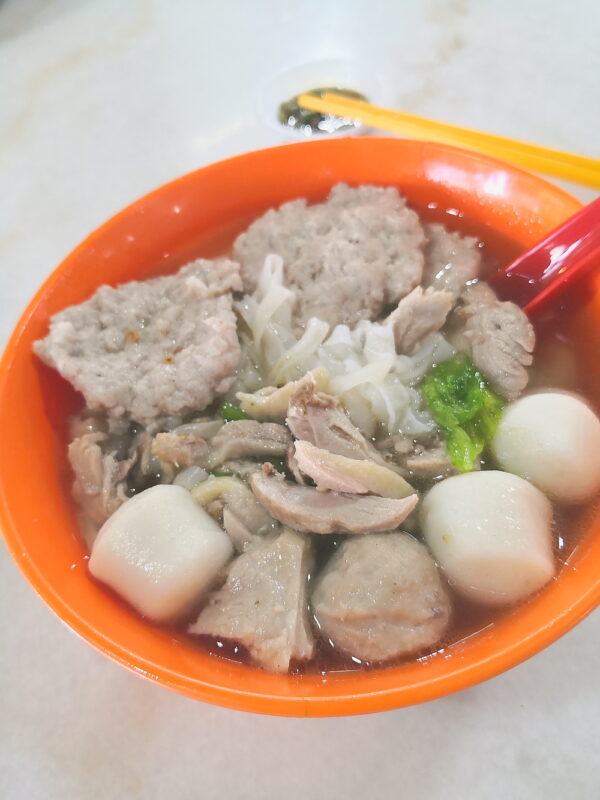 Meanwhile, don't miss the Kuantan Road curry mee served in a soup boiled with a combination of coconut milk and chili. A standard bowl of curry mee comes with a choice of noodles, along with beansprouts, cuttlefish, cockles, taufu bok, prawns, and pig's blood cubes. If you are really hungry, have the curry mee with extra roast pork.
You can savor the curry mee on its own, or you can mix in the accompanying helping of chili paste which provides spicy heat.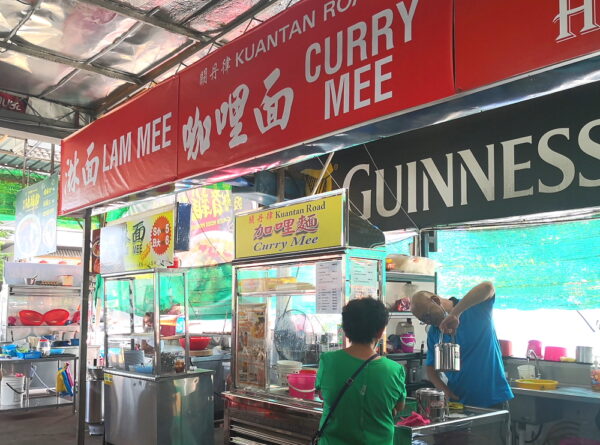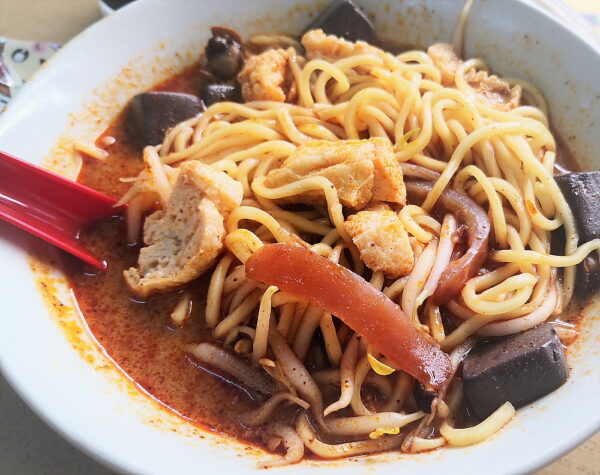 Over at Loy Kee Wanton Noodle stall (previously on Kimberley Street), there are noodle dishes, like the braised beef noodles, pork knuckle noodles, and wanton noodles. The noodle that I ordered from the stall is beef noodles with cubes of beef, tendon, and tripe, braised tender and succulent. For those who don't enjoy beef, you might want to have the wanton mee instead.
If you are looking to delight in some Western dishes, look forward to The Shark Breakfast stall. On the menu, you will find an assortment of chicken, lamb, pork, and beef sausage for breakfast dishes besides soups, croissants, sandwiches, and other items.
The lamb set, which is a combination of two lamb sausages seasoned with spices, streaky bacon, two omega eggs, hashbrown, baked beans, and toasted bread is priced at RM15. Larger appetites would revel in the sharing platter which is a combination of four different sausages.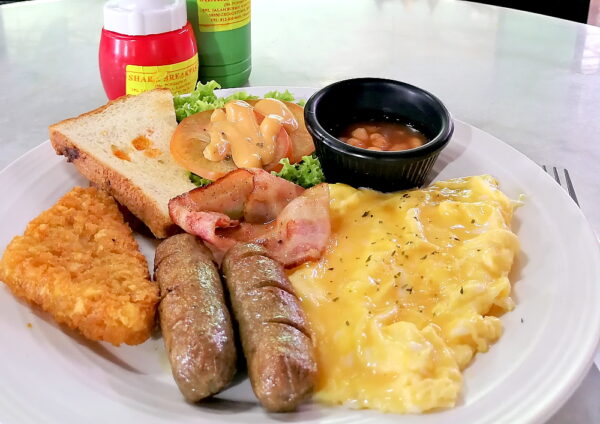 On the dessert front, the Bite Me Dessert stall offers numerous crystal ice jelly besides traditional local choices. For something a little more coconut milky and sweet, do try the truly delightful bubur cha cha, a comfort concoction of tapioca flour jelly, yam, sweet potato and sago.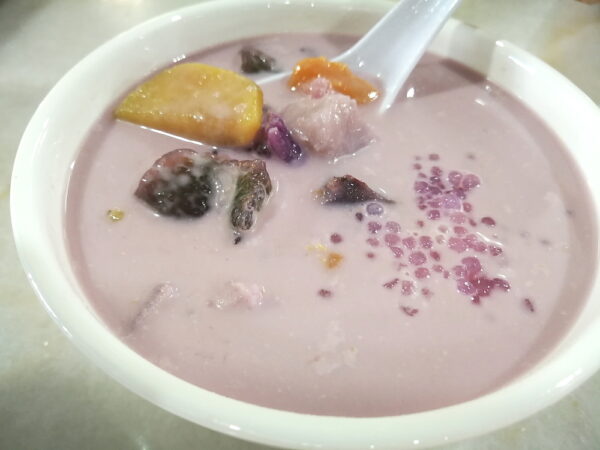 The Shark Food Court is open daily from morning till night except for Monday. Come evening, you will find a stall churning out Chinese chu char dishes and another offering fish head noodles.
The Shark Food Court 大百鯊
190 Jalan Burma
10350 George Town
Pulau Pinang