Bricklin Cafe Bar at Jalan Gurdwara, George Town, Penang
Eat, drink and talk at Bricklin Cafe Bar on Jalan Gurdwara, George Town, Penang!
The cafe built inside Hin Bus Depot, with its frontage overlooking the busy Jalan Gurdwara is a nice casual spot to have a meal and desserts.
This cafe with a rustic interior offers both indoor and outdoor seating and customers stand in line to order with food served to the table.
Besides coffee and tea, the cafe serves up other hot and cold beverages. If you are looking for something special, be sure to reach out for a cold glass of Coffee Mint Julep! The coffee will give you the kick and the mint will refresh the mood.
Coffee Mint Julep RM13
Mojito and Ice Latte
Start the morning off right with a Shashouka (veg). Enjoy a burst of rich savoury tomato sauce done up with spices and poached egg. Pop a spoonful of the hot tomato mixture in your mouth or have it scooped up with the accompanying toasted Bengali bread spread with homemade garlic butter. The dish with an exciting balance of taste is very comforting.
Shashouka (veg) RM18
Order a French Toast of Bengali bread toasted with eggs, served with gula Melaka syrup, fruits compote, and vanilla ice cream. Eaten together with all the supporting flavors, it is a perfect mouthful. The portion is huge and it is best to share.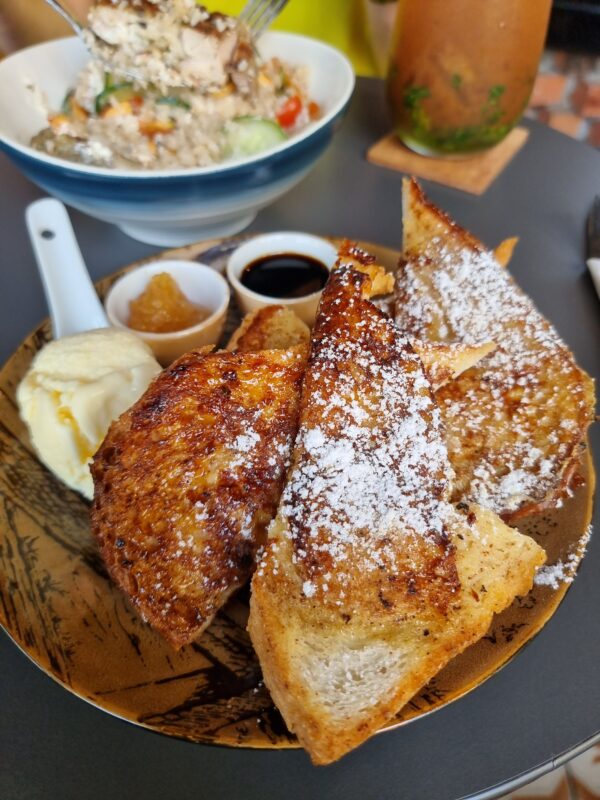 French Toast RM13
The Laugh Pilaf Chicken Poke Bowl has a base of pilaf rice, infused with tea, saffron, and spices. Served with Mid-Eastern marinated grilled chicken, sour cream raita, Japanese cucumber, baby tomatoes, and nuts, the dish with a burst of contrasting flavor is a great way to fill the tummy.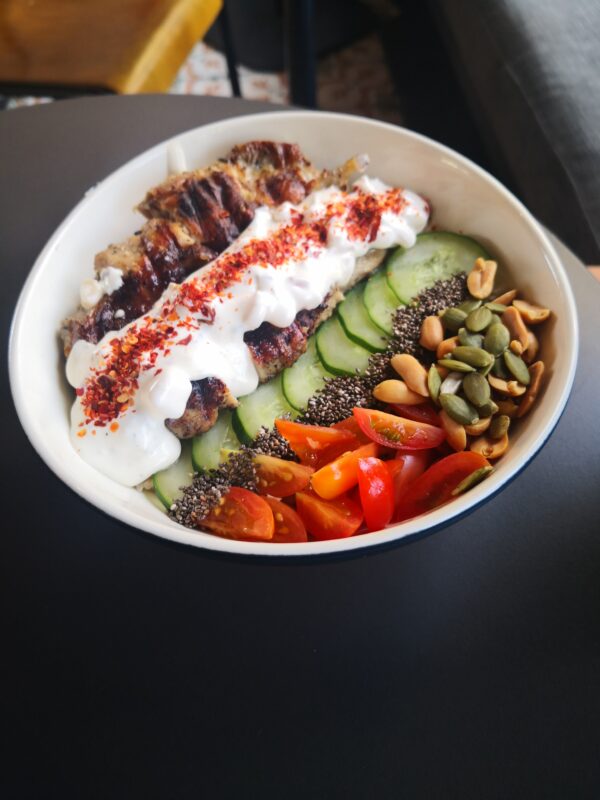 Laugh Pilaf Chicken Poke Bowl RM25
The menu also includes desserts that rotate in and out. There will be days with the glass case filled with Lemon Poppyseed, Biscoff Burnt Cheesecake, Victoria Sandwich, Mini Pavlova, and Devil Food Chocolate Cake.
On certain days, it will be featuring the Sugee Almond, Apple Pie, and the Ant Nest Signature Cake.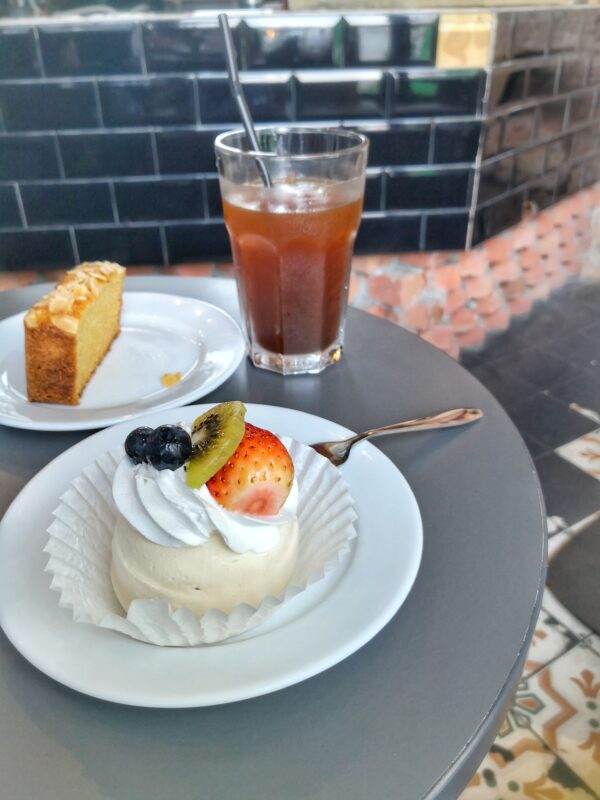 Banana Cake & Mini Pavlova topped with cream and fruits
Bricklin Bar Cafe
31A  Jalan Gurdwara
10300 Georgetown
Penang
Tel: 04 – 2266813
Business Hours:
10am – 10.30pm (Monday – Thursday)
10am – 11.30pm (Friday – Sunday)