Penang Food – Hock Chuan Heong, Macallum Flat
Another outlet for authentic Hokkien dishes in Penang is in an old shophouse on the ground floor of the Macallum flats. Restaurant Hock Chuan Heong is not visible from the main road but still walkable distance to the main road, whereby you will find Hock Seng Rojak, my favorite rojak stall.
Hock Chuan Heong is one of the places with good Hokkien dishes that come with reasonable prices. As expected, the place was crowded as it was lunch hour. The choices of dishes are very limited as they concentrate on their few specialties, just like what you will find in Ang Hoay Loh and Sin Lean Heang. The first dish was the aromatic and tasty Oh Chien (fried oyster omelette) with its starchy texture.
This Tau Kua Suan Na dish is fried and cooked with lots of leeks and tau cheong (fermented brown beans). The leeks enhances the taste of this bean curd dish which utilizes ngor heong tau kua (five spice powder).
We had two types of noodles, the fried Tanghoon and Oh Mee (oyster mee). This clear glassy Tanghoon is fried dried with a good portion of prawns, meat and vegetables. I find this noodle tasty with good wok hei.
Everyone's favorite Oh Mee is cooked differently from the Tanghoon. This plate of noodle again comes with plenty of ingredients, meat and oysters which gave the gravy its sweetness. The noodle is tastier if left for a while to absorb up the gravy.
Looks good and tasted good too!
We had the Hei Kean (deep-fried prawn fritters). It was nicely done with a crispy batter and goes well with the chili sauce. Excellent snack indeed!
Look at the freshness of the prawns…
This restaurant makes one of the best Bak Kee soup in town. The steaming bowl of dark colored soup was well done with the right thickness. The main ingredients are fried pieces of pork coated with tapioca flour. The fried meat is then boiled in the soup with lots of cabbage and leeks.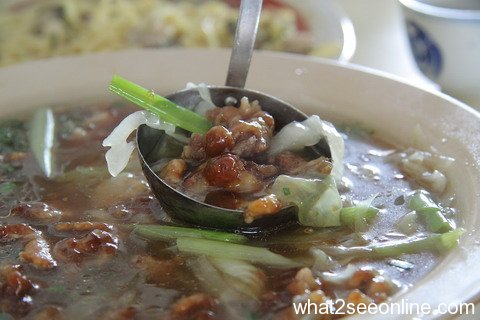 All this specialty  Hokkien dishes did whet up our appetite. We finished up all the dishes in no time. A very satisfying lunch for us with reasonable prices too. The restaurant remains a good place for Hokkien dishes in Penang.
Parking spaces is limited
Hock Chuan Heong
(Gat Lebuh Cecil)
344-G-5 Pengkalan Weld
10300 Penang
Tel : 04 2611004 (don't expect a reply as they discourage phone-reservations)
Business Hours : 12pm – 6.00pm
Closed on Sunday
GPS Coordinates : N05 40549   E100 33124