Penang Hawker Food & Nyonya Cuisine @ The Wok Cafe, Kota Damansara
It was indeed satisfying being able to taste such delicious Penang Hawker food even though I am out of Penang. Mervyn continued with the serving of the main Nyonya delicacies, starting with the Pan Fried Assam Prawn. The added sweet and sourish taste of the assam and the freshness of the prawns make this dish a recommended choice.
The Perut Ikan dish is well done with using the right amount of ingredients and assortment of vegetables and herbs of daun kadok and limau purut. I like the distinct flavor from the pickled fish stomach and the sourish assam taste.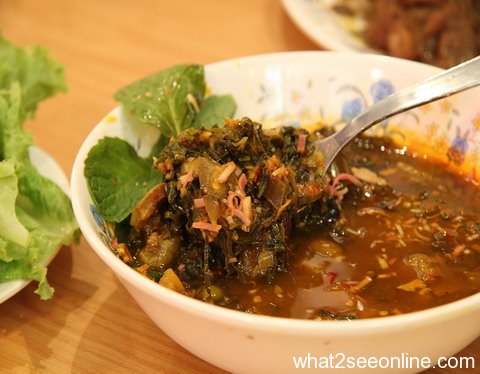 The Inche Kabin is a flavorful Nyonya style fried chicken. This dish of marinated deep fried chicken is very tasty and taste even better eaten with Worcester sauce.
This Kiam Chye Arp Soup tasted so good with the combination of sour preserved veggies, tomatoes and duck.
For pork lover, do try out this simple and wholesome dish, Hong Bak. The pieces of pork are stewed in gravy of preserved bean paste with a hint flavor of the cinnamon stick. The gravy was very rich in taste.
Joo Hoo Char – Their version of Nyonya style fried mixed vegetable tasted good with accompanied lettuce and sambal. Just like their Penang outlet, the bangkuang (yam bean) is fried dry with jiu hoo (octopus) and other veggies of carrot and mushroom.
Click below to go to the next page for discount voucher and location…