Invitation to Chocolate Cooking Class and Chocolate Indulgence High-Tea from Cacao Barry, Callebaut at Mandarin Oriental, Kuala Lumpur
Amazing takes of Chef Holger's Gallery of Chocolate Creations! Feast your eyes on everything below in various shapes and colors; they are all chocolate!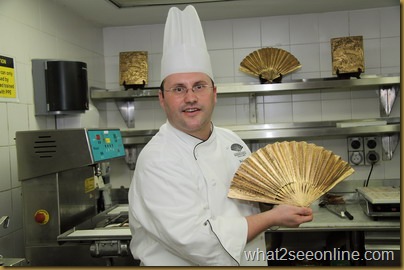 Could you imagine the Picture of the Crane and the logo of Mandarin Oriental (the famous fan) are actually made from pure chocolate!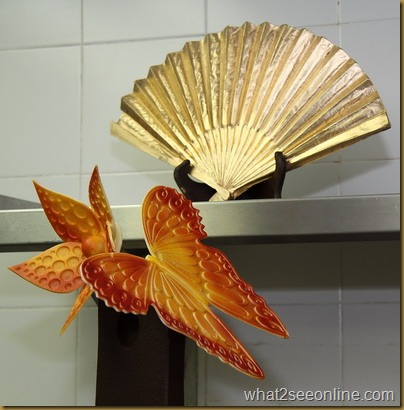 After the cooking class, Chef Holger joined us for the Chocolate High Tea in the Lounge on the Park. We lingered around the relaxing lounge, with soothing live piano music and drop down glass windows that opens to the garden view.
We were served with a triple tiered dessert tray. The top tray has plain and chocolate scones which were accompanied by Devonshire cream and preserves. Savory sandwiches filled up the second tray while the third tray was decorated with sweets of chocolate macaroon, chocolate thyme Madeline, white chocolate rice pudding with citrus fruits and chocolate floating island.
They have a wide range of coffee and tea drinks and I enjoyed pairing the High-tea with coffee.
Watching Chef Holger making chocolates was indeed a fun experience for me. I had a great time indulging in his chocolaty treats.
Furthermore I would like to express my thanks to Chef Holger for giving me such an unforgettable sweet souvenir perfectly packed for my journey travelling back to Penang.
I am wondering should I eat this lovely piece of chocolate?
You will be pleased to know that Chef Holger will be presenting two weeks of chocolate-numbing sensations with visiting Master Chef Jean-Marc at both the Lounge on the Park and Pacifica from 9th November till 15th November 2009. During this time, a special Chocolate Afternoon Tea Set will be available from 2.30pm to 6pm at RM75++ per person.
Mandarin Oriental Kuala Lumpur
Kuala Lumpur City Centre
PO Box 10905
50088 Kuala Lumpur
Malaysia
Telephone : 603 2380 8888
Web : http://www.mandarinoriental.com/kualalumpur/
Do check out my other visit to Mandarin Oriental :
Lai Po Heen, Mandarin Oriental Hotel – MIGF 2009
MIGF – Malaysia International Gourmet Festival 2009 at Pacifica, Mandarin Oriental Kuala Lumpur with Chef Bastian Mantey