Kim Tavern in Sunway Carnival Mall Butterworth, Penang
SOUP NOODLE
T01 Tomyam Seafood Noodle (RM9.90) – The taste of the Tomyam soup was in the right order for most of us. The owner has a passion for fresh ingredients and the freshly made Tomyam paste and the seafood ingredients gave the right balance of spiciness, sourness and sweetness that we enjoyed. The bowl of noodle was served with topping of fresh prawns, pieces of squid and two Australian mussels together with onions and tomatoes. The garnished mint leaves gave extra freshness and fragrant to it. One of the better ones around town.
T02 Ipoh Chicken Slice Noodle (RM6.90) – This noodle is similar to the popular Ipoh 'Kai See Hor Fun' but  lack the unique taste compared to those sold in Ipoh.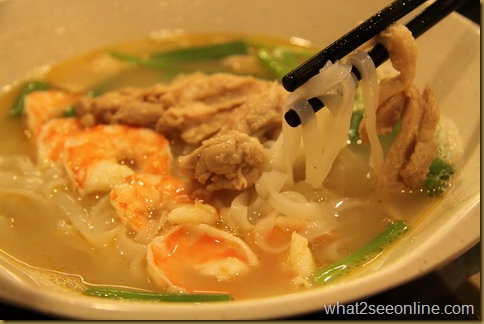 FIRED RICE / FRIED NOODLE
F02 Capsicum Prawn Fried Rice (RM7.90) – The Chef does wonder with this plate of rice fried with corn, onions and finely chopped capsicum. I find this a lovely change especially with the added fragrant of the capsicum. The fried rice is best eaten on its own or with their specially prepared sambal belacan.
F06 Tomyam Seafood Fried Noodle (RM8.50) – This Tomyam Seafood Fried Noodle has the same flavor of the Tomyam Seafood Noodle.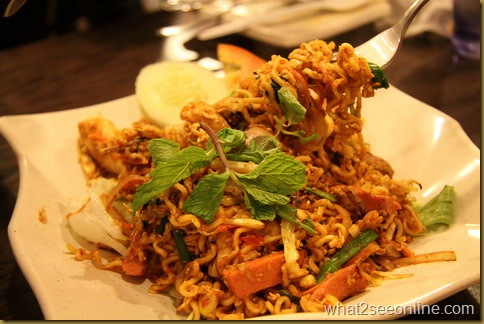 MUSHROOM PORRIDGE
P03 Seafood Mushroom Porridge (RM7.90) – This hearty warm porridge comes with pieces of black mushroom and many types of seafood – prawns, cuttlefish and dory fish. It has the texture of the Cantonese type of creamy 'juk' and has a slightly salty taste.
THE WESTERN SERVING
M1 Spaghetti Chicken Bolognese (RM6.90) – Most of us enjoyed this freshly made spaghetti dish with minced chicken meat.
Continuing with the Italian food was the M5 Cheesy Chicken Lasagna (RM9.90) – soft lasagna pasta layer with minced chicken meat simmered in rich tomato puree, topped with mozzarella cheese. This rich and creamy lasagna is best for sharing.
M4 Mushroom Chicken Chop with Garlic Butter Rice (RM9.90) – The grilled chicken came with mushroom sauce and accompanied by garlic butter rice, corn on cob and an egg with runny yolk. The mushroom sauce was flavorful and the serving of rice is a nice change from the usual fries and mash potatoes. Overall is a nice dish if not being over grilled.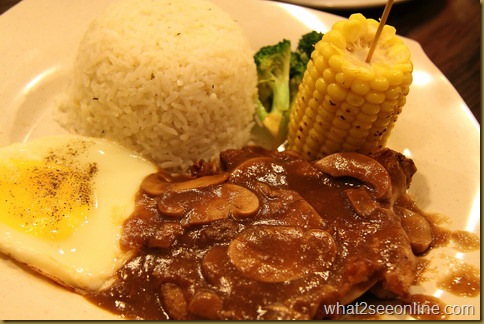 Most of the dishes that we had eaten are very much present in the menu in other cafes but I like the way Kim Tavern dishes out the food. The taste is much better compared to other cafes around that standard. The tables were all taken up during our visit, which shows that it is a favorite food outlet in Sunway Carnival Mall.
Thank you to Taufulou for sharing this wonderful cafe and also to Andy for hosting us. This gathering was made possible with the attendance of the food bloggers with very last minute notice :  Lingzie, Mary Teo, Alan and Amanda, NKOTB and Criz Lai (preparing the menu list).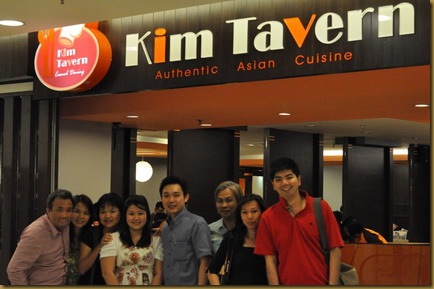 Group photo courtesy of NKOTB
Kim Tavern
LG 04, Sunway Carnival Mall
Jalan Todak
13700 Seberang Jaya
Penang
Business Hours: 11.30am – 9.30pm daily
Tel: 604-399 9879 & 012-428 8066 (Mr. Andy Liew)
GPS Coordinates : 5.398695   100.397875