Suffolk House Restaurant – Fine Dining in a Penang Heritage and Historical Site!
The main courses are works of art! The first was the Char grilled rack of lamb with mint lamb jus and Fettuccine with spinach & mushrooms. I requested it to be medium done and was pleased with the tender and succulent meat. The two pieces of lamb was beautifully assembled on the plate interlocking each other with fettuccine, salad and carrots craved into little torpedoes. Indeed a satisfying combination!
The lamb dish was followed with the Pan fried cod fillet with garlic aioli & basil tomato coulis with Basmati rice pilaf. The cod was served ladled over the bed of rice flaked with bits of basil and sautéed pea shoot & carrot.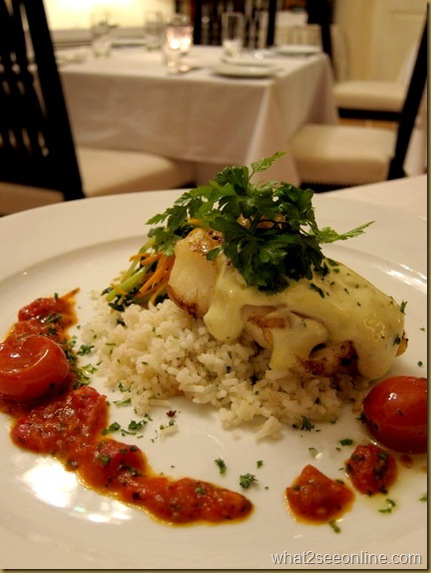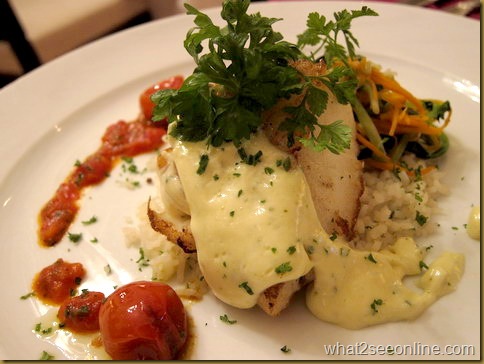 After the mains, a combination trio of dessert was served with my choice of black Nespresson coffee. The Blueberry cheese tart with raspberry jam was served with lots of fresh slices of strawberries.
A chocolate lover like myself was glad to see the Grand Marnier with orange zest flavored chocolate ice cream. It was great indulging in the chocolaty ice cream enhanced with orange flavored liquor.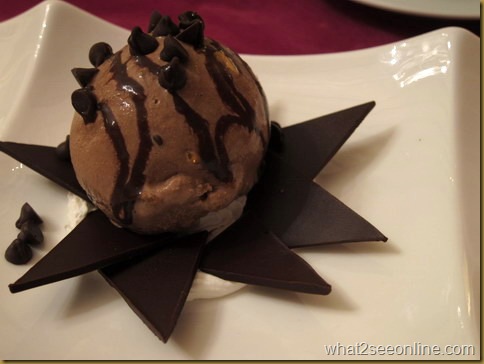 The finale of the dessert trio was the Symphony of Banana crepe suzette with crème caramel & strawberry. The sliced banana coated with creamy caramel was worth every sugared bite for me.
The three lovely dessert and the coffee concluded the eight course set dinner.
This will just be the place for an unforgettable event entertaining your guests and family or to spice up your date. The lunch menu changes daily while the dinner menu changes weekly on Tuesday! Wow…it will be like visiting a new restaurant each time, with so many varieties. I like to say a big thank you to Gary and Ee Lin for the warm reception and Chef Johnny for cooking the food.
Click here to proceed to the next page for the great mansion….