Seafood @ Ocean Green Seafood Restaurant, Penang
The Ocean Green Seafood Restaurant is a popular dining place located off Jalan Sultan Ahmad Shah in Penang. My family enjoyed dining at this restaurant which offers an open view of the beach and the sea. This surrounding beach area is a popular place for couples to have their wedding photos taken.
We had a good start with the popular dish of steamed tiger prawns. The prawns are very juicy and delicious, you could even savor it on its own! It is best dipped into their freshly homemade chili sauce which is a must-have for me!
A great starter to a wonderful seafood meal!

Their classic Deep Fried Baby Chicken is always satisfying. The chicks are marinated with their own twist of ingredients, tasted significantly different from those that I had in Ong Cheng Huat Seafood.
Another hot favorite for my family is the Steam Curry Fish. It is slightly spicy with lady fingers, tomatoes and served with mint leaves. The combination of the flavorsome gravy with the blanched beehoon is awesome. I never miss out this dish on my every visit.
This restaurant has its own way of preparing the satay, quite similar to those from Teluk Kumbar Seafood. They are served charcoal grilled with overlaid sauce. The barbecued skewers of chicken meat coated with slightly spicy peanut-based sauce are accompanied with cucumber and onions.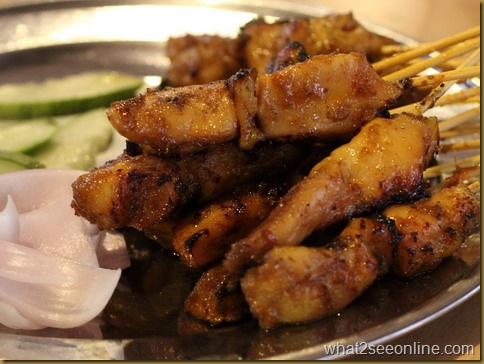 Clams can be served in many variations and we opted for them to be stir fried. The accompanied garlic and chili padi enhanced the flavors of the clams. Excellent to go with rice or on its own!
The crab is cooked in the sweet and sour spicy gravy which makes a good dip for the deep fried Chinese buns (man tou). The gravy is very flavorful!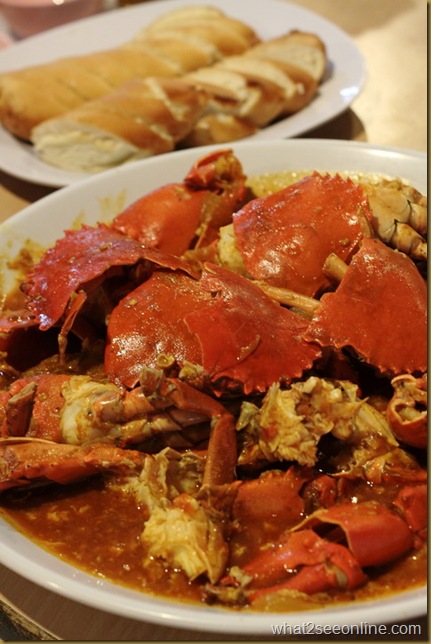 This simple dish of Spinach in superior soup (siong tong yuen choy) with plenty of scallops, garlic and pieces of century egg is cooked to perfection.
The meal concluded with fried mee-tiau! Fried with seafood, it is filled with wok-hei and plenty of flavors! Topped off our meal nicely…!
One particular favorite for me over the years is their special dessert! Do check out their steamed tapioca with thick santan (coconut milk), it is simply lip-smacking!
As I mentioned earlier, they have a very beautiful sea view right outside the restaurant. I managed to catch a photograph of a newly wedded couple!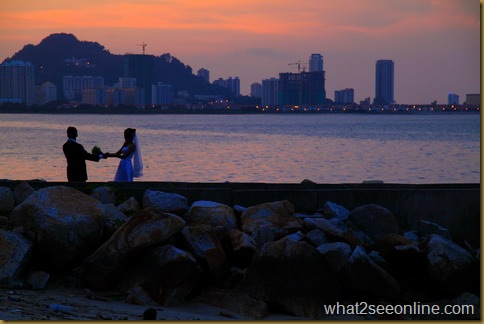 It is best to make a reservation as the restaurant is usually packed (even on weekdays).
Ocean Green Seafood Restaurant
48F Jalan Sultan Ahmad Shah
10050 Penang
Tel: 04 2262681 &  2274530
Business hours: 12noon till 11pm (daily)