Starhill Gallery presents Midsummer Nights Feast 2010, Kuala Lumpur
Things will be spicing up at Starhill Gallery with the launch of its coming annual Midsummer Nights Feast on the 2nd July 2010. The eight day festival promises the presence of top celebrity chefs featuring special menus of fine food paired with great wine, accompanied by music and fashion shows.
The tagline for this year's event is Experience the Fine Art of Flavours, and it will definitely live up to its name with vibrant delicious cuisines forming delightful artistry created by the celebrity chefs. I was invited to the press conference and food samplings. Well, there are plenty of tasty delights and I sampled plenty of fabulous cuisine that will be offered at this year's culinary event.
Experience the fine art of flavors at Starhill Gallery!
YTL Corporate Executive Chef, Chef Kevin Cape will be heading the culinary team alongside Chef Johann Ong Of Shook! Kuala Lumpur and Chef Jacqueline Qiugiong of Shook! Shanghai.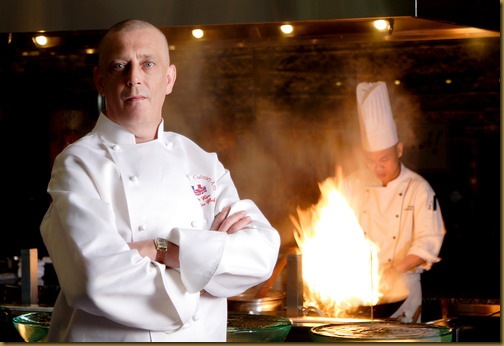 The culinary scene is buzzing with excitement, as the event will be graced by the presence of other international cast of celebrity chefs specially flown in for this gourmet festival. Celebrity chefs will be on hand to share the fine art of flavors, recipes and invaluable tips in the Master Chef Classes, conducted on 3rd & 4th July 2010.
Celebrity Chef John Burton-Race
Michelin 2-Star Chef  – BBC & French TV Host & Celebrity

Featuring an exclusive menu of Anglo-French cuisine on 8th July and 9th July 2010.




Master Chef Massimo Martina
Ambassador of Italian (Piedmont) Food Tourism to the World!

Featuring a special menu of authentic Italian cuisine on 3rd July to 5th July 2010.

Master Chef Stephen Mercer
Australia's Chef's Hat Award Winner for 6 Consecutive Years!

Featuring the special "Return of the Oz" menu on 6th July and 7th July 2010.
Special menus and delectable assortment of food will also be offer by other participating restaurants at the gallery during the feast period. The participating restaurants included Enak, Fisherman's Cove, Gonbei, Jake's Charboil Steaks, Jogoya, KoRyo-Won, Luk Yu Tea House, MyThai, Pak Loh Chiu Chow Restaurant, Village Bar, Tarbush Restaurant, Sentidos Tapas and Shook!.
VILLAGE BAR
The Village Bar, with its pillars made out of stacked recycled bottles and colorful overhead lights, is a great meeting place for winding down. Mocktails such as Berries on the Rock, White Candy and the Ultimate Summer are just few of the many refreshing drinks available in their Midsummer Nights Feast Menu.
Series of cocktails and drinks from the Village Bar
PAK LOH CHIU CHOW RESTAURANT
Pak Loh Chiu Chow restaurant with a cozy ambiance serves authentic Teochew style Chinese cuisine.

Fresh crabs and plenty more offered at Pak Loh Chiu Chow
SHOOK! – ASIAN & EUROPEAN SHOWCASE RESTAURANT
Expect to savor the Best of the Best fusion cuisine with Japanese, Chinese Wok, Italian and Western Grill in Shook!.
One of the Shook! Appetizer – Tempura soft shell crab with curry sea salt
JAKE'S CHARBROIL STEAKS
This restaurant with a cowboy town atmosphere serves quality steaks and seafood.
Jake's Charboiled Lamb Leg
Jake's Spring to Summer Jumbo Prawns
JOGOYA
Vegetable carving and the huge crab from Jogoya
Lobster Salad and plenty of mouthwatering desserts
GONBEI
This restaurant located on the Relish Floor serves fine authentic Japanese cuisine.
Salmon Akebono Yaki, grilled to perfection & the Saba Oshi Sushi
MYTHAI
Mouthwatering sweet Thai desserts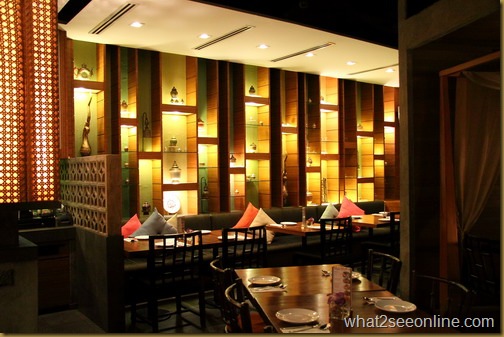 SENTIDOS TAPAS
Seafood Platter with premium oysters, prawns, squid, fish, clams and mussels
KORYO-WON KOREAN RESTAURANT
Koryo-Won offers fine authentic Korean fusion cuisines. The delightful banchan is full of colors and flavours.
Delicious Korean BBQ Spread
ENAK KL – REDISCOVER TRUE MALAY CUISINE
The warm and pleasantly decorated restaurant offer varieties of Indonesian and Malaysian cuisine.
Flavorful Ayam Bakar Percik accompanied by grilled young asparagus
TARBUSH RESTAURANT
Explore the delicious Middle Eastern cuisine from this restaurant with charming decorations.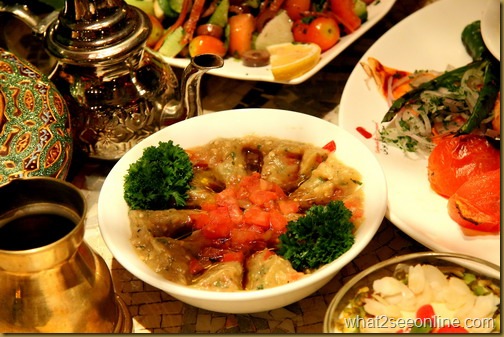 Lunch, Afternoon Tea and Supper Sets are available in Tarbush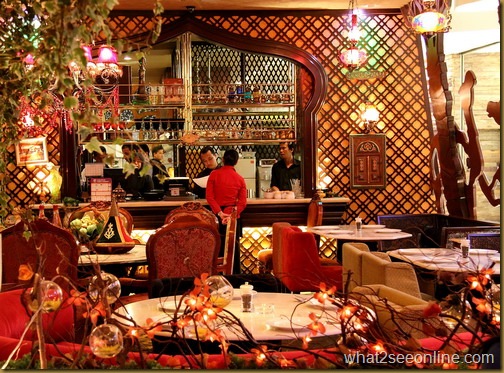 FISHERMAN'S COVE
Diners get to savor the delightful gems from the seas, specially prepared by the crew in the open concept kitchen.
A prawn appetizer from Fisherman's Cove
LUK YU TEA HOUSE
The menu of this restaurant offers a range of Chinese cuisine with a vast selection of China and Taiwan wok dishes as well as Hong Kong style dim sum.
Steamed Village Chicken with wolfberries and kailan
The open concept kitchen of Luk Yu Tea House
The Fine Art of Flavors at Midsummer Nights Feast 2010 will be celebrating with enjoyable and spectacular fashion shows by icons of French and Italian styles, and live performances by Najwa Mahiaddin and Syafinaz Selamat.
Starhill Gallery
181 Jalan Bukit Bintang
55100 Kuala Lumpur
Tel : 03 2782 3855