Penang Governor's Birthday Cake prepared by Chef Nazeri Ismail
*This article was published in the New Straits Times (Life & Times) on 23rd July 2010.
Nazeri Ismail is the Executive Pastry Chef at Shangri-La's Rasa Sayang Resort & Spa. He has charmed many diners with his varieties of outstanding cakes and pastries over the years. What's more, he has been making cakes for the Penang Governor for the past four years.
The Penang Governor cutting the birthday cake
I have tried many of Nazeri's desserts, and recently I had the opportunity to witness him at work in his kitchen at the resort. On that very day, he was in the midst of making the special cake for the birthday celebration of the The Penang State Governor, Tuan Yang Terutama Tun Dato' Seri Utama (DR.) Haji Abdul Rahman Bin Haji Abbas.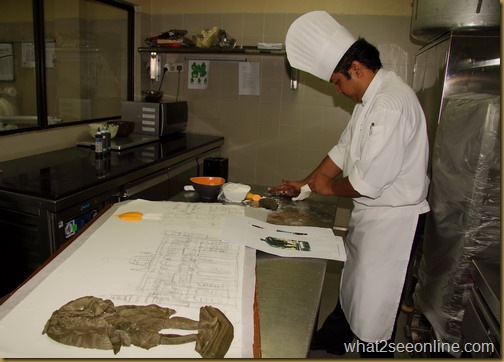 Nazeri at work in the kitchen of Rasa Sayang
Nazeri had injected a creative idea in the decoration for the rich fruitcake which had two-dimensional art works. The cake had a rich combination of history featuring several  heritage buildings and a miniature model of the founder of Penang, Captain Francis Light. The impressive cake measuring 122cm by 61cm, weighed around 25kg.
It was decorated with pastillage pieces of the Moorish-styled Jubilee Clock Tower which was constructed to commemorate Queen Victoria's 1897 Diamond Jubilee, the majestic Penang City Hall in Edwardian Baroque style, and the Khoo Kongsi besides the model of Captain Francis Light. Each of it is truly a work of art!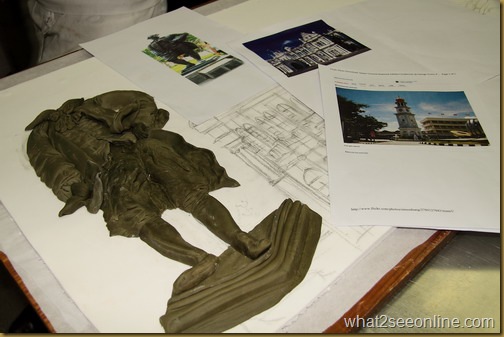 Impressive creation
I marveled at Nazeri's ability to fuse food and art. He started with a sketch of the design and gradually handcrafted the pieces of pastillage using a blade. The pastillage is a mixture of egg white, gelatin, sugar and corn flour. Each step is an intensive work of art, even to the finer details.
Edible color is sprayed onto the dry pastillage pieces using an airbrush, giving them a 2D effect. It was a great privilege for me to witness the excellent artistic work of pastillage moulding and airbrushing by Nazeri.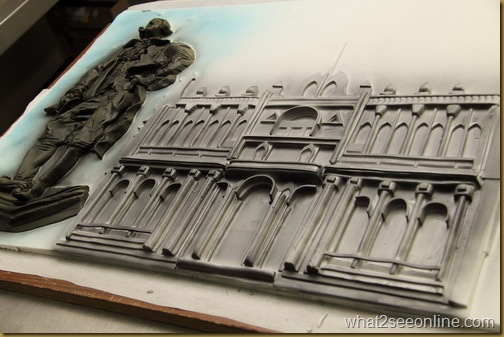 The rich fruit cake was covered with a layer of marzipan. Great care was taken to place the pastillage showpieces onto the cake. All in all, it took Nazeri about seventy-two hours to complete the cake.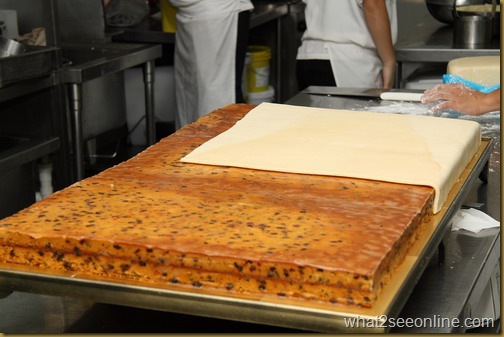 The majestic piece of art was a sight to behold! The cake was presented to the Governor by the Malaysian Association of Hotels (MAH) Penang Chapter.
Everyone admiring the wonderful creation
Nazeri, aged 37 was born and bred in Penang. He started his career in the culinary school (Le'notre, France) in 1990 and over the past twenty years, he has gained a wealth of exposure and experience in the hospitality industry in many leading hotels worldwide.
He began working in Hotel Equatorial, Penang in 1990 and his next stop was working in Airport Frankfurt Hotel in Germany. He travelled back to Asia and landed in Meritus Mandarin Hotel in Singapore. He has also participated in hotels in Langkawi, Cyberjaya and Edsa Shangri-La in Manila before his present post in Shangri-La's Rasa Sayang Resort & Spa in Penang.
Nazeri's accomplishments over the years include numerous awards in culinary competitions representing Malaysia Culinary Team:
2nd European Championship at Wiener Neustard, Austria in April 2001
Gold Medal category for cold display (chocolate pralines and dessert display)
Bronze medal for hot cooking team event
Food Hotel Asia Singapore Culinary Challenge in April 2002
Silver Medal category of cold display (petit four and dessert display)
Bronze medal for hot cooking team event
World Cup Expo-Gast 2002 Luxembourg in November 2002
Silver medal category for cold display (chocolate pralines, show pieces and dessert display)
Silver medal for hot cooking team event
Currently he trains the pastry and bakery team besides being responsible for the food production and product development plans within the resort.
Why did he become a pastry chef?
"As a child I used to help my mother bake cakes.
It was only a matter of time before I began joining pastry and confectionary-making competitions while I was still in my youth," said Nazeri.
"And oh, my grandfather was a chef in the British Army."
What makes a top pastry chef?
"Someone who never stops learning, is always improving on his work and is unafraid to create new stuff.
Having good relationships with staff and being able to train and coach them and to impart your skills is also important.
So is good customer relations."
What was the most difficult situation he faced in his career?
"The most challenging so far was finding the right ingredients to make the specific health bread requested by a room guest and having it served in a matter of hours.
The guest was on a special diet and I had to ensure that the ingredients used would not affect his health."
In fact, being a chef wasn't Nazeri's first choice as a career.
"I enrolled in an architecture course but changed my mind later."
Does he have a sweet-tooth?
"I love eating cakes, breads and chocolates," he said.
As for his most memorable cake, it was the one created for the Broadway musical, Beauty And The Beast.