Torbreck Wine Dinner with Founder David Powell
It's been a while since my last wine dinner escapade, and recently I had another enjoyable experience with Torbreck wines by Torbreck Vintners, Australia! The event held at Feringgi Gill & Bar was organized by Asiaeuro Wines & Spirits, and graced by the founder of the winery himself, David Powell.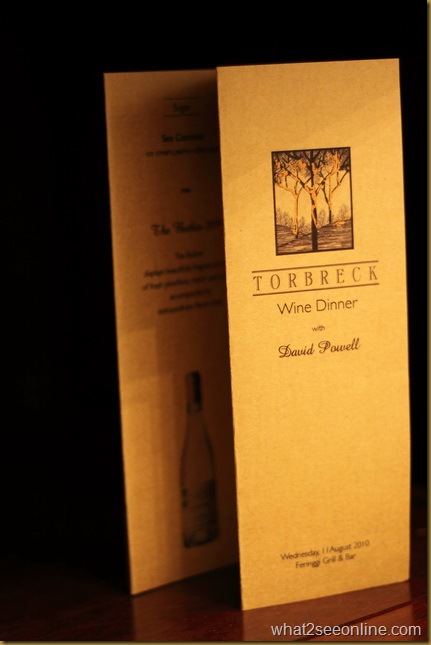 Guests who came for the Torbreck wine dinner at the Feringgi Grill in Rasa Sayang Resort and Spa were served with cocktail and tapas at the adjacent Feringgi Bar. We started off with the Billecart-Salmon Brut Rose NV, a pink color champagne with a nice balance palate of fresh cherries and strawberries.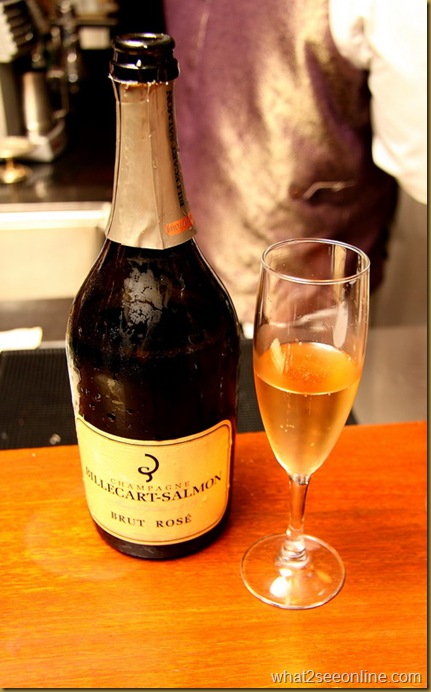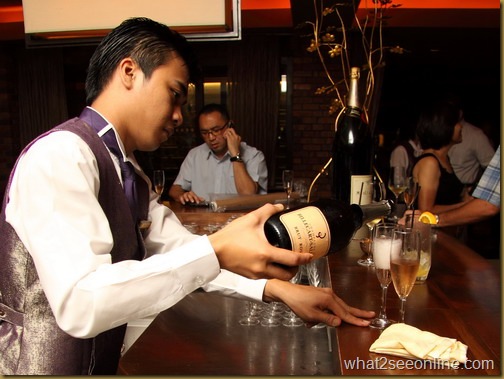 The Torbreck Woodcutter's Semillon Barossa Valley 2008, is between the two served in Feringgi Bar. It is a beautiful light gold colored wine,  with notes of smoked almonds and fruit flavors. Bright acidity and a deep rich finish makes it a favorite for many.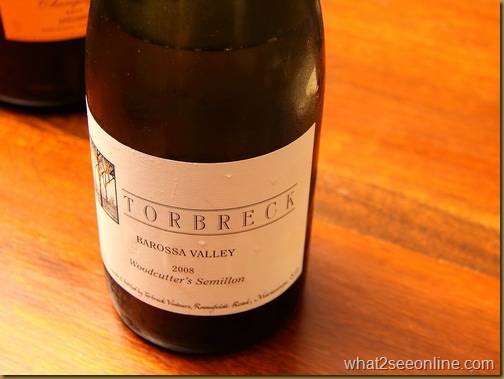 After a few glasses, everyone adjourned to the dining hall. In terms of the food, Chef Adam Roy prepared five courses, each paired with popular vintages from Torbreck.
The dinner started off with the Crawdad and Corn Cream soup with Madeira. The sweet Madeira with high acidity makes a good companion to this smooth and creamy soup with pieces of freshwater crustaceans.
The Crawdad and Corn Cream soup pairs nicely with the light and fresh Torbreck Roussanne Marsanne Viognier Barossa Valley 2008. This interesting white wine composed of three varieties, 55% Roussanne, 25% Marsanne & 20% Viognier, has fragrant aromas of acacia flowers, roasted nuts and buttered citrus.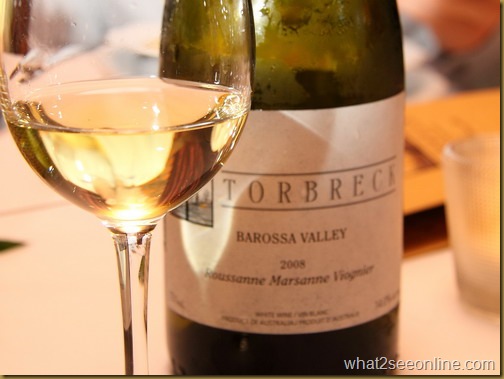 Plentiful bread and bread sticks
The next wine that I sampled was the Torbreck 2009 Cuvee Juveniles, with varietal of 60% Grenache, 20% Shiraz and 20% Mataro. The palate displayed lovely ripe fruity flavors of blackberry and spiced cherries with spices. This red is light-bodied with refreshing acidity and mineral laden tannins.
The 2009 Cuvee Juveniles was paired with the Lamb Loin with grilled peach on cranberry-rosé relish. The accompaniment of cranberry relish entices the taste bud and added color to the dish. It was a delicious change from the traditional sauce and its presentation was a pleasing surprise.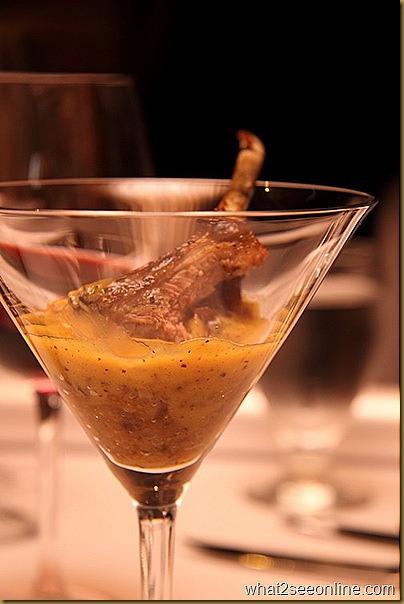 Presentation of the Lamb Loin was a pleasing surprise
The 2007 The Struie is a blend of Shiraz from the Eden and Barossa Valleys, combining the best of both regions. This wine has a nose of black raspberry and nicely balanced with great acidity.  This red was a good pairing with the poultry sausages which contrasted perfectly with the kampung quail egg and the flavorful rich roasted shiraz shallots.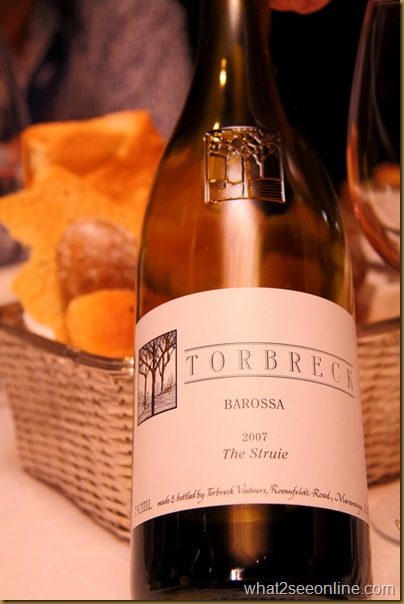 A glass of Frozen Calamansi with pomello-lime leaf was served between the courses. This palate cleanser with a sharp sourish taste was indeed refreshing.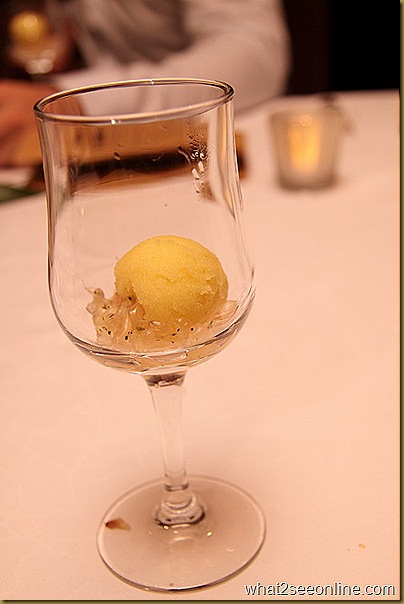 Another meat pairing that worked with reds was the main course – Smoked Beef T-Loin. The piece of smoked beef had a distinct smoky flavor and was accompanied with an interesting blend of tastes provided by the potato tower, homemade beef bacon, stewed tomatoes and green peppercorns.
This main course was paired with The 2006 Steading, composed of 60% Grenache, 20% Shiraz and 20% Mataro, sourced from the regions of Marananga, Greenock, Moppa, Seppeltsfield, Gomersal and Ebenezer. This spicy red with a smooth elegant palate displayed lovely aromas of truffle, spring flowers and clove flavors.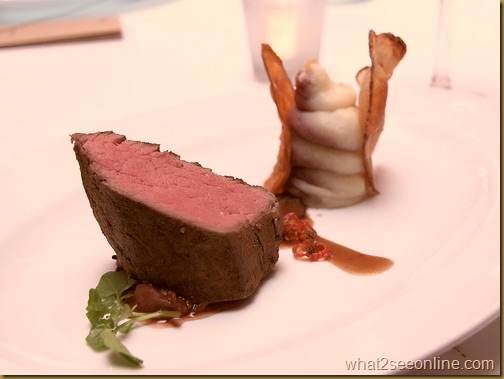 The evening also saw David Powell launching Torbreck's flagship 2004 RunRig. The guests had the first-hand taste of this red wine, with its blend of 96.5% Shiraz and 3.5% Viognier. The 2004 RunRig is full bodied in flavor with sweet tannins and lovely rich aromas of blueberry, black raspberry and pepper.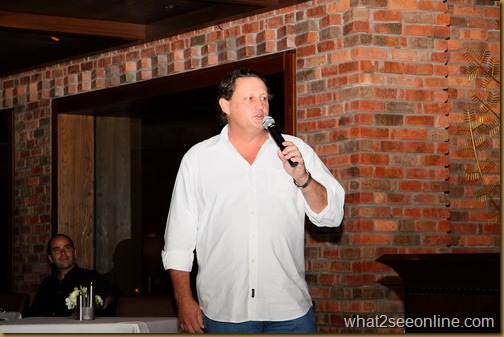 David Powell unveiling Torbreck's flagship 2004 RunRig
The event was capped off with dessert. The sea coconut ice cream, panna cotta, salad with the right amount of sweetness was paired with the 2009 Bothie. This straw color wine with subtle and clean flavors of pine, melon and lychee accompanied with floral notes has the alcohol level at 13.21 %.
This was my second time enjoying the 2009 Bothie, with my first at Chef Anton Mosimann's luncheon event. This sweet delight paired with the dessert beautifully!
In between the dinner, David Powell speaks of his involvement with Torbreck.
Torbreck founder David Powell was born and raised in Adelaide, South Australia. While immersed in the study of Economics at Adelaide University, an uncle introduced him to wine and young Dave realized that grape could be more intriguing than numbers. He went around California and then Europe working in vineyards during the harvest time.

His winery, Torbreck in Australia's Barossa Valley, that he started in 1994, is named after the very first forest that Powell worked in as a lumberjack. The Torbreck endeavour is based around the classic Barossa Valley varietals of Shiraz, Grenache and Mataro, and a love for the wines of France's Rhone Valley. He is a passionate believer in the Barossa Valley and its viticulture heritage.

David Powell named all the wines with unique names like The Steading (named after a mountain in Scotland) and The Descendant, Woodcutter's Semillon, (both named as the grapes come from cuttings of old vineyards).
This wine pairing dinner far exceeded the pricing of RM235++ in terms of the food, the service and the many varieties of wines including the 2004 RunRig. Each wine have their own characteristics and paired well with food, definitely worth adding  them to your drinks cabinet! More information of the Torbreck wines can be viewed at :  http://www.torbreck.com/.
This event was thoroughly enjoyable. My favorite combination of wine and food for the night was the pairing of the 2009 Cuvee Juveniles with the Lamb Loin. Do stay tuned for more of my wine pairing dinner escapades which I will be sharing from time to time!