Tree Monkey @Tropical Spice Garden, Penang
*This article was published in the New Straits Times (Life & Times) on 5th September 2010.
The Tree Monkey Restaurant is perched on the hill of Tropical Spice Garden in Penang's Teluk Bahang. Surrounded by serene greens overlooking the Andaman Sea, this tranquil and romantic restaurant opened for business in July this year.
The restaurant is reminiscent of kampung-style dining, with a huge thatched roof made of alang alang grass imported from Bali along with teak furniture brought in from Chiangmai. The owner, Patt Khor, has built the restaurant with minimum use of wires and nails.
The restaurant invokes a reminiscent of the kampung style dining
The ambience is relaxing. In front of the bar counter is a tatami-style dining area where diners sit on comfortable floor mats.
Tree Monkey has a pork-free menu, offering mainly varieties of North-Eastern Thai and also a mixture of Asian and Western cuisines.  The food are prepared with the freshest herbs and spices grown in the Tropical Spice Garden itself.
The group of us sat at the spacious open-air dining area on the wooden deck and were treated to a colorful refreshing tropical fruit mocktail — Sunset Paradise (RM10). This concoction of  orange juice and pineapple juice was sweet and slightly sour.  It came decorated with a slice of orange and a cherry. It is available only at sunset, from 6pm to 7pm!
The meal began with the appetizer, Thai Tapas. The platter is priced at RM30, RM45 and RM60 for eight, 12 and 16 pieces (maximum four pieces of each item). We had two platters, both decorated with beautiful fruit and vegetable carving.
There were 11 varieties with different tastes, textures, aromas and colours. The choices consist of nine fried items such as mussels and steamed otak-otak and is accompanied by sweet chili sauce.
Among the irresistible bits were the two different deep-fried prawns. My favorite was prawn wrapped in crispy spring roll skin. It was juicy and the taste was well balanced while the prawn wrapped with crispy rice noodle was on the salty side.
Other delights were the simple crispy Thai toast with minced chicken topped with sesame seeds. I also had a shared of the Money Bag with minced chicken and vegetable, Herbs Chicken with lemongrass and the moist and flavorful Pandan Chicken wrapped in screw pine leaves.
There are many to sample in the Thai Tapas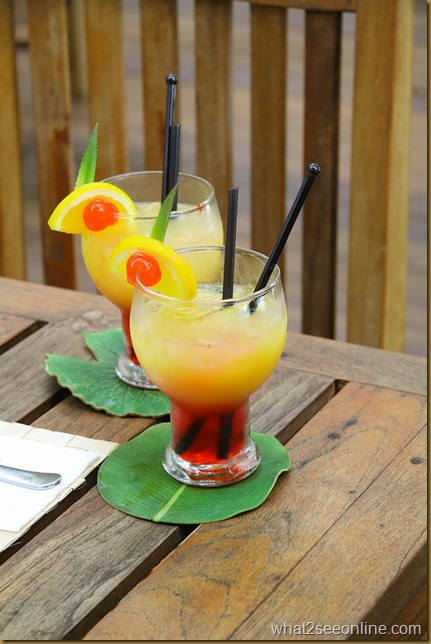 Our next selection was the Asian Tapas. These are also priced according to the size portion, from RM60 for eight dishes to RM90 for 12 dishes (maximum two dishes on each item), along with two plates of turmeric rice.
The platter of 10 dishes was full of robust flavor. Each item has its distinctive flavor and texture. I personally favor the Nam Tok, a salad comprising tender pieces of beef with an explosive flavor of shallot, chili powder and lime juice. The owner said this is one of the popular dishes.
The Asian Tapas comes with 10 dishes full of robust flavor
Decorated next to the Nam Tok was a delicious prawn sambal cooked with roasted chili and shrimp paste. The prawns were very fresh and sweet.
There is also Masaman Curry, a red curry chicken dish cooked with potato, onion and peanut. Other than my stick of Chicken Satay, which was on the dry side, the rest of the dishes were best eaten with the turmeric rice.
All these dishes orbited around the refreshing and appetising sourish mango salad with papaya and onions dressed in chili lime sauce.
The Tomyum Soup, sour and slightly spicy, had a satisfying flavour of lemongrass and lime juice and plenty of squid, prawns and oyster mushroom. The chicken-based Tomkha Soup cooked with coconut milk, galangal and mushroom, was smooth and mild in spiciness. There's something for everyone!
The spicy Tomyum and the mild Tomkha
The meal ended on a sweet note. We had Thai coconut ice-cream, which was an absolute delight, with the sweet jackfruit and attap chi (palm seed) and evaporated milk at RM8.80.
We lingered after the meal, chilling and relaxing over a cup of spice coffee and tea at RM8 each. The brew is light with the flavor of cinnamon, star anise, cloves and few others. Many found the coffee more pleasing compared to the tea which was too strongly flavored.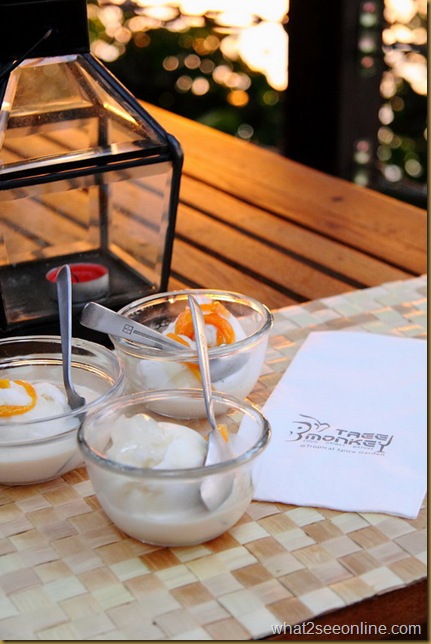 If you are looking for a meal or just a bite out of the town center, Tree Monkey, with great sea view and relaxing ambiance, is undeniably a welcoming dining place. But I heartily recommend putting on suitable clothing to avoid mosquito bites. Repellent is available on request.
Sunset view from Tree Monkey
The restaurant, open daily from 9am to midnight, also caters for private functions and can accommodate up to 80 people. Buffet option with customized menu is also available for groups above 50. This restaurant, with free wireless internet access, is a five-minute hike from the main foothill entrance. The steep uphill hike and the many steps leading up to the restaurant is a difficulty for the handicapped and elderly, however I hope the owner will make it more accessible with a little planning.
We enjoyed the meal from this kampung-style restaurant sitting on a hill. Thanks to Warren  and owner, Patt Khor for inviting all the food reviewers! Click here for the Map Location.
Tree Monkey
@Tropical Spice Garden
Lone Grag Villa
Lot 595 Mkm 2
Teluk Bahang
11100 Penang
Tel: 04 8813494
Business Hour : 9am – 11pm (Sunday – Thursday) & 9am – midnight (Friday & Saturday)