Hainanese Cuisine at Yeng Keng Cafe & Bar in Yeng Keng Hotel on Chulia Street, Penang
BY CK Lam

Fancy some Hainanese cuisine in Penang? Chances are the choices are not aplenty as Hainanese cooks are few to come by and the younger generation is not keen on learning the trade.
But you can make your way to Yeng Keng Cafe & Bar in Yeng Keng Hotel, a heritage boutique hotel on Chulia Street at the heart of the UNESCO World Heritage City of George Town. In addition to Western cuisine, Yeng Keng Café & Bar came out with a selection of classic Hainanese dishes.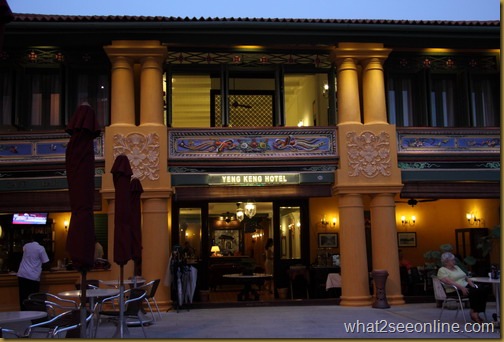 Although it does not offer full fledged Hainanese dishes, nevertheless the menu does provide diners with several popular dishes of yesteryear's such as Hainanese Mushroom soup, Curry Tumis White Pomfret, Chicken Pie and Bomb Alaska.
Deep-fried Spring Rolls (choon-pieh) cost RM12 for two. This is a must try for choon-pieh lovers as the roll with crispy skin is packed with a mix of fresh crabmeat, prawns, chicken and mushroom. The accompanying dipping sauce made from sauces – HP, A1 and tomato – and other seasonings and cut red chilies complements this popular dish.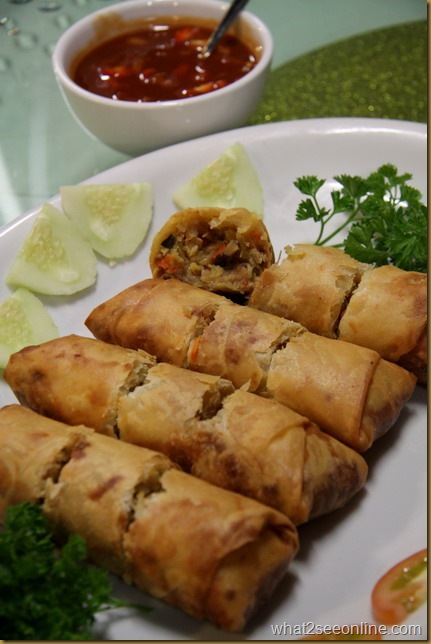 RM12.00 (per portion of 2 pcs) / RM24.00 for 4 pcs
The cafe serves both thick and thin textured soups. Two such soups are the Oxtail Soup and Hainanese Mushroom soup.
The Hainanese Mushroom Soup comes with button mushroom, chicken, liver, gizzard and glass noodle garnished with spring onions. The texture of this soya bean soup is light in texture, but is still wonderfully rich in flavour.
RM10.00 (per portion for one person) / RM45.00 for serving of 10 persons
Grilled Fish with Butter Sauce makes use of the dory, cooked in lemon butter sauce. The fish tastes tangy with capers, sauteed potatoes and onions on the side.
RM18.00 (per portion for one person) / RM36.00 for serving of 10 persons
Besides that, the Curry Tumis White Pomfret with ladies fingers, tomato and onion is a must-try. The flavorful fish curry with its thick gravy differs from the usual Hainanese style of cooking. Depending on the market price of seafood, this dish costs between RM100 and RM120.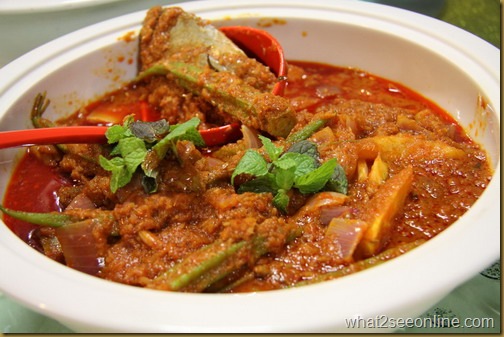 Inchi Kabin has plenty of crispy bites. The pieces of well-marinated, deep-fried chicken are pleasantly delicious and moist on the inside. The chicken goes well with the same flavourful dipping sauce for the spring roll.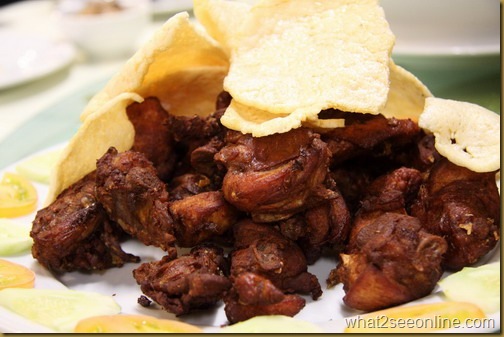 RM30.00 (whole chicken)
Another poultry dish is Yeng Keng Chicken Chop, served topped with gravy, green pea, carrot, corn, button mushroom and French fries. The chicken is tasty but the heavily seasoned batter is slightly salty.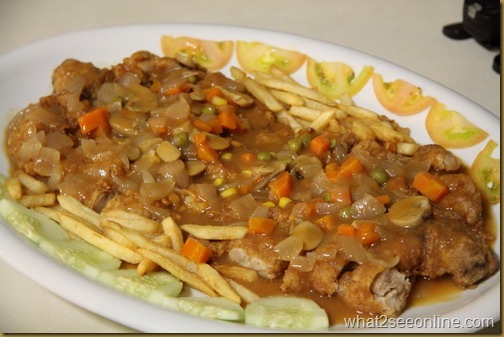 RM15.00 (per portion for one person) / RM30.00 for serving of 10 persons
Other selections include Chicken Pie, baked in an oblong plate filled with mixed pea, mushroom, egg, chicken. You can choose to have the portion for three to five people, priced at RM25 or with extra filling at RM35 which is sufficient for 10. Do make reservations for this dish which requires a 24 hour pre-order.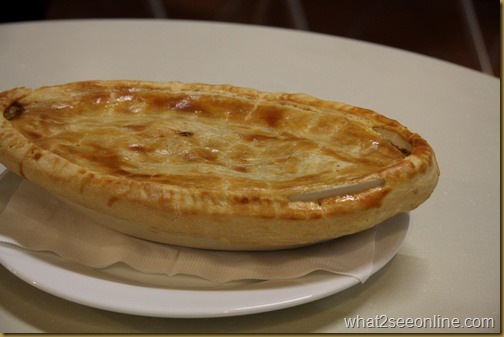 The hearty Braised Lamb Shank comes with sautéed potato and vegetables. The big piece of tender and juicy meat in a rich and creamy brown sauce with hints of rosemary herb, black pepper and garlic is served on a bed of spaghetti.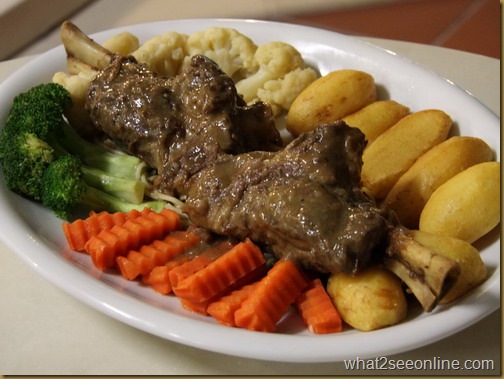 RM35.00 (per portion for one person) / RM70.00 for serving of 10 persons
For those craving for noodles, do try the Beef Hor Fun. A big serving of rich egg gravy is a great combination to the slightly charred hor fun and the tender slices of beef. Sliced pickled green chilies complement the dish perfectly.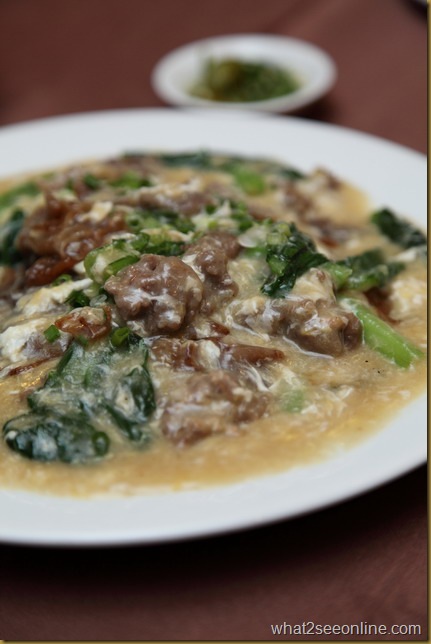 Beef Hor Fun RM15
The chef created the Bomb Alaska, an interesting dessert. It is wonderful seeing this dessert again. Priced at RM20 per serving, the Bomb Alaska is great sharing of sweetness for four people. The dessert with mixed fruit, rum and butter cake covered with meringue was flambéed with liquor.
The picturesque outdoor courtyard with plenty of scrubs and trees is cozy. Tables are spread over the area and diners dine with the comfort of ceiling and stand fans. The private dining area tucked at the side of the swimming pool is quaint.
There are parking lots at a car park behind the hotel and along the bustling Chulia Street. Yeng Keng Cafe & Bar is open daily. Click here for the Map Location.
Yeng Keng Cafe & Bar
Yeng Keng Hotel
362 Chulia Street
10200 Penang
Tel : 04 262 2177
Business Hour : 8:30am – 10:30am (Breakfast)   & 12pm – 10pm (Lunch & Dinner)
* This is a reproduction of my article published in New Straits Times