The Cinnamon at Hotel Penaga
* This article was published in the New Straits Times (Life & Times) on 20th May 2011.
The Cinnamon at the elegantly restored Hotel Penaga, located at the corner of Jalan Hutton & Lebuh Clarke is an all-day dining restaurant. The pleasantly decorated restaurant serves buffet breakfast and Western cuisines with Asian influence.
Walk through the doors of the boutique hotel and you will find the restaurant on the right. The dining hall with floor-to-ceiling windows provides view of the courtyard and the swimming pool which runs parallel to it. 

The dining hall is pleasantly decorated
There are many choices of dishes in the menu, from comfort food and traditional favorites to the customized choices. A few of us had a great lunch with several dishes which include the flavorsome Grilled Prawn Salad. Grilled with hint of smokiness, the prawns marinated with mild-ginger and chili sauce, were delicious with grated egg, sesame-soy dressing and crisp greens.
Grilled Prawn Salad RM24
The Beef Carpaccio had thinly slice raw fillet of beef served with Basi-Olive oil and Thai chili compote. All the ingredients brought a combination of tantalizing and light flavors.
Beef Carpaccio RM18
Another starter was the Marinated Salmon with Asian spices. Served on mesculun salad, it includes quail egg, fish roe, horseradish cream and pickled capers.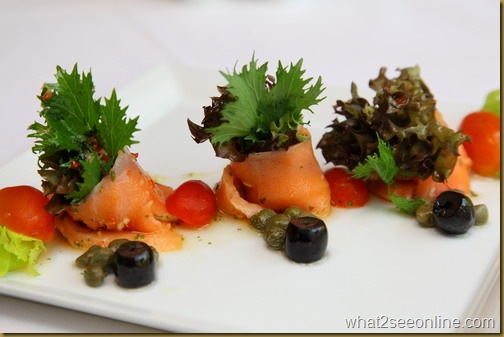 Marinated Salmon with Asian spices RM26
The Cinnamon offers different types of soup for the day. Popular ones include the Wild Mushroom soup, Lobster Bisque soup, Seafood Chowder and Minestrone soup.
The Lobster Bisque soup is great with crusty bread. Prepared with chunky pieces of lobster meat, the flavorful crustacean soup was not overly thick.
Lobster Bisque Soup
I am fond of this Lamb Rack with Herb Crust. Served drizzled with red wine sauce, the tender meat is pure comfort with the fine crumbing and the accompanied sauteed vegetables and Lyonnaise potatoes.
Lamb Rack with Herb Crust RM48
Our palates were charmed with the Braised Lamb Shank. This wholesome dish served with cherry tomato and mango chutney sauce, garden vegetables and mashed sweet potatoes is best for sharing.
Huge portion of tender Braised Lamb Shank RM46
There is a range of desserts in the menu. There were the mouth-watering delights of Apple Crumble, rich Warm Chocolate Volcano and Mango Creme Brulee with tropical fruit salsa. The Creme Brulee that I had was delightful but lack the slightly burnt bits.
Everything was great but the dish that stood out for this meal was the succulent Lamb Rack with Herb Crust. The Cinnamon with its cosy ambience, makes a great dining place with its range of dishes and drinks. Click here for the Map Location.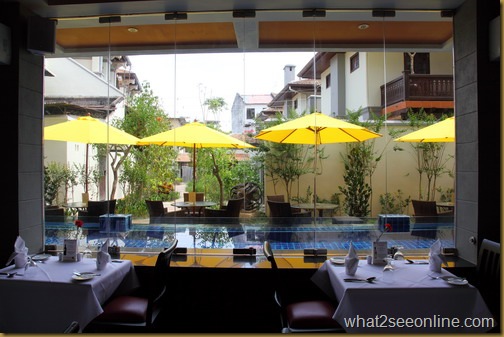 I am planning to visit The Cinnamon again to check out the buffet dinner and set lunch. I heard that Chef de Cuisine Shaiful Mizan had created a tempting buffet dinner spread, which is available every Saturday at RM45++ for adult and RM30++ for children, and Weekday Set Lunch at RM25++.
The Cinnamon at Hotel Penaga
Corner of Jalan Hutton & Lebuh Clarke
10050 Penang
Tel : 04 2611891
GPS Coordinates :  5.42038,  100.330687