Simply Nutritious – Spaghetti Meal on Lebuh Melaka, Penang
* This article was published in the New Straits Times (Northern Streets) on 2nd July 2011.
Simply Nutritious is an excellent place for a simple wholesome spaghetti meal! Since starting this business one half years ago, Chef Foo Jan has been serving unique pasta dishes to Penangites. Initially a stall in Burmah Road/Jones Road junction, Simply Nutritious has since become a café in Lebuh Melaka!
Customers now dine in a more conducive environment with comfortable seats and air-conditioning. This is probably the only place in Penang that concentrates on the pasta and serves the accompanying meat as a complement.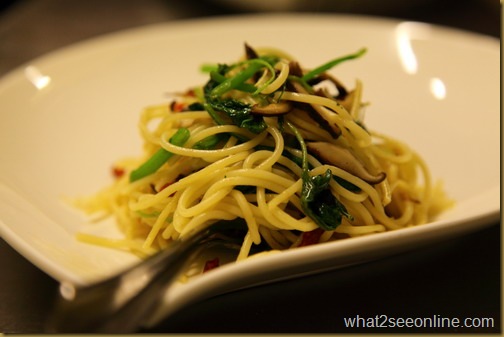 Spaghetti cooked with spinach, mushroom and wolfberries sauce
The menu, like everything else here, is short and to the point. The pasta of choice is spaghetti but it can be served with your selection of sauce and fish fillet or chicken. Italian and Oriental are among the eight styles you can choose to have the meat cooked.
The four sauces are tomato concasse, pesto, mushroom cheese, and spinach, mushroom and wolfberries. Diners will have a tough time choosing the sauce as all four are good and deserving of a taste. While the spaghetti tossed in tomato concasse is an excellent choice for those who like classic Italian spaghetti, the creaminess of the mushroom cheese sauce is just as welcoming.
Spaghetti tossed with tomato concasse
Chef Foo Jan is a stickler for detail. A hard and fast rule of his is the usage of original ingredients. He uses basil leaves, pine nuts, garlic and parmesan cheese for the pesto chicken. The parmesan cheese is mixed with pitted olives, capers, onions, tomatoes and garlic for puttanesca chicken.
The parmigiano chicken at RM12.50 is served topped with mozzarella and parmesan cheese gratinate. Each plate of spaghetti is well prepared with a nice bite to its texture.
The spaghetti in spinach, mushroom and wolfberries sauce combines well with the herbs and garlic chicken bursting with fragrant green flavours.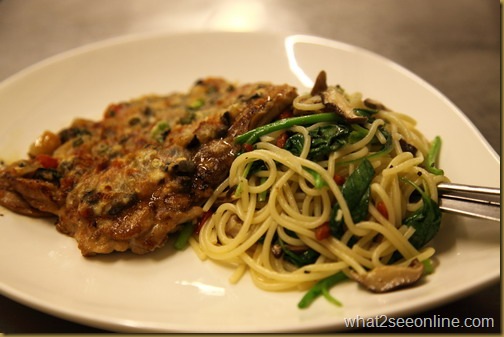 The grilled chicken in teriyaki sauce is a good choice at RM11.50. The meat is perfectly grilled with a layer of caramelised teriyaki sauce on top. Done to a deep, golden-brown colour, the chicken has a slightly charred aroma that pairs deliciously with the spaghetti in mushroom cheese sauce.
Grilled chicken in Teriyaki sauce at RM 11.50
Besides the main dishes, Simply Nutritious also offers mushroom cream soup, pumpkin soup, mixed salad and a refreshing lemon juice drinks.
Mushroom Cream soup at RM5.80
The dining area is simple. The walls are bare except for a few small whiteboards. At present, there are 10 small tables as owner Chef Foo Jan prefers to keep the number of diners proportionate to his one pair of hands in the kitchen. Currently the pork-free cafe is open daily. Click here for the Map Location.
Simply Nutritious
129 Lebuh Melaka
Penang
Tel : 016 4258959
Business Hour : 6pm till 10.30pm (Wednesday to Sunday)
GPS Coordinates :  5.414256   100.321838