Delightful French flavors at 42 La Boheme
BY CK Lam

At 42º La Boheme, we discovered new textures and flavours during our lunch visit. Opened since July, Mathieu Guegan and his wife Huvi have created a French cafe in a heritage house. Coupled with simple decorations and some old collectibles, the ambience is casual. The only visible sign of the cafe in bustling Jalan Sri Bahari, is the small wooden sign, 42º La Boheme, hanging on the front gate.
Mathieu, who also runs the kitchen, learnt to bake since he was 12 and has spent years working in some restaurants. He makes his own bread and desserts and offers lovely pastries, galettes and quiches. Besides the short and fresh menu, a variety of desserts can be found displayed at the counter. The chalkboard showcases a selection of pizzas available only on weekends.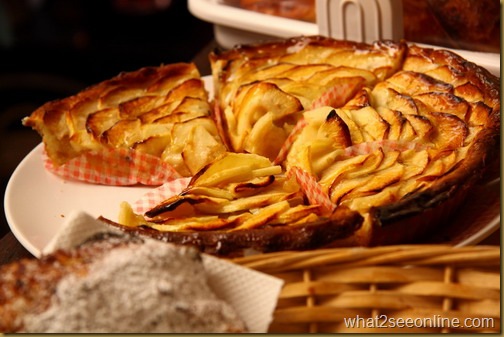 We started the meal with feta salad (RM21), which was bursting with vibrant colours and texture. Generous serving of vegetables, egg, olives, avocado, tomatoes, capsicum, feta cheese and walnuts come flavoured with house-blend olive oil and spices. A plate of bread accompanied the salad. Other choices of salad include chicken and bacon.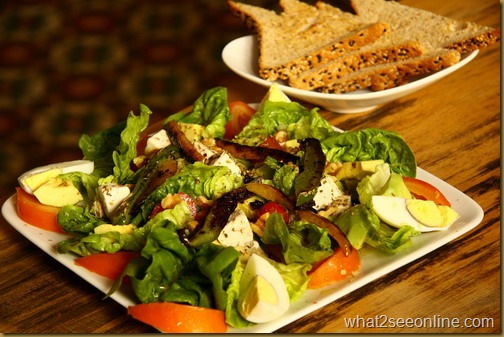 The quiche comes with choices of vegetable, chicken or Lorraine. The chicken (RM12) that we had was just perfect, the crust just as it should be and the portion, not too heavy. This oven-baked dish and a side bowl of salad made a marvellous light lunch.
The chicken brochette has marinated pieces of chicken meat cooked with capsicum and tomato. At RM19, it comes with a bowl of salad with simple dressing. The chicken was tender and tasty, while the charred capsicum was simply scrumptious.
We also had bacon mushroom pizza in tomato sauce, which is the pizza special, for RM21. The thin-crusted pizza, topped with meat and the right amount of tomato sauce with an acidic tang, was served on the board.
For dessert, we had the almond croissant (RM6). Sprinkled with sliced almonds and topped with a dusting of powdered sugar, the croissant was rich with a soft sticky textured filling of almond paste together with nuts and a good dose of bittersweet chocolate. Cold and hot beverages cost between RM5 and RM6.
There are various seating arrangement, ranging from low sofas to small tables with stools and a long table for larger groups. This non air-conditioned cafe, which serves interesting food, is a cosy nook to relax and unwind in.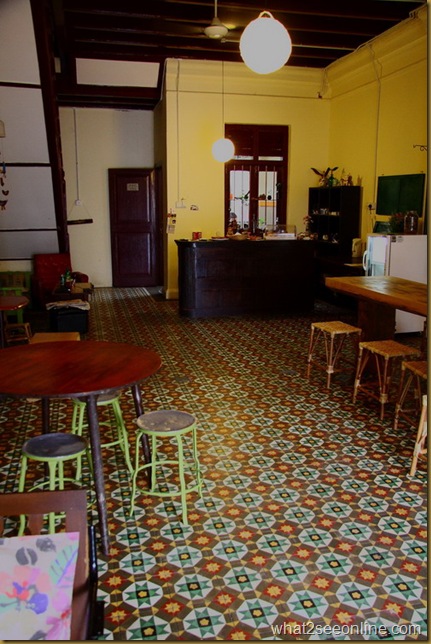 42° La Boheme opens from 10am till 6pm daily, and is closed on Mondays. Click here for the Map Location.
42° La Boheme
42 Jalan Sri Bahari
10050 Penang
Tel :  017 9762153
* This is a reproduction of my article published in New Straits Times