Poon Choi Goodness at Zi Zai
BY CK Lam
Poon choi or Big Bowl Feast is an indulgent affair with layers of ingredients in fragrant gravy. It is believed that this traditional dish originated in China, and the name of the dish came from the distinctive basin-like pot in which it was cooked and served.
There are only a handful of places serving this dish in Penang and one of them is Zi Zai Restaurant. Our group of 13 made our way to the restaurant  in Paya Terubong to try its traditional poon choi.
The large poon choi is served in a metal basin, with layers of seafood and meat and its combination of   textures, flavours and colours. According to owner-cum-chef   Tan Hock Chai, the ingredients are cooked using different methods such as  braising, steaming, poaching, roasting and deep-fried.
The list of ingredients is not short. Among them are abalone slices, sweet-and-sour prawns, deep fried Hock Chiew fish balls, deep fried snapper fillet, broccoli, roast duck, chicken in sesame oil, sea cucumber, fish maw, black mushrooms, braised pork belly, yam, Chinese radish and Chinese cabbage. The dish is kept warm on a portable tabletop stove as it is being served. We enjoyed different flavours, starting from the top layer of abalone, followed by the prawns. We especially loved the prawns, served with the shell intact which helps to retain the flavour.
Dig into a 'basin' filled with layers of seafood and meat, and rich gravy
The third and fourth layers are deep-fried items  such as homemade Hock Chew fish balls and snapper fillet. We almost ate the meal standing up, digging our chopsticks deeper down to the layer of chicken and roast duck. Next was the fish maw, mushrooms, sea cucumber, braised pork belly and yam. The Chinese radish and Chinese cabbage make up the last two most flavorful layers.
The ingredients blend in beautifully with each other, giving  the dish balance. We did not pass up the fragrant gravy which had a hint of oyster sauce, soy sauce and nam yue (red fermented beancurd) and enjoyed it with steamed rice.
Poon choi is a scrumptious dish which is hard to forget with its rich taste and elaborate preparation. It has to be ordered a day ahead. There are two sets of poon choi at Zi Zai; the half portion is RM258nett and serves four to five;  while the full portion, at RM400nett, serves 10 to 12. Any change to the standard  ingredients in the poon choi can be done with additional cost according to the ingredients. Both set comes with complimentary steamed rice  and herbal tea.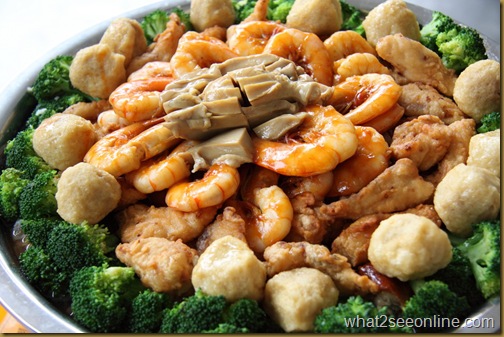 Besides the poon choi, we had a couple of   seafood dishes — stir-fried lala and assam prawn. The stir-fried lala in Zi Zai is done with sambal and ginger. The generous plate of  assam prawns (RM32)  left a slightly lingering sourish flavour of the tamarind.
Sir-fried lala at RM12
Assam prawns (RM32)
For poultry, we had the belacan chicken wings (RM16)  which had been marinated and deep-fried till crispy, yet with succulent.
The meal included plates of stir-fried yao mak (RM10) and bean sprouts with salted fish (RM12). The heads and roots of the sprouts were removed.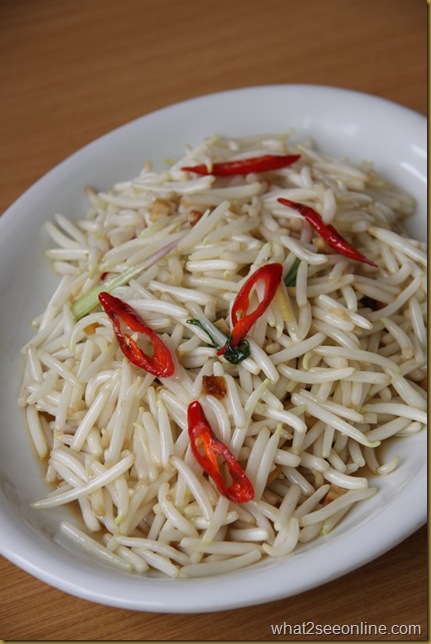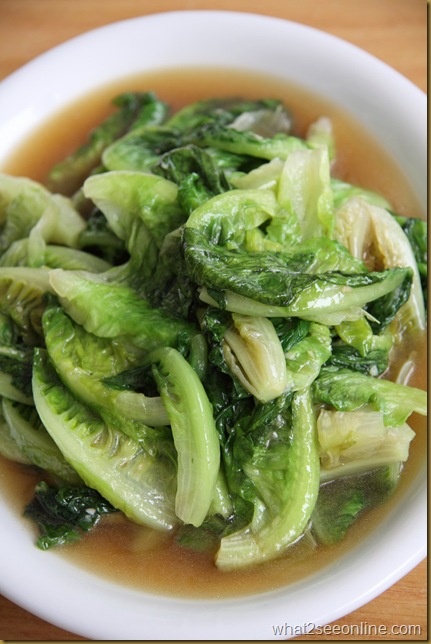 Stir-fried Yao Mak with garlic RM10
Restoran Zi Zai has been around for two years. The restaurant is open only during dinner time, from 4pm till 10.30pm and it's closed on Tuesdays. Click here for the Map Location.
Zi Zai Restaurant (自在饭店)
1239-G Ground Floor
Jalan Paya Terubong
11600 Penang
Tel: 04 8265713  (Mr. Tan Hock Chai)
GPS Coordinates: 5.387212,  100.274013
* Many thanks to Criz for laying on this invitation.
* This is a reproduction of my article published in New Straits Times